Girardi making sure to monitor bullpen workload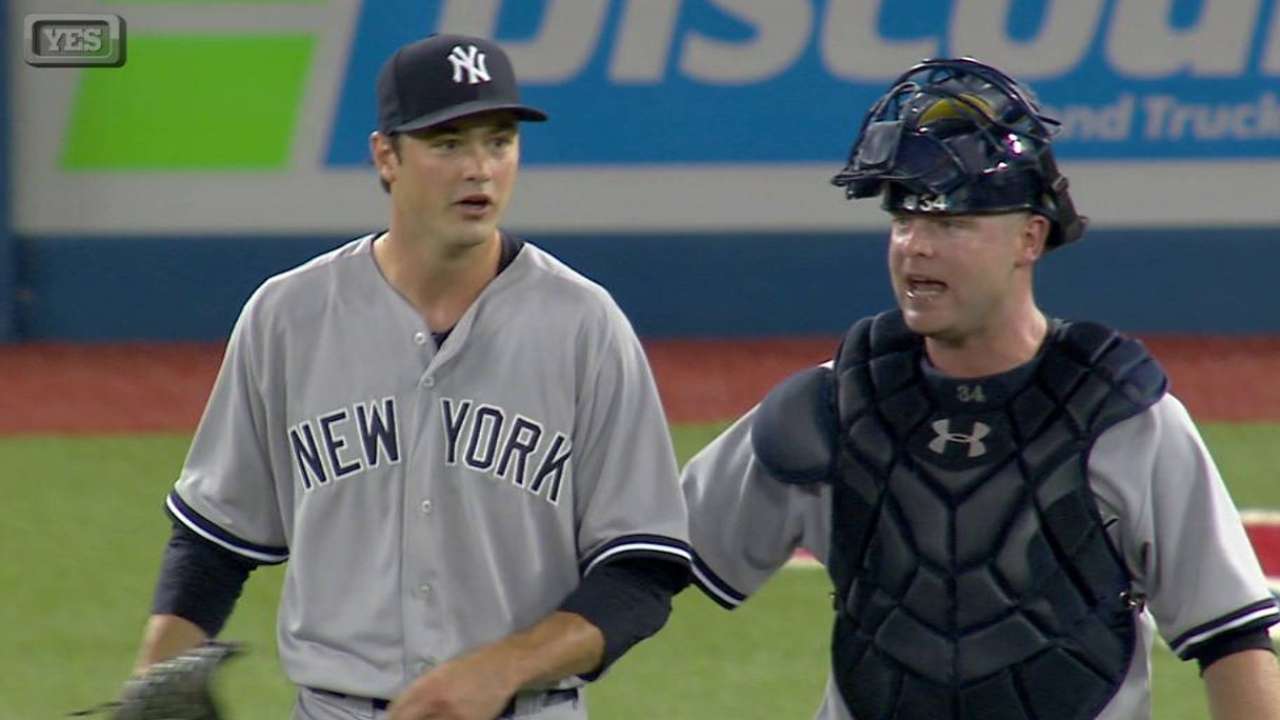 TORONTO -- There was a dugout conversation before the final inning of the Yankees' 4-1 victory on Saturday at Rogers Centre, in which catcher John Ryan Murphy challenged Masahiro Tanaka to finish off the Blue Jays. The added value was that a complete game would allow the bullpen to kick up its heels.
Manager Joe Girardi hopes that Tanaka's route-going effort will have a cumulative effect as the Yankees continue a stretch of 16 contests without an off-day, particularly as it relates to the late-inning tandem of Dellin Betances and Andrew Miller.
"It's in much better shape than it's been most of the trip, so that's kind of nice," Girardi said. "With what Tanaka did yesterday and what our guys did the day before, it's nice."
The Yankees have leaned heavily on their bullpen as a strength of the club, and with good reason -- the Yanks led all big league bullpens with 411 strikeouts and a 5.1 WAR (according to fangraphs.com) entering play on Sunday.
That has come with a taxing workload: in 17 games since June 27, they are tied for the American League lead with 65 2/3 innings, while posting a 2.47 ERA. Girardi said that he has been taking care not to burn out Betances, who had worked 60 2/3 innings in 54 appearances entering Sunday.
"We've tried to lessen Dellin's load, and it's less than last year," Girardi said. "When you look at innings per month and the multiple-inning games, it's less. We tried to take care of him. He was not pitching yesterday -- whether he said he was fine or not fine, he was not pitching. That's how you handle it."
There have also been excellent contributions from lefties Justin Wilson and Chasen Shreve. Since May 26, Wilson's 0.95 ERA and Shreve's 1.30 ERA rank first and third among AL relievers (min. 25 innings). Girardi said that it is the short-term number of games, and not the cumulative innings, that he watches most closely.
"To me, it's throwing them too many days in a row or throwing them four out of five days," Girardi said. "That's just an awful lot to ask of a reliever. We do two in a row and then we do three out of four, but we don't do much more than that."
Worth noting
• Michael Pineda (right flexor forearm muscle strain) threw 42 pitches in a rehab start on Sunday for Double-A Trenton. The Yankees have not decided how many Minor League rehab starts Pineda will require.
"It all depends how he feels and based on our need," Girardi said. "A lot of it, too, on how he feels tomorrow."
• A day off in Cleveland seems to be paying dividends for Jacoby Ellsbury. In three games after sitting out on Aug. 12, Ellsbury was 5-for-14 (.357) with a triple, an RBI and a walk.
"I think he feels better at the plate," Girardi said. "He's swung the bat better. We've said, those two guys at the top are really, really important."
Bryan Hoch is a reporter for MLB.com. Follow him on Twitter @bryanhoch, on Facebook and read his MLBlog, Bombers Beat. This story was not subject to the approval of Major League Baseball or its clubs.