Hale vows to be more patient with replay reviews
D-backs' manager regrets not challenging Maybin's double in Saturday's win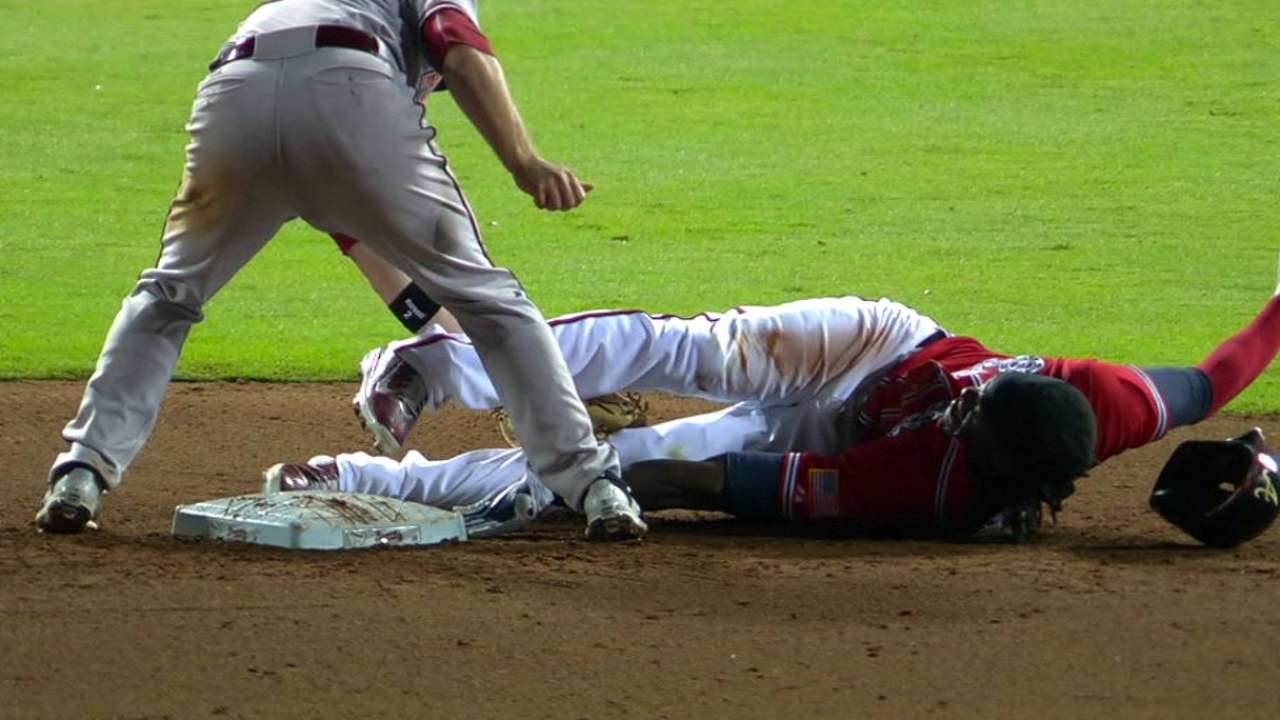 ATLANTA -- Upon further review, D-backs manager Chip Hale wishes he had asked for a replay review of Cameron Maybin's eighth-inning double in Saturday night's 8-4 win over the Braves.
There was one out and the D-backs were leading 6-0 at the time when Maybin hit a ball to left field and was ruled safe at second on a close play.
Hale said initially, the report he got about the play from Allen Campbell, who looks at the replays in the Arizona clubhouse, was that Maybin's hand got in before the throw.
"So I told the umpire, OK, we're good, and I sat down here in the corner," Hale said. "And then the phone rang and it was Allen and he said, 'Review it, review it, he came off.'"
At that point, Hale had already told the umpire they weren't going to review it and the hitter was in the batter's box and the pitcher was on the mound, so Hale thought it was too late to challenge.
Between innings, Hale spoke to the umpire crew and they informed him that for future reference he could have taken more time to decide.
"The mistake there was not being patient and letting Allen look at the whole play," Hale said. "That hasn't happened this year. What ends up happening is, you have, really, as much time as you want. The umpires are very patient about it. It's just a lesson to be a little more patient, maybe."
Steve Gilbert is a reporter for MLB.com. Read his blog, Inside the D-backs, and follow him on Twitter @SteveGilbertMLB. This story was not subject to the approval of Major League Baseball or its clubs.