Wright rests after positive injury rehab week
Mets third baseman pleased with progress made in St. Lucie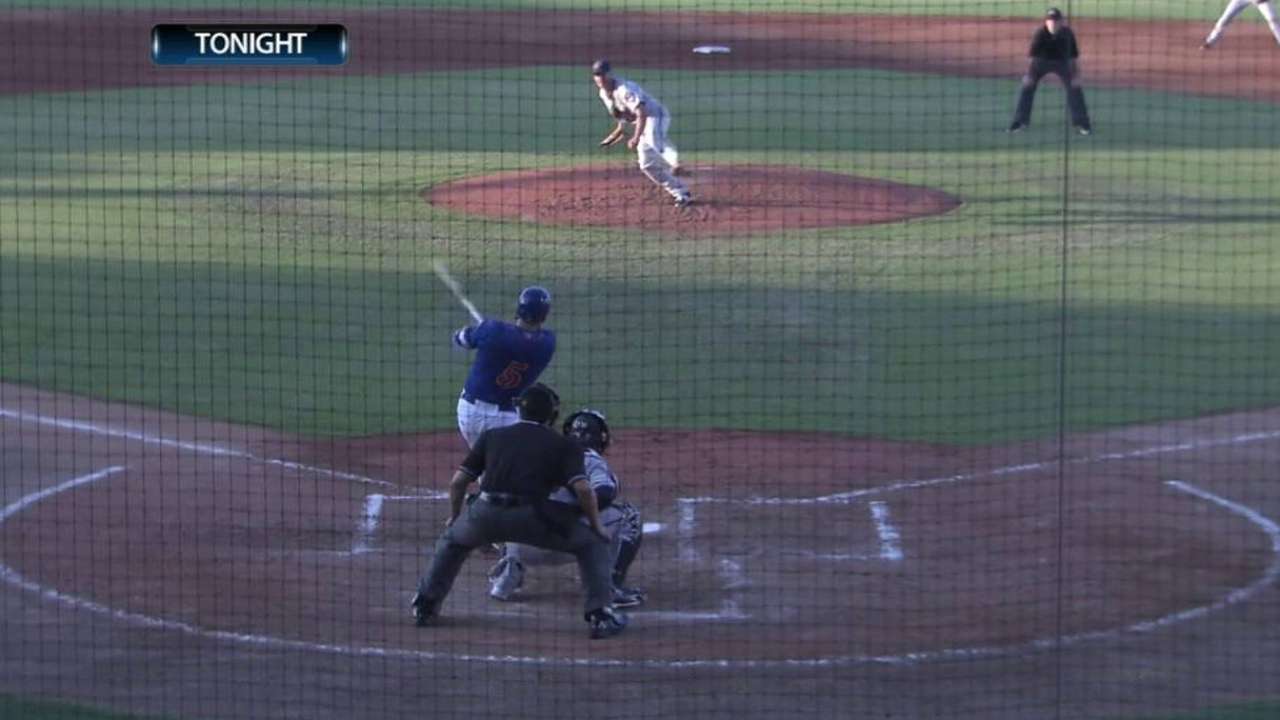 JUPITER, Fla. -- On Friday, Mets third baseman David Wright attempted to slide for the first time during his current injury rehab stint.
On Saturday, he dove for the first time while attempting to field a batted ball. On Sunday, he rested, completing his first week of rehab from the spinal stenosis condition that -- together with a previous hamstring injury -- has kept Wright out of the Mets' lineup since his last game on April 14.
"I feel good in terms of, three days in a row, preparation, getting ready, but I'm still rusty," Wright said after going 0-for-3 with a walk, a strikeout and a fielding error in Saturday's rehab game with the Class A Advanced St. Lucie Mets.
"The way I'm trying to think about it is ... in your mind, you're thinking you should be in mid-season, you should be reacting well, but, in reality, for me, this almost like Day 3 of Spring Training.
"I can't get too frustrated with the results right now. It's more how I'm feeling body-wise, and that's a good thing. I'm feeling decently comfortable at the plate."
In four rehab games, including one as a DH, Wright is 4-for-14 (.286). Defensively, he has made two errors in three games.
"I feel like my reactions are still off," Wright said of his play in the field. "I need to get that up to speed. That's something I'm going to work on, just seeing the ball off the bat."
As for his dive on Saturday, Wright said he wasn't necessarily hesitant.
"But I was thinking about it," he said. "I want to get to where it's just a reaction. I want to think about baseball instead of thinking, 'Is this going to hurt or not hurt?'
"I've got some games [this week] to work on that. It felt good to dive, seeing some pitches, having some good at-bats, having some terrible at-bats. But that's the way it goes. I can't beat myself up too much because it's been four months since I've had an at-bat [in the Majors]."
Wright, who turns 33 in December, was off to a good start for the Mets before he got hurt in April. He was hitting .333 in eight games, and his .795 OPS was a 97-point improvement from his full season of 2014.
The injury changed all that, and Wright's health has become an increasing issue, given that this is the third straight year he has been unable to play at least 135 games.
Published reports have indicated Wright could join the Mets next weekend when they visit the Rockies.
"At this point, I don't know what's realistic," Wright said when asked about his timetable. "Let's see how my body responds and then make a plan for the week. I'd like to be a bit more crisp. The last thing I want to do is rush this and not be ready, and then go up there and I'm not doing anybody any good."
Wright was one of three rehabbing Mets who played for St. Lucie on Saturday -- along with starting pitcher Steven Matz and reserve outfielder Kirk Nieuwenhuis.
With the Mets in first place in the National League East, Wright said he didn't want to "disrupt anything" by coming back before he is ready.
But, at the same time, Wright is confident the mending Mets players can help the team in New York. And he made particular mention of Matz and what he can do when added to current rotation members -- Jacob deGrom, Matt Harvey and Noah Syndergaard.
"Any addition deepens our lineup, deepens our bench," Wright said. "Then you add an arm like Steven, you are talking about some young power arms who can just go out there and dominate games."
Walter Villa is a contributor to MLB.com. This story was not subject to the approval of Major League Baseball or its clubs.