MLB.com Columnist
Phil Rogers
Windy City is the perfect landing spot for Utley
Veteran All-Star would fill surging Cubs' second-base needs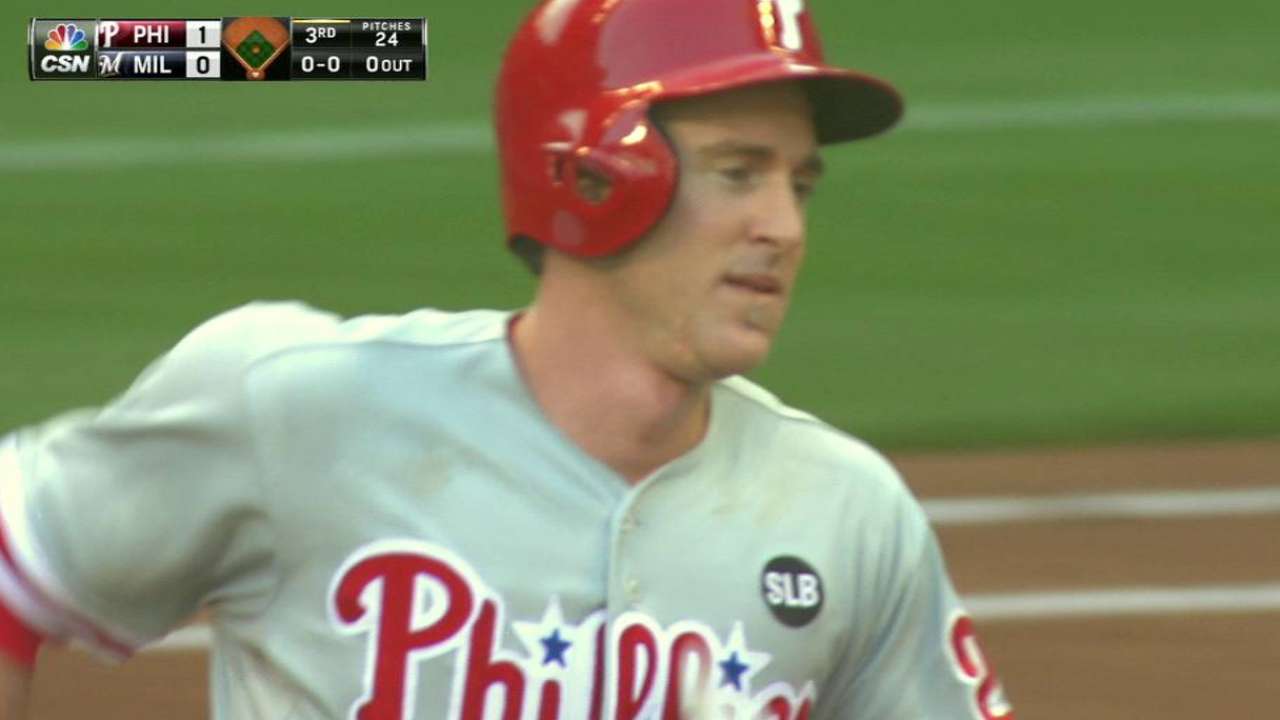 CHICAGO -- Surprisingly, Chase Utley was not seen making his way down I-94 from Wisconsin on Sunday, among the hordes of Chicagoans returning from their weekend retreats.
But it won't be a shock if Utley is at Wrigley Field on Tuesday. Or greeting his new teammates Mike Trout and Albert Pujols at Angel Stadium of Anaheim. Or hunkering down to help the Giants do battle with the Cardinals in St. Louis. Or even pulling on the pinstripes at Yankee Stadium.
A weekend that saw one of the Phillies' top scouts spend time watching the Cubs at U.S. Cellular Field suggests that the Phils are about to pull the trigger on a complicated trade involving the six-time All-Star, although Utley could decide he doesn't want to go anywhere. He's hitting like himself again after an injury-related decline, and he has elicited interest from multiple contenders looking for left-handed hitting.
Because of Utley's 10/5 no-trade rights, he can veto any trade. Reports on Sunday said the UCLA product is most interested in going to the West Coast. Maybe so, but it's hard to imagine that there's a better fit for Utley than throwing in with Joe Maddon's merry band of Cubs, who suddenly find themselves with the fourth-best record in the Major Leagues.
Sources have indicated the Cubs' interest in Utley, but there has been some internal debate about whether to tinker with a roster which is humming along and on pace for 94 victories.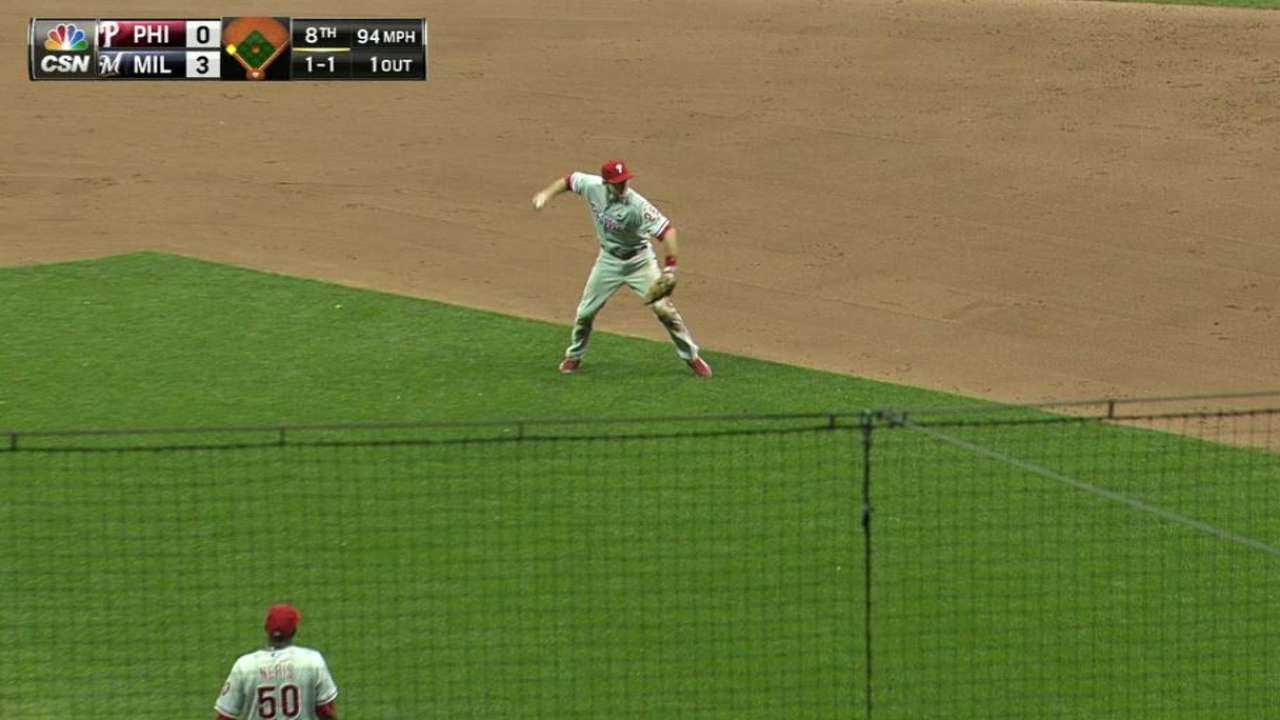 It's understandable Theo Epstein's front office would want to think hard before making a move that would impact productive players like Chris Coghlan and Jonathan Herrera, not to mention onetime building block Starlin Castro. But getting beyond sentiment -- something Epstein has no problem doing -- the reality is Utley is a perfect fit for the Cubs. Not just for 2015, but '16 as well, assuming he's healthy and truly motivated to end his career with a return to October baseball.
This has been a nightmare season for Utley, thanks in large part to an ankle he hurt in January. But since being activated from the disabled list on Aug. 7, he's gone 13-for-26 with six extra-base hits -- including a homer off Milwaukee's Jimmy Nelson on Saturday. Phillies interim manager Pete Mackanin says Utley's bat speed has returned and he looks "pretty frisky," not like a 36-year-old at the end of his career.
Utley's desire to spend his entire career in Philadelphia has added to his popularity with Phils fans. But the time has come for the veteran to bow out, as 25-year-old Cesar Hernandez has joined shortstop Freddy Galvis in looking like a middle infielder to build around. It's a tribute to his former standing as the best second baseman in the game that Utley has been widely pursued since clearing waivers last week.
Utley would be lucky to wind up with the Cubs, who have handled second base creatively since moving Addison Russell over to shortstop midway through their ongoing run.
Coghlan, who had previously started one Major League game there, has been playing "half games" there, to use Maddon's verbiage, with Herrera serving as a defensive replacement for later innings. Castro, who lost his job at shortstop, has had mixed results at second base, most conspicuously dropping Russell's throw on a routine force in Sunday's 3-1 loss to the White Sox.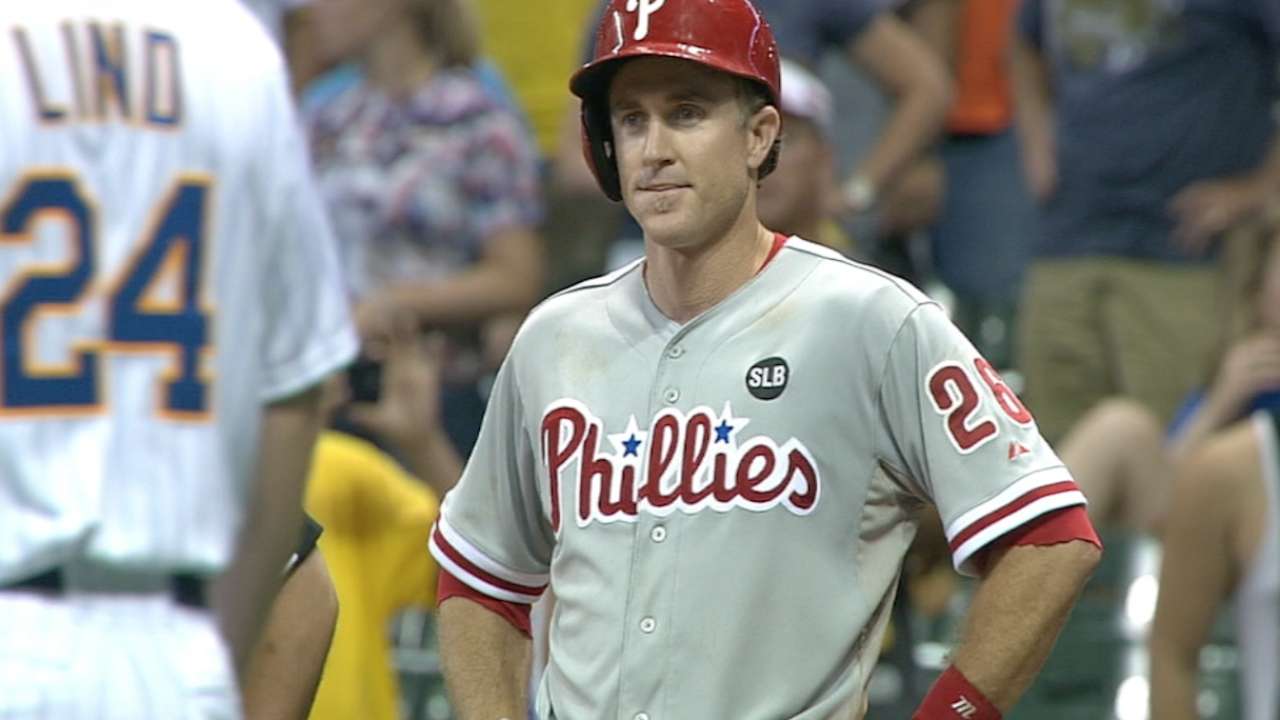 There's a lot of season left, and the baseball gods have a way of always finding a team's weakness. The Cubs will be better if they add Utley, giving them another former first-round pick in their lineup, and move Coghlan around the field to keep the regulars fresh. He's earned a significant role, but there really aren't any insignificant ones with Maddon directing traffic.
Much of Utley's appeal is that he would be another proven postseason warrior to go alongside Jon Lester, Jason Motte and David Ross.
The best time of Utley's career was 2007-11, when the Phillies went to the postseason five years in a row. They won a World Series over Maddon's Rays in '08 and lost to the Yankees in '09. Utley somehow hit seven homers in 11 World Series games, while compiling a career .902 OPS in the postseason.
When Utley eschewed a shot at free agency to sign his two-year, $27 million contract extension in August 2013, he had his eye on playing right up to the cusp of his 40th birthday. The deal included three vesting options after 2015, which now won't be activated because of his time on the disabled list.
Instead, Utley's 2016 deal converts to a team option at a maximum value of $11 million. He'll probably want that guaranteed to approve any deal, and doing so is a reasonable gamble for the Cubs.
They don't know who's going to play second base next year. Javier Baez and Arismendy Alcantara are in the wings, but Utley wouldn't really block them -- not in a long-term sense.
Assuming they can beat the Angels, Giants and others to him, Utley to the Cubs is an idea that makes a lot of sense, especially for Utley.
Phil Rogers is a columnist for MLB.com. This story was not subject to the approval of Major League Baseball or its clubs.