Speedy Spangenberg sparks Padres rally
Bunt single helps San Diego best Rockies in three-run ninth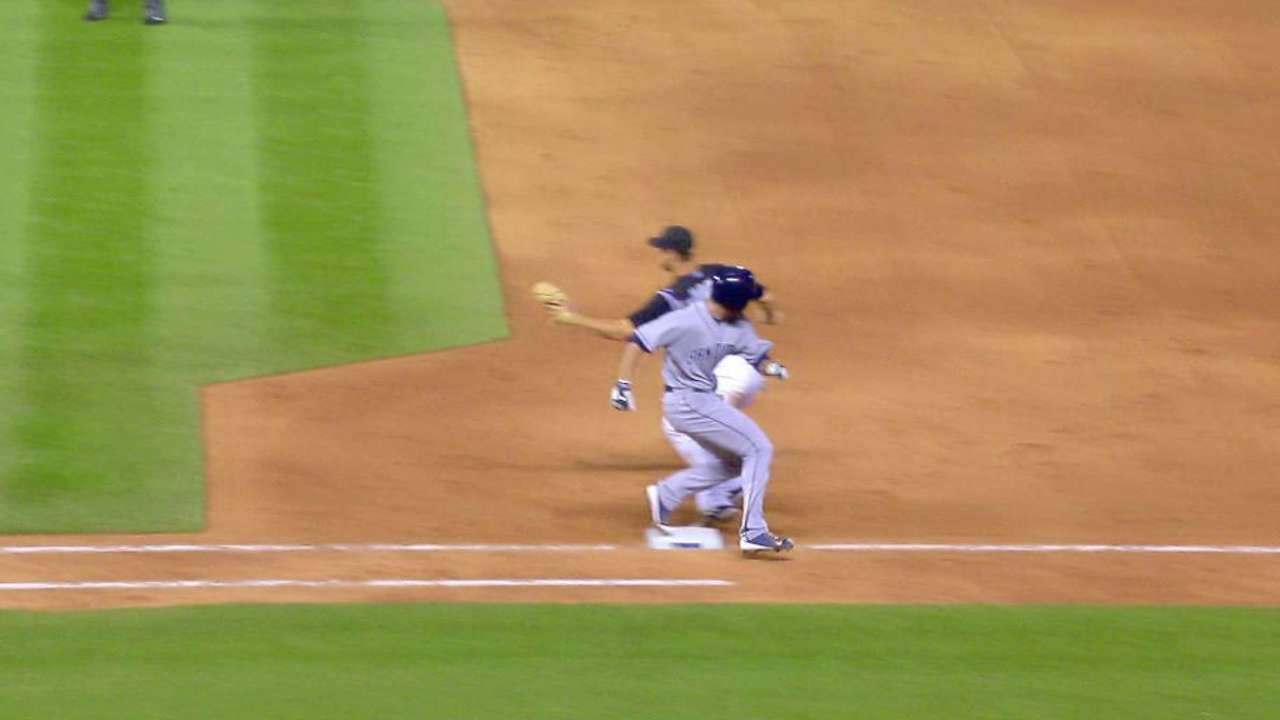 DENVER -- The Padres ran themselves into an improbable victory at Coors Field on Saturday, scoring three runs in the ninth inning for a 7-5 victory over the Rockies.
There were hits, to be sure. But it was the speed of Cory Spangenberg and Melvin Upton Jr. that got the wheels turning on a big inning.
With the Rockies clinging to a 5-4 lead, Derek Norris doubled to left field to start the inning. San Diego interim manager Pat Murphy went to his bench for a pinch-hitter, Spangenberg.
Spangenberg, who has the best speed on the team, put down a bunt in order to move Norris to third base. When Rockies pitcher Tommy Kahnle was slow to get the ball, he rushed a throw to first base. Spangenberg was called out.
But Murphy challenged the play and got it overturned.
"It [speed element] makes the defense bear down and have to concentrate in the ninth inning. We've been playing for three hours. Sometimes that lack of focus can cause bad plays," Spangenberg said.
"It's [speed] important for me. It's something I bring differently than anyone else on the team. If I can cause problems or create havoc it's just a positive for the team."
Havoc it certainly caused.
The next batter, Upton, had what amounted to a swinging bunt, sending a ball out in front of the plate on the third-base side. Colorado catcher Nick Hundley got the ball and looked briefly to third base before throwing high and off the mark to first.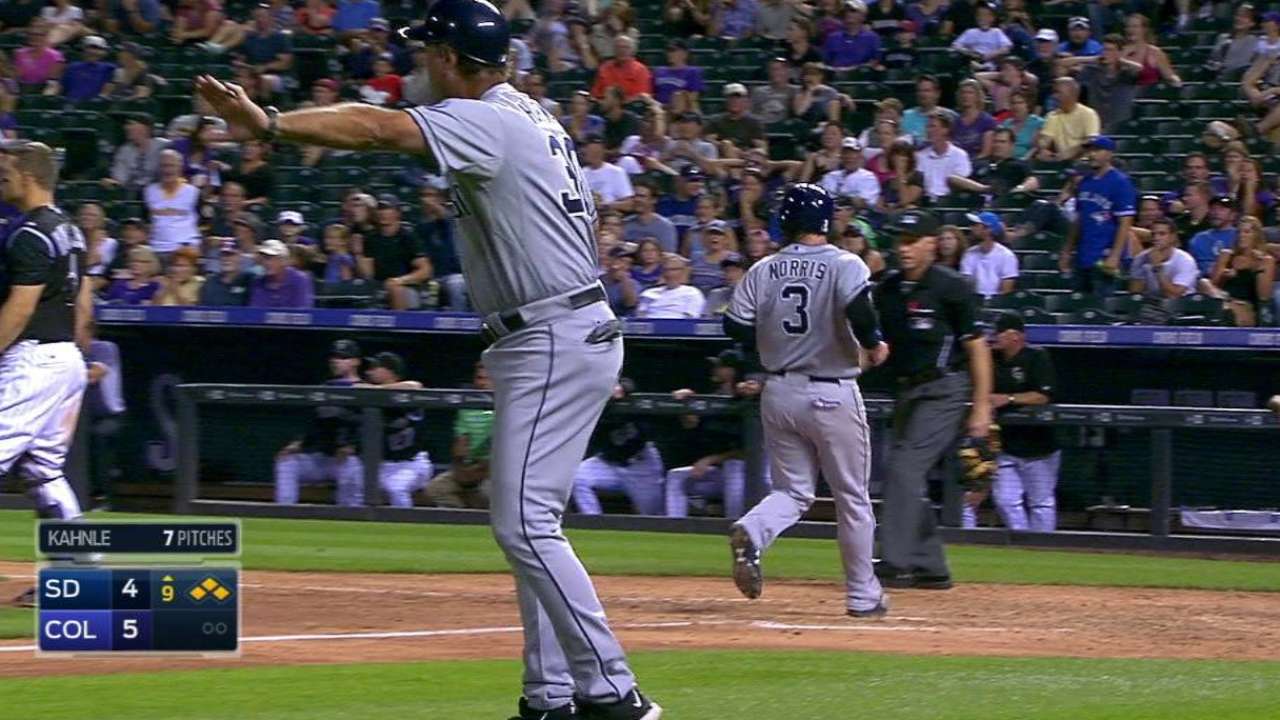 His throw sailed into foul territory and Norris trotted home to tie the game, 5-5. The next batter, pinch-hitter Brett Wallace, had an RBI single to make it 6-5.
"That's a play you need to make 100 percent of the time," Hundley said. "No excuse for that. You've got to make a play and give us a chance to win. Rushed the throw, and it cost us the game."
Yangervis Solarte later added a sacrifice fly to make it 7-5.
In a ballpark where fly balls can become souvenirs, it was small ball that led to big results for the Padres.
A bunt and a ball rolled out in front of the plate paved the way to a big inning and the second win in as many nights for the Padres.
"Spangy, Melvin's speed created an opportunity. Speed is a part of this game," Murphy said. "Even here at Coors, it's tempting not to try to steal bases, but speed alters the game and creates an extra base oftentimes."
Corey Brock is a reporter for MLB.com. Keep track of @FollowThePadres on Twitter and listen to his podcast. This story was not subject to the approval of Major League Baseball or its clubs.