Verlander in top form; just don't call it vintage
Starter fires 7 scoreless innings with 7 K's in Houston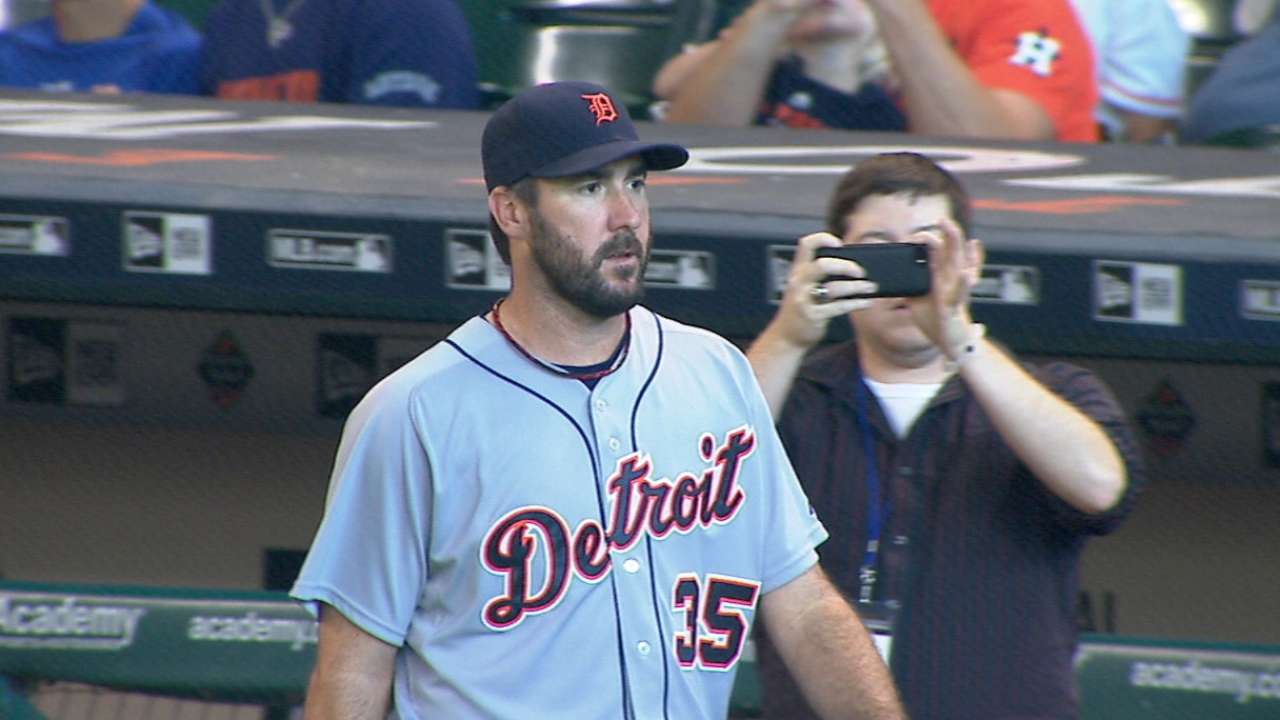 HOUSTON -- Justin Verlander doesn't throw 100 mph anymore, let alone 100 pitches into an outing. But on Saturday, his 96-mph fastball on his 105th pitch was about as close as he's been to that form in years. It sent down Carlos Gomez swinging, and it sent Verlander on his way to seven shutout innings with seven strikeouts.
It was classic pitching from a former American League MVP. Just don't call it vintage Verlander.
"I don't really like the word 'vintage,'" Verlander said after the Tigers' 4-2 win in 11 innings. "I think last year was an aberration for me, and I think I did a lot of work this offseason to get myself and my body in position to be able to pitch well. I look to this as more the norm than an aberration.
"I don't think this is a throwback. This is the pitcher that I am."
If it's not vintage Verlander, it's confident Verlander. That's the Verlander the Tigers need, not just now but long term.
That's the Verlander who can pick up a team through a low-scoring game and give it a chance, even if it took a blown save and an extra-innings rally to finally decide in Detroit's favor.
That's the Verlander who can take on a free-swinging, fastball-slugging Astros and challenge hitters with fastballs.
"He did attack with fastballs early in the game, no question," manager Brad Ausmus said. "He went at hitters with first-pitch fastballs exclusively the first time through the lineup."
Sixty of Verlander's 107 pitches were fastballs, according to data from Gameday and BrooksBaseball.net. He threw 40 of those for strikes. The Astros swung at 30, whiffed on seven, put 10 in play -- and got only one hit.
"There was a point where we even discussed the possibility of changing up the game plan," catcher James McCann said, "but we said we needed to stick with the game plan until they prove they're going to adjust. We just stuck with the game plan."
Said Verlander: "I've been working a lot since I came back off the DL, throwing a lot, trying to find it. I think now I can kind of get into my normal routine and not throw too much and just kind of let my body recover."
The more turns Verlander makes through the Tigers' rotation this summer, the more he backs up his confidence, and the closer this gets to the norm.
He has allowed seven earned runs on 28 hits over 36 innings in his last five starts, walking five and striking out 32. He has tossed at least six innings with no more than one earned run allowed in five of his last seven starts, though he only has one win in that stretch.
Still, this might have been the best of the bunch. Saturday marked his first scoreless outing since the 2013 regular-season finale in Miami, better known for Henderson Alvarez's no-hitter.
"He was pretty good [July 29 against the Rays], 10 punchouts," McCann said. "But you can't throw any better than what he threw tonight. He had a lot of swing-and-miss pitches throughout the game, a lot of bad-looking swings on different pitches. He was in control."
Jason Beck is a reporter for MLB.com. Read Beck's Blog, follow him on Twitter @beckjason and listen to his podcast. This story was not subject to the approval of Major League Baseball or its clubs.