MLB.com Columnist
Phil Rogers
Consistent Quintana remains under the radar
Lefty carries sub-.500 career record, unsupported by mistake-prone White Sox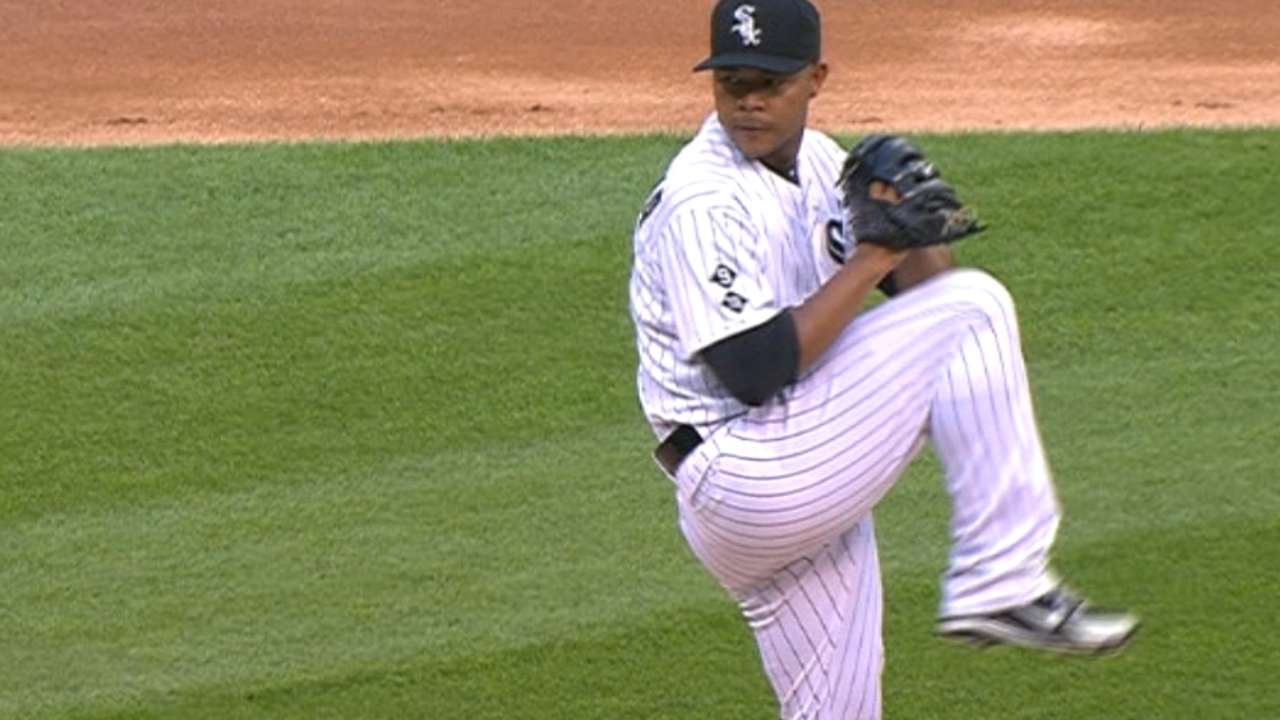 CHICAGO -- Since the arrival of Kris Bryant, Kyle Schwarber and others on the North Side, Chicago baseball has become a tale of two cities. While the Cubs ride the Schwarber Factor toward the postseason, the White Sox operate with little margin for error, and they continue to make too many of them.
Both sides of the trend have been on display this weekend at U.S. Cellular Field, where the Cubs have given themselves a chance to sweep the series and claim the Crosstown Cup. They'll have to beat Chris Sale to do it, but when you've won nine in a row (and 15 of 16), you might not even notice who's on the mound.
Robin Ventura provided the endorsement of the night for the Cubs after their 6-3 victory over the White Sox on Saturday. Asked if he is surprised that such as a young team is on the rise, he replied, "It's not like they got them out of the 30th round.''
Uh, no, they didn't. Bryant was the second pick overall in the 2013 Draft, and Schwarber came with the fourth pick last season. Jorge Soler signed a $30 million contract as a 20-year-old, and Addison Russell is a first-rounder acquired from the A's in a one-sided trade. We could go on, but you know this story by now.
What may be forgotten at this point is that the White Sox were built to contend this season, possibly even more so than the Cubs. They've been sabotaged by a lineup that is last in the American League in runs and OPS, despite the presence of the Jose Abreu, one of baseball's best hitters.
Abreu was brilliant Saturday, delivering an opposite-field double and a run-scoring single lined up the middle. He took a walk, and he was retired only when he smoked a line drive right to Starlin Castro, the Cubs' second baseman.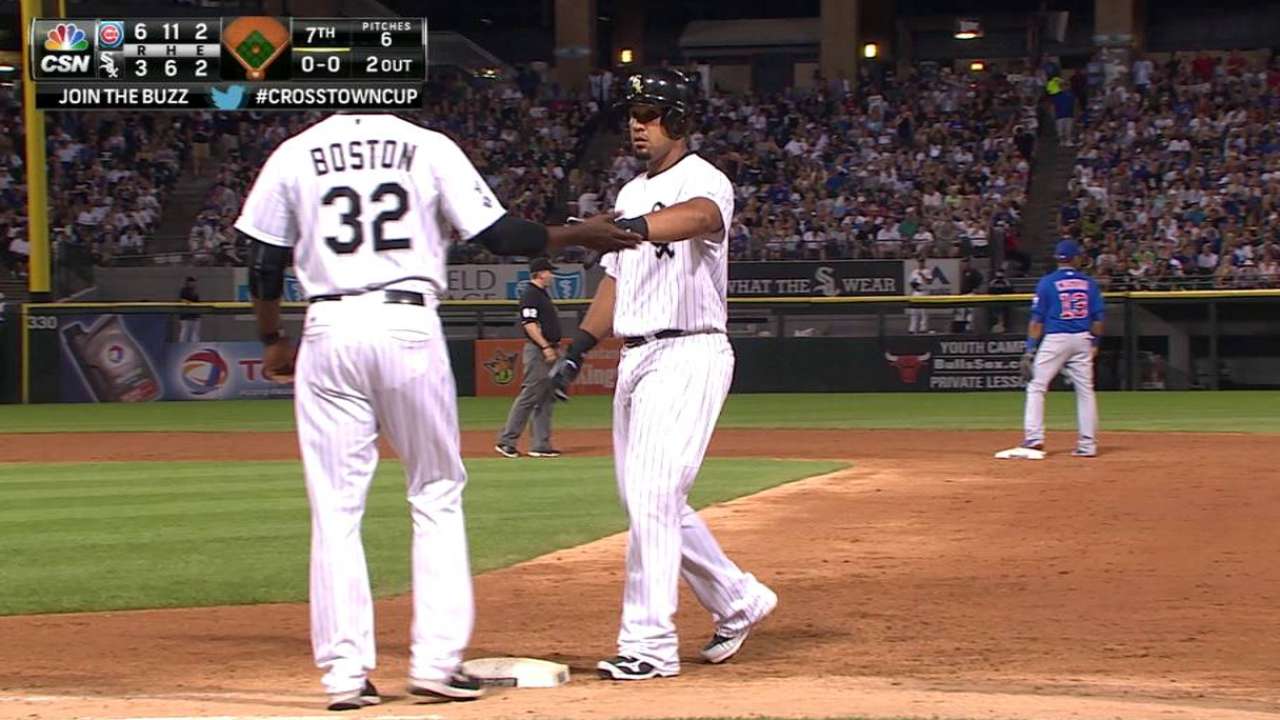 While Abreu hasn't been quite as productive as he was in his AL Rookie of the Year Award-winning season in 2014, he's batting .292 and is on pace for 30 homers and 97 RBIs. He's 13th in the AL in RBIs despite having only 86 at-bats with runners in scoring position, tied with Angels second baseman Johnny Giavotella for 51st.
The old joke of suing his teammates for lack of support applies.
Perhaps Abreu and Jose Quintana, the losing pitcher on Saturday, could file a joint petition in that regard.
A year after being the best 9-11 pitcher in the Major Leagues, the 26-year-old lefty from Colombia is the best 6-10 pitcher around. Quintana's four seasons with the White Sox have been marked by an abundance of no-decisions (47 in 111 starts), but he would have happily taken one this time out.
Quintana was charged with three runs in six innings, leaving with a 3-2 deficit. But he easily could have given up only one run.
After Ventura tempted fate by intentionally walking Dexter Fowler to get to Schwarber in the fifth inning, Schwarber lined a vicious single to right on a 2-2 fastball. Avisail Garcia's strong throw beat Russell to the plate, but Tyler Flowers was slow making the tag, allowing Russell to score the tying run.
Center fielder Adam Eaton lost an Anthony Rizzo fly ball in the dusk in the sixth inning, opening the door for Soler's go-ahead single. Even Quintana's ERA (3.62) suffered, as the Rizzo fly was scored a double. That's the way it goes for the White Sox starting pitchers, who are third in the AL in quality starts but ninth in ERA.
Quintana, who ranked 10th in the Majors in fWAR last season, has slipped to 18th this year, ahead of guys like Felix Hernandez, Jordan Zimmermann and Matt Harvey. He remains something of a local secret, thanks to his 30-34 lifetime record.
"I love the kid," Ventura said. "He's a competitor. When he goes [to the mound], the other teams knows they're in for a fight. He's grinding the whole time. His record is one thing, but we know what he is. … That record, you can throw it out the window."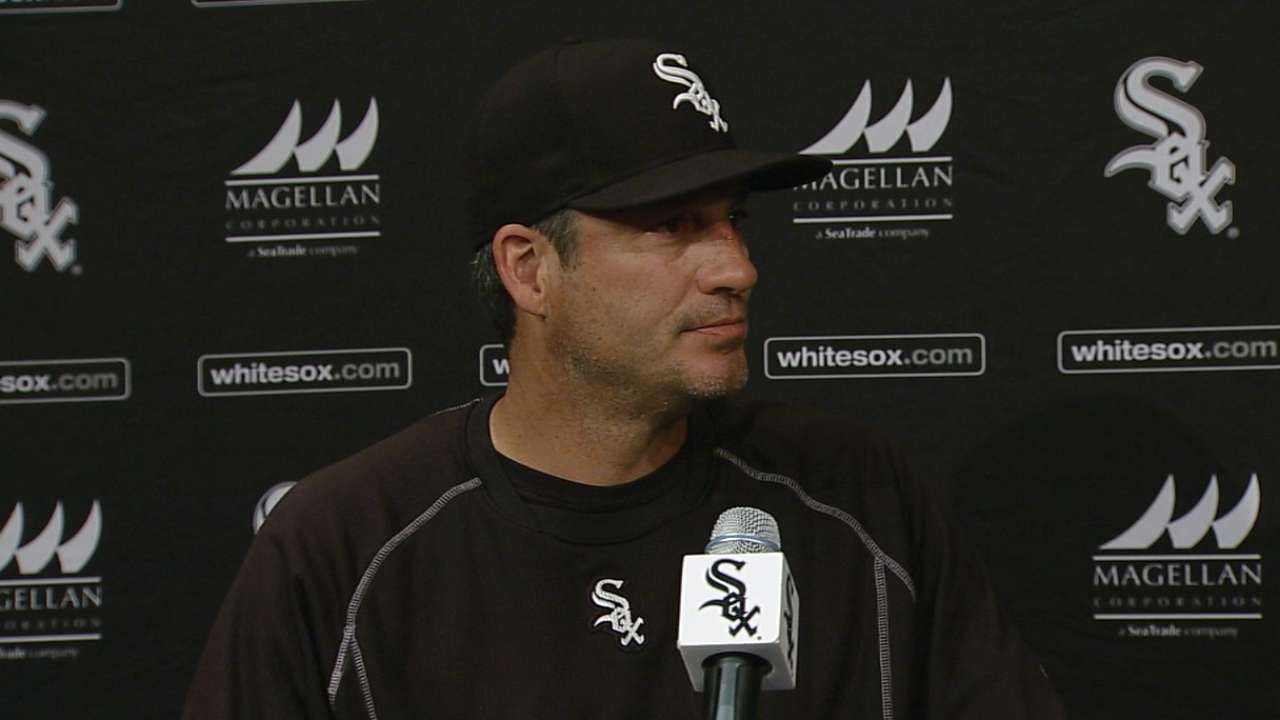 When the Yankees were unable to add a 21-year-old Quintana to their 40-man roster after his 2011 season in the Florida State League, Brian Cashman said it was because they "looked at him as a fringy prospect." Give the White Sox credit for seeing Quintana's potential.
On pace for his third consecutive 200-inning season, Quintana has been almost as much of a scouting success story for the White Sox as Sale. The work of Daraka Shaheed and Joe Siers (who also played a role in scouting Sale) unearthed the classic diamond in the rough.
Ken Williams, Rick Hahn and Dan Fabian, the White Sox director of baseball operations, played a role in the process that put Quintana in the express lane to U.S. Cellular. Along with Buddy Bell, they are the guys who are searching with ways to make the lineup around Abreu more productive.
The White Sox arguably have a surplus of young, controllable pitchers. They've got Quintana (signed through 2018 with options for two more seasons), Carlos Rodon (taken one pick ahead of Schwarber in the 2014 Draft) and prospects Carson Fulmer, Erik Johnson, Frankie Montas, Tyler Danish and Chris Beck lined up behind Sale.
Hahn probably wants a mulligan in not dealing Jeff Samardzija before the non-waiver Trade Deadline. But the White Sox are sure to consider trading pitching for hitting in the upcoming months. They were aggressive on the free-agent market last winter, and this time around, they might not have the flexibility that allowed them to add Melky Cabrera and Adam LaRoche.
Quintana would have a lot of value on the trade market if Hahn decided to make him available. But you can't blame the Sox if they want to keep him around long enough to start piling up wins for them. Quintana deserves a lot better than he's gotten to this point.
Phil Rogers is a reporter for MLB.com. This story was not subject to the approval of Major League Baseball or its clubs.