Braves show character with 8th-inning surge
Swisher's HR caps 4-run frame in loss to D-backs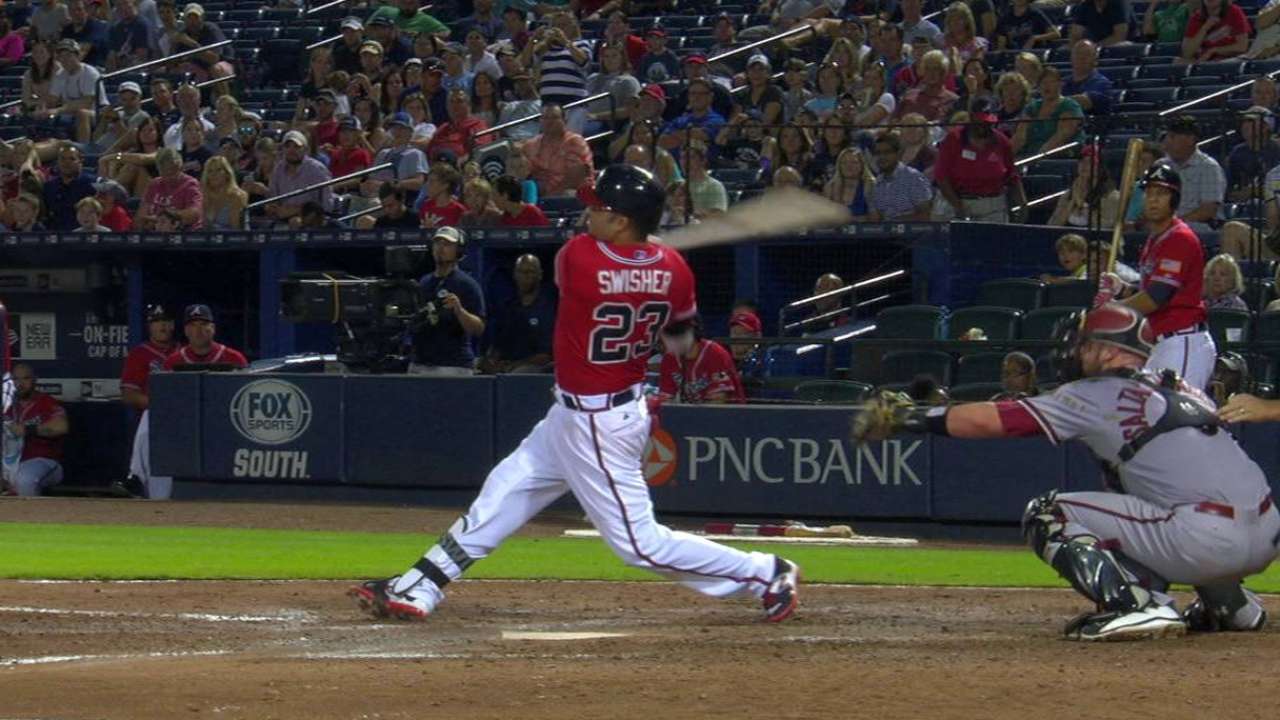 ATLANTA -- Though it proved to be a rally that fell short, the two-out offensive surge the Braves produced during the eighth inning of Saturday night's 8-4 loss to the D-backs provided Atlanta manager Fredi Gonzalez some proof that his players have not quit despite facing the reality that their playoff hopes essentially disappeared over the course of the past month.
"It's so great to be part of a team that wants to compete and just fight until the last out," Braves first baseman Nick Swisher said. "We have a lot of young guys that are very talented. Just being here for a week, the sky is the limit for this team in the future. I think if we just continue to go out and give it everything we have every single day, things are going to turn in our favor."
When the Braves acquired Swisher from the Indians last week, they were aware of the concerns surrounding his surgically-repaired knees. But at the same time, they viewed him as a high-energy, respected figure who had the potential to enrich their clubhouse and possibly prove that he does indeed have something left in the tank.
Swisher's two-run homer off Daniel Hudson capped the four-run, eighth-inning eruption that allowed the Braves to walk away from this latest loss with some energy. The veteran first baseman had been just 1-for-17 since being acquired by Atlanta before the home run.
"It was nice to get out on one and really let it fly a little bit," Swisher said. "When you come to a new team, you just want to get hits."
The Braves had totaled just three hits when they exited Saturday's seventh inning trailing the D-backs 6-0. Instead of looking like a club that had lost 21 of its previous 31 games, they instead showed some fight with the help of Cameron Maybin, who fueled the rally by recording a one-out hustle double.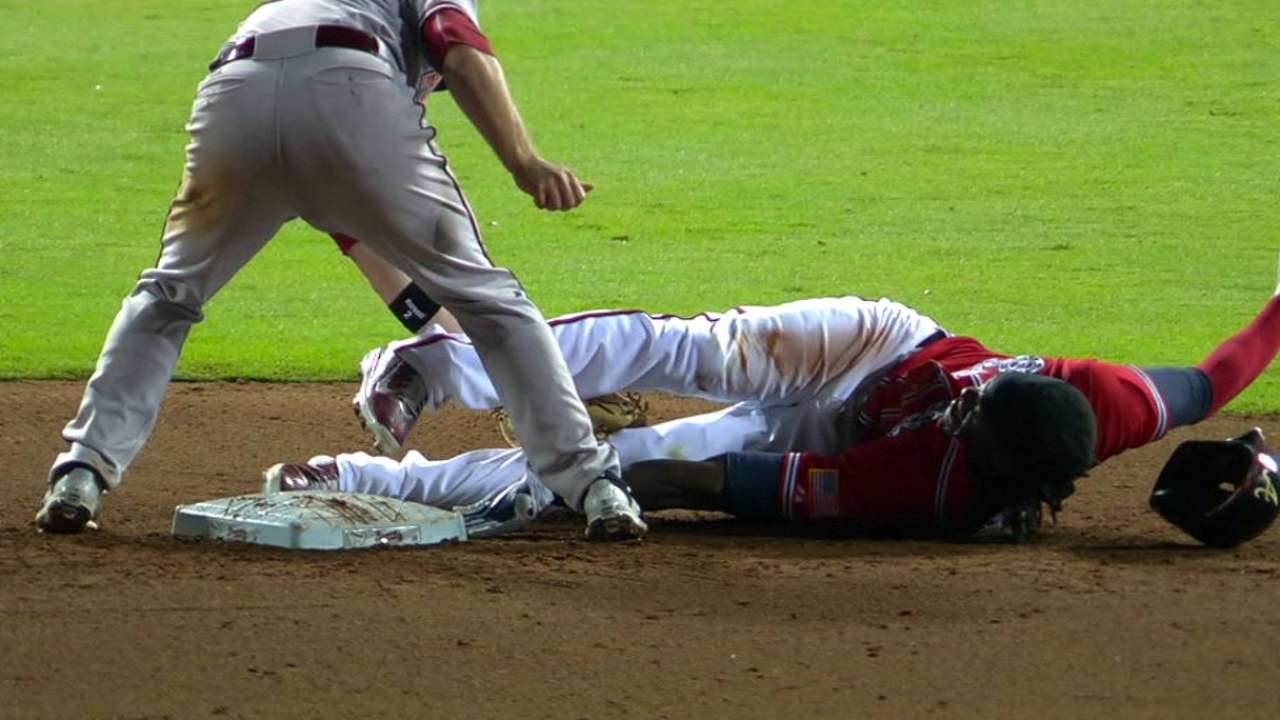 Maybin scored two batters later, when Jonny Gomes recorded an RBI single off left-handed reliever Keith Hessler. Adonis Garcia, who was targeted to spend most of this season with Triple-A Gwinnett, followed with a RBI double -- his ninth extra-base hit since being recalled to Atlanta's roster on July 25.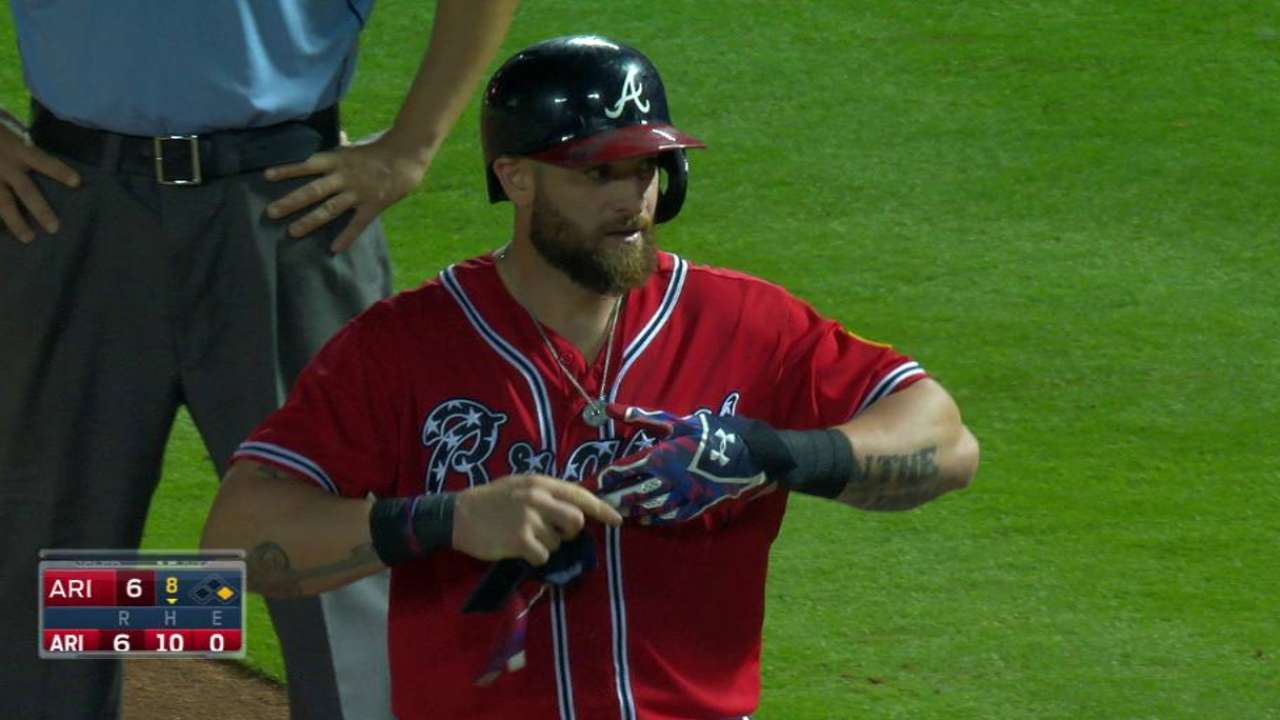 After Swisher's homer cut Atlanta's deficit to 6-4, the D-backs tallied a pair of insurance runs off Jake Brigham in the ninth inning. Still, Gonzalez walked away from this setback with the sense his club still has some fight left in it.
"These guys are professional and they love playing the game," Gonzalez said. "When they get a chance to play, they do well and they bring it. When they don't get a chance to start, they're getting after it and supporting their teammates. Those are great qualities to have with your players."
Though Swisher has been around this club for just a week, he has already gained a sense of what kind of players Braves president of baseball operations John Hart has been targeting.
"They're bringing in guys that just grind it out each and every single day," Swisher said. "Regardless of whatever the score is, it seems like we don't stop coming, which is great. Even though we lost tonight, that was something to build on."
Mark Bowman is a reporter for MLB.com. Listen to his podcast. This story was not subject to the approval of Major League Baseball or its clubs.