White Sox unable to cash in extra chances
Scoring opportunities thwarted, miscues wreak havoc
CHICAGO -- What's the difference between a team that has won nine straight, a streak belonging to the Cubs following a 6-3 victory Saturday night at U.S. Cellular Field, and a team sitting six under .500 such as the White Sox? In the second of this three-game set, the answer stands as cashing in on opportunities.
Saturday's game became a reversal of Friday's series opener, with good starting pitching from Jake Arrieta and Jose Quintana and subpar play behind the two men on the mound. But the Cubs (67-48) did more with the miscues than the White Sox (54-60) could on this night.
"You look at the whole game and they made some mistakes we didn't capitalize on, and we made some mistakes and they capitalized on them," White Sox manager Robin Ventura said. "They put some stuff in play and they scored when we made some mistakes."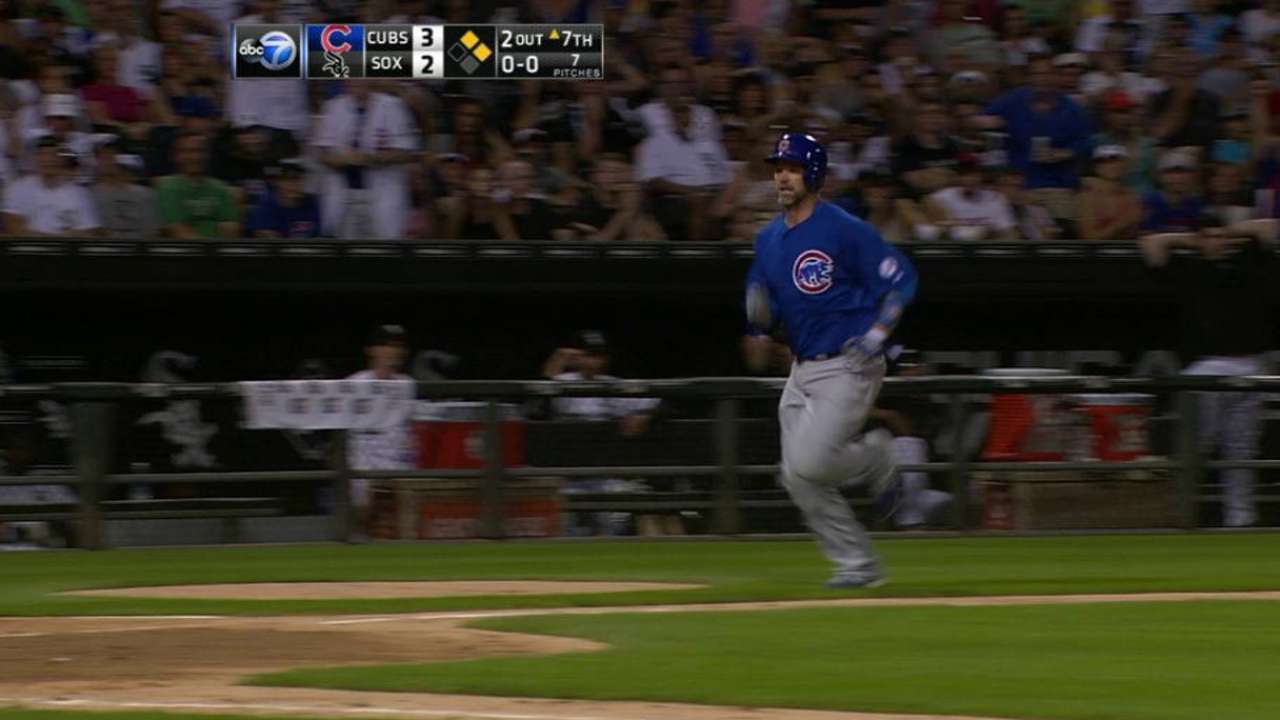 "They're taking advantage of mistakes," said White Sox catcher Tyler Flowers. "It seemed like every time someone got into scoring position, they found a way to get him across some way, shooting balls down lines or blooping them in. They're swinging it well. We've just got to score more runs."
The White Sox defense, which had been a problem for part of the season's first three months, had improved over the past two. On Saturday, though, Adam Eaton lost an Anthony Rizzo fly ball that dropped for a double with one out in the sixth and cost the White Sox a run when Jorge Soler singled in the next at-bat.
An Alexei Ramirez throwing error on a potential inning-ending double play sparked a three-run rally for the Cubs in the seventh. This play didn't work all around, as reliever Zach Duke made a poor throw on Kyle Schwarber's grounder back to the mound and Jose Abreu was unable to scoop Ramirez's throw at first.
Then there were chances given to the White Sox against Arrieta, who has emerged as one of the game's elite pitchers. Arrieta threw away a Ramirez grounder back to the mound that led to one run scoring without a hit in the second, but Flowers struck out to strand Ramirez at third.
Kris Bryant dropped Arrieta's throw when they had Avisail Garcia caught off of third in the fourth, putting runners on first and third with one out. But Carlos Sanchez and Flowers struck out swinging.
"I had a couple at-bats there with opportunities and didn't seem to get a pitch on the heart of the plate," Flowers said. "It was just corner, corner, elevate. Combine that with pretty good stuff and it's a challenge."
"Tough baseball game on both sides," Eaton said. "It was a game of more mistakes than we wanted to give each other. They took more advantage than we did."
Sunday serves as the deciding game for the 2015 Crosstown Cup. More importantly, if the White Sox want to move into the playoff picture, where the Cubs are firmly located, they would be helped by striking when the chances present themselves.
"We've been playing much better," said Ventura, referring to his team's defense. "You just put it behind you and go on from there. You know the reason why you're in a tough spot tonight."
Scott Merkin is a reporter for MLB.com. Read his blog, Merk's Works, follow him on Twitter @scottmerkin and listen to his podcast. This story was not subject to the approval of Major League Baseball or its clubs.