Davis displays power with clutch 2-HR night
Slugger blasts two-run shot in 4th, ends game with walk-off dinger
BALTIMORE -- An air of excitement overtook Oriole Park at Camden Yards as Chris Davis' name was announced over the loudspeaker with two outs in the ninth inning of a tie game. Most of the 44,028 fans in Baltimore rose to their feet in anticipation of what could be with the powerful lefty stepping into the box.
The end result was almost anticipated with the way Davis has been swinging the bat -- reminiscent of his 53-homer season in 2013 -- and the Orioles' slugger delivered exactly what the Baltimore faithful were hoping for with a walk-off home run to right field to cap off an Orioles 4-3 comeback victory over the A's.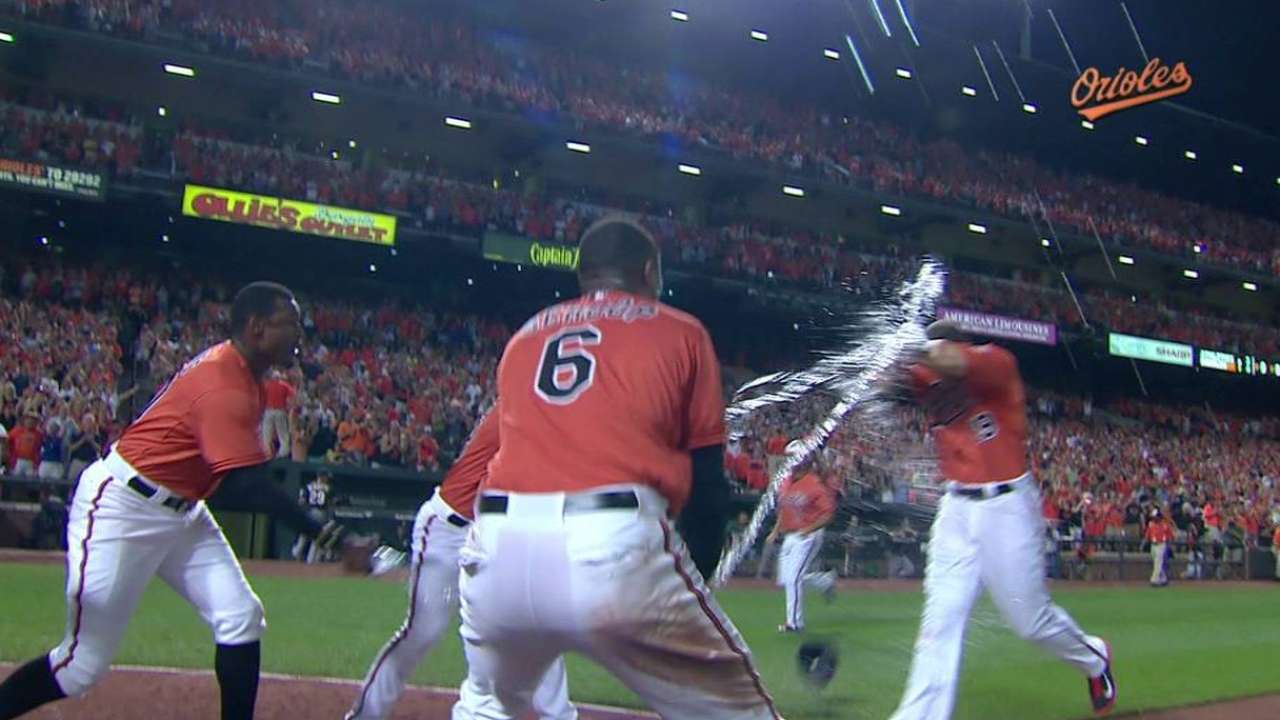 "I didn't know," said Davis of whether his ball had enough to leave the park. "Obviously, this is a great place to hit, and the ball, I feel, has been carrying lately, but I didn't know. [Josh] Reddick is a great outfielder, and I've seen him make some pretty incredible plays out there, so I knew if he had a chance to get back and get up there, that we were probably going to be heading out on defense."
The Orioles' second walk-off win in a row landed on the same day that Orioles manager Buck Showalter and executive vice president Dan Duquette fielded questions from season ticket holders at Camden Yards. The first question asked was about re-signing free agents at the end of year, and Davis was mentioned as a priority for Baltimore.
Whether those are just meaningless words or not, the Orioles' slugger is surely making a case to stay. Davis has hit six home runs in the past six games while increasing his season total to 34 and leading the Major Leagues with 88 RBIs.
"It just means I'm doing my job," Davis said. "I know my job, as well as a couple other guys in the middle of the lineup, is to drive runs in and any way I can get it done. That's what I'm trying to do."
Davis' walk-off home run off Pat Venditte was his second of the night, with the first coming by way of a two-run shot in the fourth that brought the Orioles within one run. That long ball was Davis' 86th at Camden Yards, which granted him sole possession of fifth place on the Oriole Park all-time home run list, passing Cal Ripken Jr.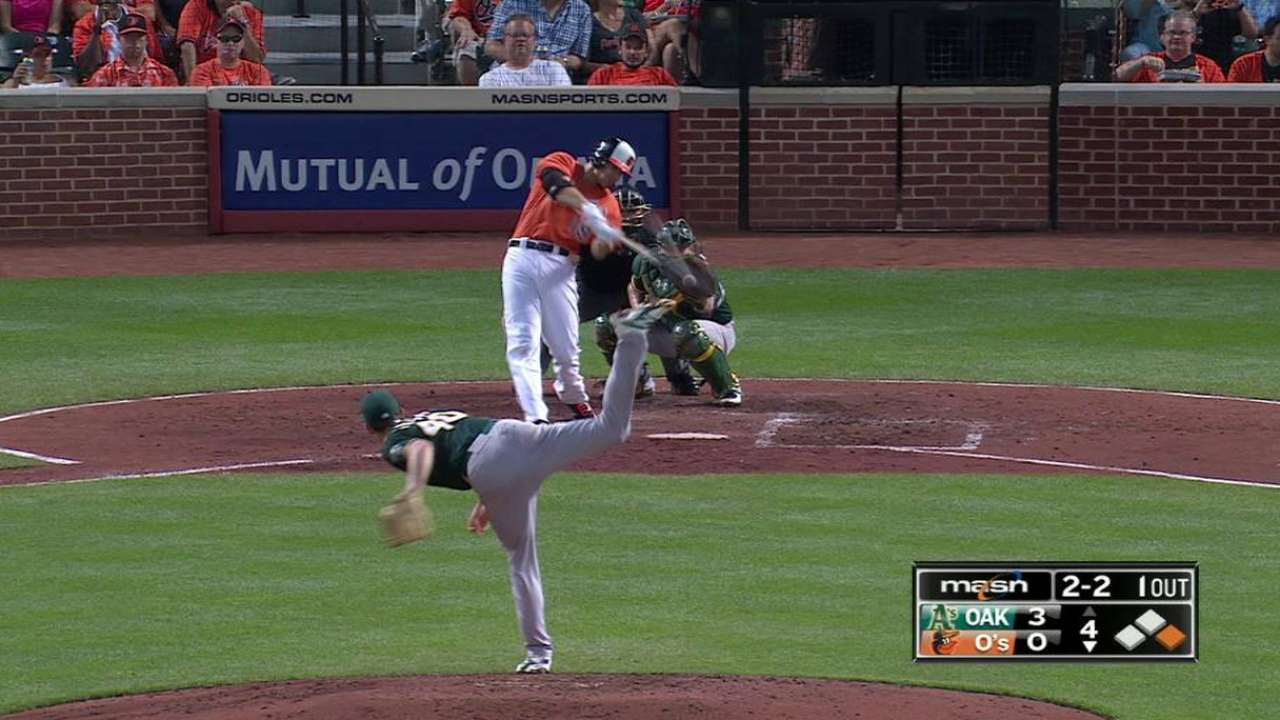 Although it's his 87th home run that will be the one that fans remember, the one that fans will ask questions about at next year's annual season ticket holders' Q&A, whether Davis is with the squad or not. It'll be hard to justify not re-signing the slugger after he's hit .333 with 15 home runs and 36 RBIs since the All-Star break.
But Davis, who said he would love to stay in Baltimore, isn't worried about contract negotiations at this moment, and neither are the Orioles. They just hope Davis can keep up this hot streak as the team makes a late-season push for the playoffs.
"He's been impressive," starting pitcher Miguel Gonzalez said of Davis. "Not a lot of guys can do what he does, especially hitting those baseballs away. He's able to extend his bat and hit it a long way. That's what he's all about. I'm definitely glad I don't have to face him. He's been awesome all year."
Connor Smolensky is an associate reporter for MLB.com. This story was not subject to the approval of Major League Baseball or its clubs.