Conforto thrilled about first homer at Citi Field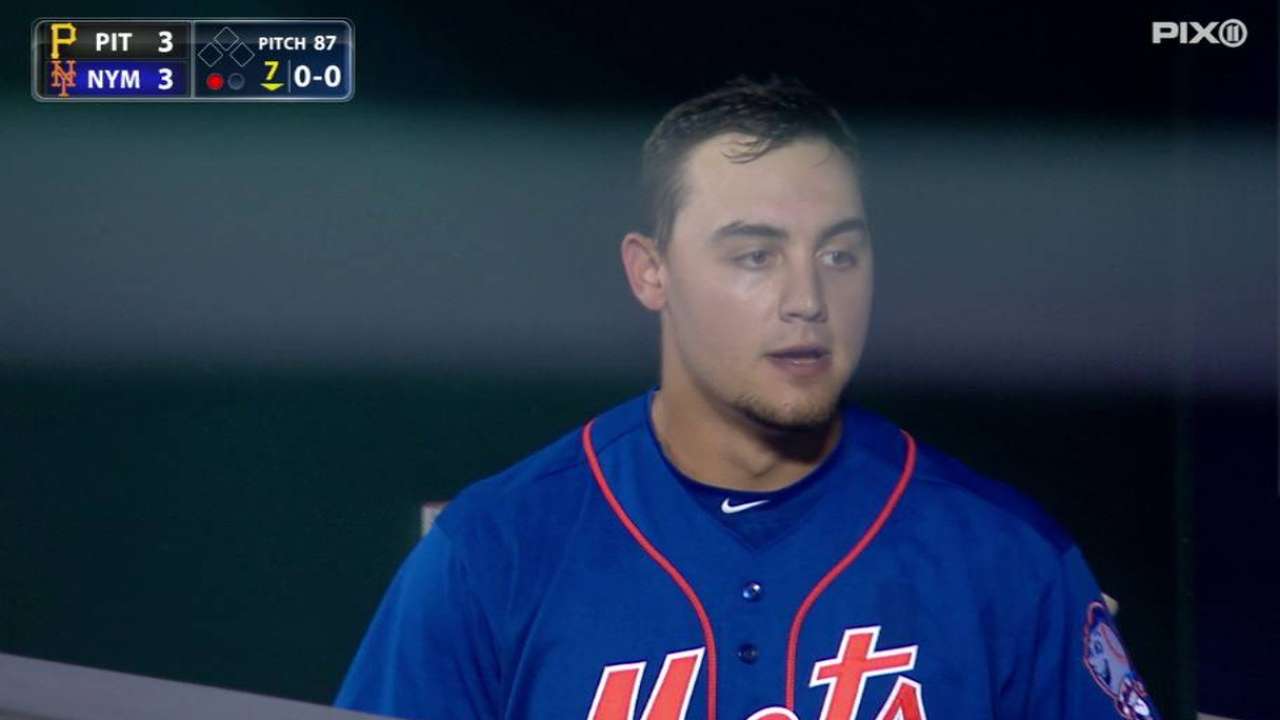 NEW YORK -- The biggest moment of Michael Conforto's young Mets career came in Saturday's 5-3, 14-inning loss to Pittsburgh, and it kept Ne-Yo waiting.
With the R&B star scheduled to perform at Citi Field postgame, Conforto ensured the 38,778 present in Queens stayed for a marathon ballgame first by launching a game-tying, two-run homer off Charlie Morton in the seventh.
Conforto's second Major League home run was tracked at 108 mph by Statcast™, accounted for his first in front of the faithful in Queens and added to his bubbling three-week big league resume.
"Indescribable," the rookie said. "Its definitely something I'll always remember."
Conforto, 22, continues to reward the Mets' confidence in him to produce against right-handed pitching, despite limited Minor League seasoning. Promoted July 24, Conforto now owns 15 runs scored and 12 RBIs in 17 Major League games after beginning the season in Class A Advanced St. Lucie.
He's looked anything but overmatched despite a pedestrian .229 average in his opportunities so far, routinely launching home runs with the veterans in batting practice and showcasing a mature approach in clutch game situations when they arise.
He laced a game-tying ninth inning double on Aug. 8 vs. the Tampa Bay Rays, and Saturday completed a rapid, seventh-inning Mets comeback with one swing. His homer came on a 2-1 changeup and bounced off the Honda ad beyond the right-field fence, tying the game at 3.
"It was a great at-bat by Michael," Mets manager Terry Collins said. "Certainly one we needed."
"I was going crazy," Mets starter Jon Niese said.
Conforto appears to be the only likely candidate to go down when Mets third baseman David Wright completes his rehab assignment as early as next weekend.
But even if he does, Conforto will certainly be back when rosters expand in September. He wouldn't dismiss the notion that he envisioned himself playing a key role in the stretch run, even back in the spring when his chances of promotion appeared slim.
"You dream of that kind of thing. I won't say the thought never crossed my mind," said Conforto. "It crossed my mind a few times but in reality I figured I would start in high A and work my way through. Keep my head down and learn as much as I can and the rest would unfold the way it should. Being here is pretty awesome. Especially being able to contribute in that way."
Joe Trezza is an associate reporter for MLB.com. This story was not subject to the approval of Major League Baseball or its clubs.