Red jacket means much to new Cards Hall of Famer
Simmons speaks of significance while being inducted, along with Kissell, Flood, Forsch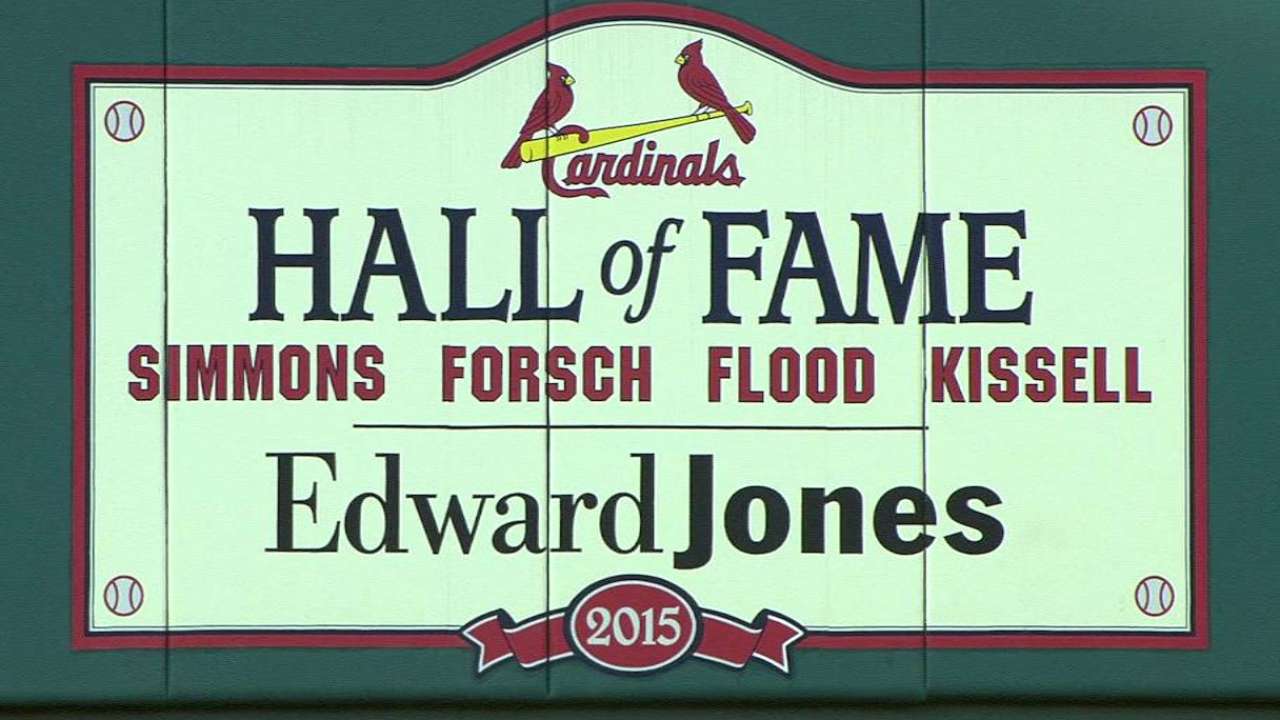 ST. LOUIS -- Ted Simmons will never forget the feeling of putting on the St. Louis Cardinals red Hall of Fame jacket.
"I've never been to Augusta [at the Masters] and put on the green one, but [Phil] Mickelson has never been to St. Louis and put on the red one either," Simmons said. "I've got a feeling it's pretty close."
Simmons, George Kissell, Curt Flood and Bob Forsch were all inducted into the Cardinals' Hall of Fame on Saturday.
Red looks good on you, Mr. Simmons. #CardsHOF pic.twitter.com/Pf2Skq8V70

— St. Louis Cardinals (@Cardinals) August 15, 2015
Simmons, the only living member of this year's class, was the greatest offensive catcher in Cardinals history, playing for St. Louis from 1968-1980. He was named to six All-Star Games, caught two no-hitters and set a National League record with 182 home runs as a switch-hitter.
"All the history is really centered around four places -- Brooklyn-L.A. Dodgers, the New York-San Francisco Giants, New York Yankees and the St. Louis Cardinals," Simmons said. "They've got all the Hall of Famers, they've got all the pennants, and those four places are huge. So when any one of them -- in this case the Cardinals with all their history -- embraces you and brings you forward and lifts you up along with their fan base, it's huge. It's bigger than life."
Kissell never took a Major League at-bat for the Cardinals, but he has influenced every player who came through the organization since 1940. A Minor League player, scout and coach, he spent 66 years with the organization and is widely credited for establishing "the Cardinal Way" of playing baseball.
"He lived by the motto, 'Come early, work hard, stay late and you'll stick around,'" said Dr. Richard Kissell on behalf of his late father.
Former player and longtime Cardinals broadcaster Mike Shannon had to fight back his emotions when talking about Kissell. Shannon spoke about Kissell's way of simplifying the game and his legacy.
Richard Kissell said it was more than just teaching the game for his father.
"He taught his students respect, honesty, loyalty and responsibility and on the way how to play baseball," Richard Kissell said. "He started keeping notes and stats in the 1940's. He was very unusual in that he was never too old to learn a new or better way and used it as long as the statistics supported it."
Flood played for the Cardinals from 1958-1969. The center fielder won seven consecutive Gold Gloves, two World Series championships and hit over .300 six times.
Flood is more known for his departure from St. Louis, in which he refused to accept a trade to the Philadelphia Phillies. The refusal effectively ended Flood's career, but paved the way for modern free agency.
"When he stood, he stood for everyone who could not stand," Shelly Flood said of her father. "The barriers of race and class and colors were broken, and a single principle emerged to define the problem -- the system wasn't fair. It took courage and values, but it also took sacrifice. It also took a toll on him."
Flood's former teammate, Lou Brock, said that Flood was perhaps equally as good defensively as Willie Mays.
Brock said, "Forty-five years ago, Curt took a stand against baseball and he was out of the game for 45 years. ... This year, 45 years later, he has now been welcomed back to baseball."
Forsch pitched for the Cardinals from 1974-88. He started more than 30 games in 10 seasons and retired with the third-most wins (163) and innings pitched (2,658) in franchise history.
Forsch is the only Cardinal to throw two no-hitters. He pitched in three World Series and helped lead St. Louis to a championship in 1982.
"Bob was one of the greatest teammates that I ever played with," former teammate Bruce Sutter said. "His dry sense of humor that kept everybody humble was one of the things I remember most about Bob."
Aside from the red jackets, each inductee was presented with a plaque, and a video montage of each was played before they spoke.
"They do it up right and it's real," Simmons said. "They want fans and the inductees to know that this is a big deal, and when those inductees go in, put that jacket on, you realize what's happening. This is not small potatoes."
Joe Harris is a contributor to MLB.com. This story was not subject to the approval of Major League Baseball or its clubs.