Yerzy, Kieboom MVPs at All-America Game
Top Draft prospects gather for wild contest at Wrigley Field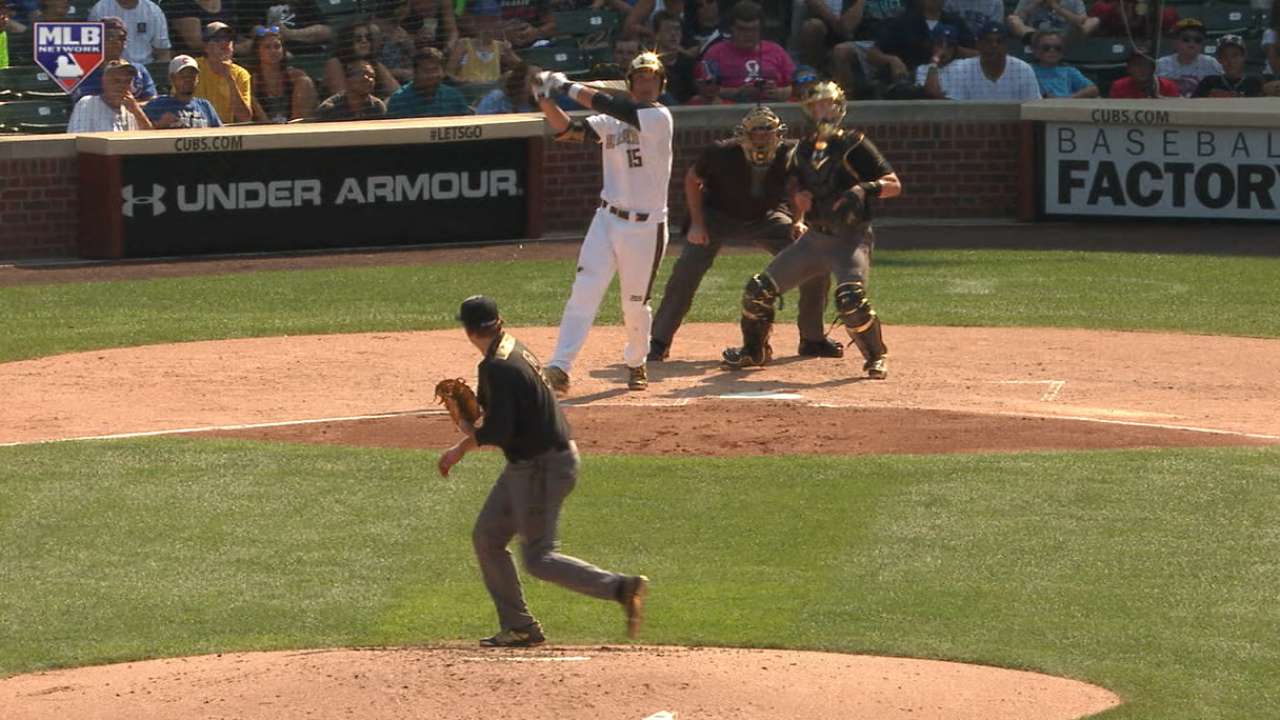 CHICAGO -- There was certainly a lot of young talent on the field Saturday afternoon at Wrigley Field in the 2015 Under Armour All-America Game, powered by Baseball Factory.
There were 98-mph fastballs, a few standout defensive plays and even an opposite field two-run homer. There also were a lot of walks, a bevy of wild pitches and even a play where three runs scored on one wild pitch.
In the end, Mike Amditis reminded those in attendance how impressive some talent can be as he launched an eighth-inning grand slam to cement an 11-5 win for the National team over the American.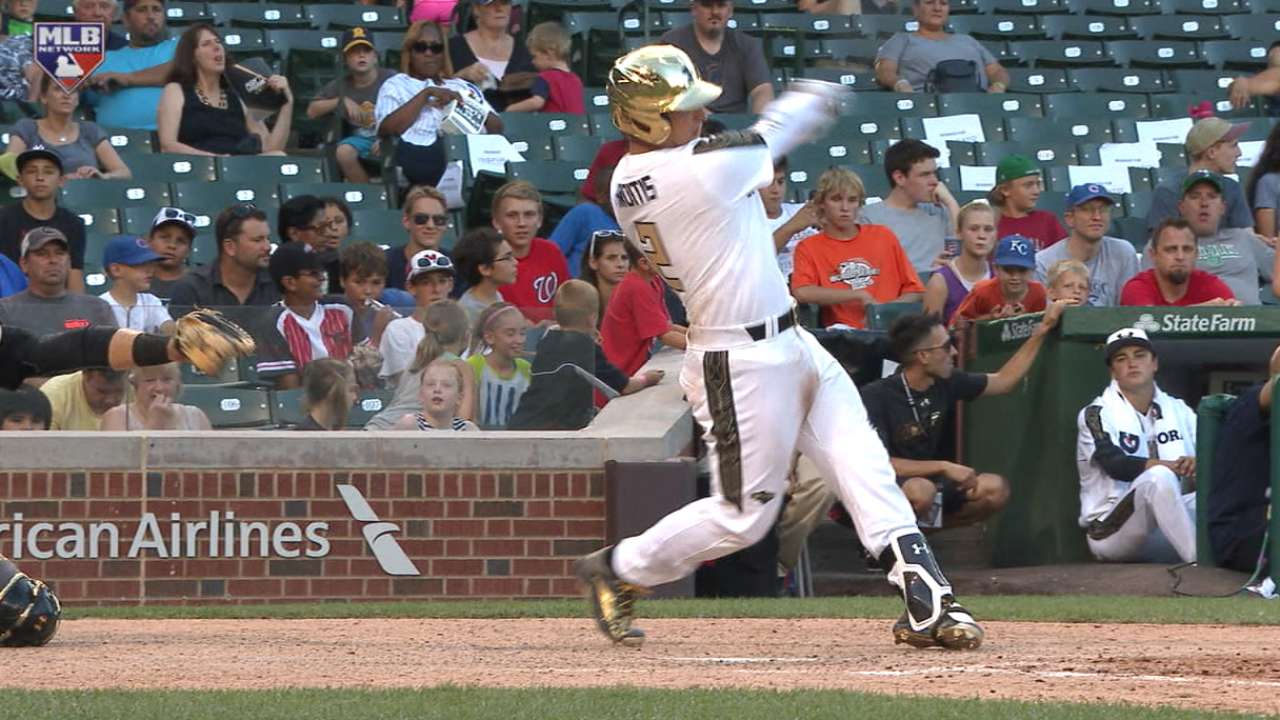 "It was awesome. I was just sitting on a fastball and I got it, and good things happened," said Amditis, a catcher from Boca Raton (Fla.) Community High School.
Despite some other ugliness, there were plenty of standout performances to go along with Amditis'.
Bo Bichette wins Under Armour All-America Home Run Derby
American catcher Cooper Johnson, a Mundelein, Ill., native, had the defensive play of the game in bottom of the third when he threw behind Taylor Trammell at second to nab the runner after a leadoff double. American left fielder Keenan Bell from Episcopal (Fla.) High School also had a sliding catch down the line while battling the shadows, and Bo Bichette had a diving catch at second base.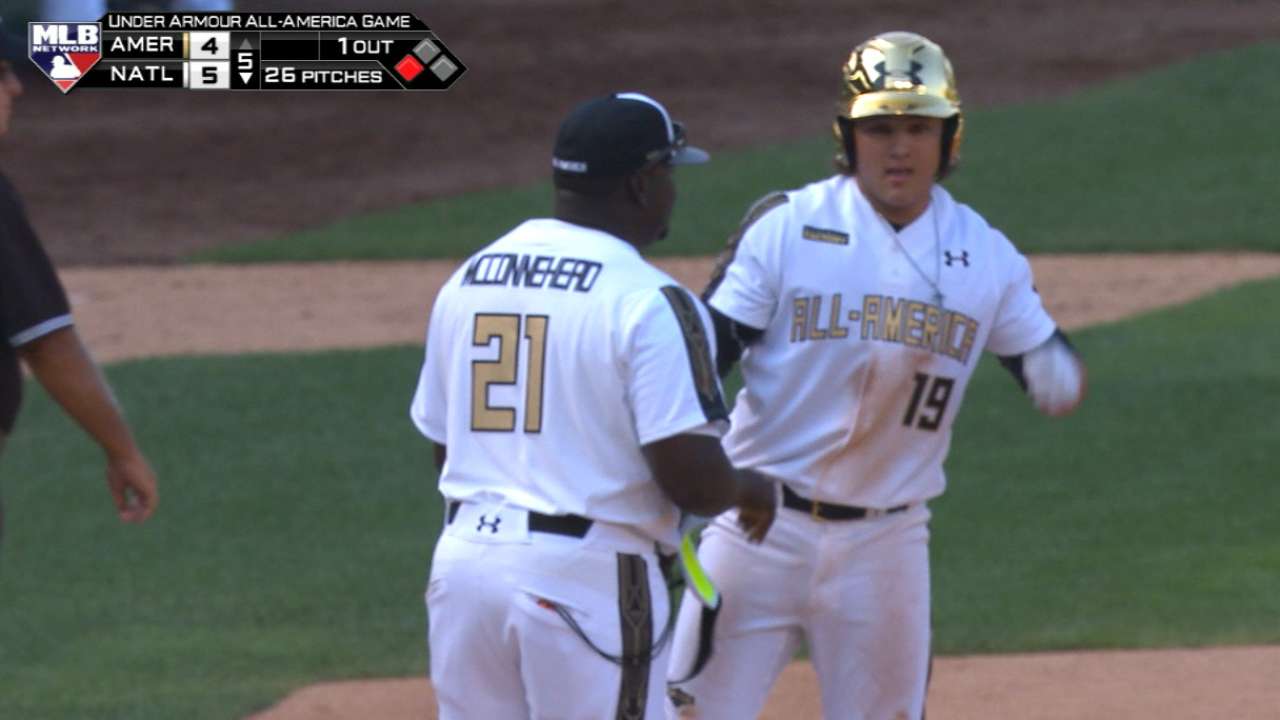 Perhaps the best prospect on hand Saturday was right-hander Riley Pint, a 6-foot-4, 192-pound flamethrower from St. Thomas Aquinas (Kan.) High School.
Pint flashed the dominant stuff that likely will have him high on Draft boards next June - a fastball that sat mid-90s and twice hit 98 mph - but struggled to find command. He walked three and threw two wild pitches in his inning of work.
American starter Alex Speas had some control issues as well in the opening inning -- walking two and hitting a batter -- before inducing an inning-ending double play. The 6-foot-4, 187-pound right-hander out of McEachern (Ga.) High School flashed a mid-90s fastball, an impressive slider and solid changeup.
Right-hander Gregory Veliz also had command issues, but he was unable to get out of his performance unscathed. The a 6-foot-2, 205-pounder out of Key West (Fla.) High School was hit hard as Johnson and Shawnee Mission (Kan.) High School first baseman Joey Wentz each picked up RBI knocks.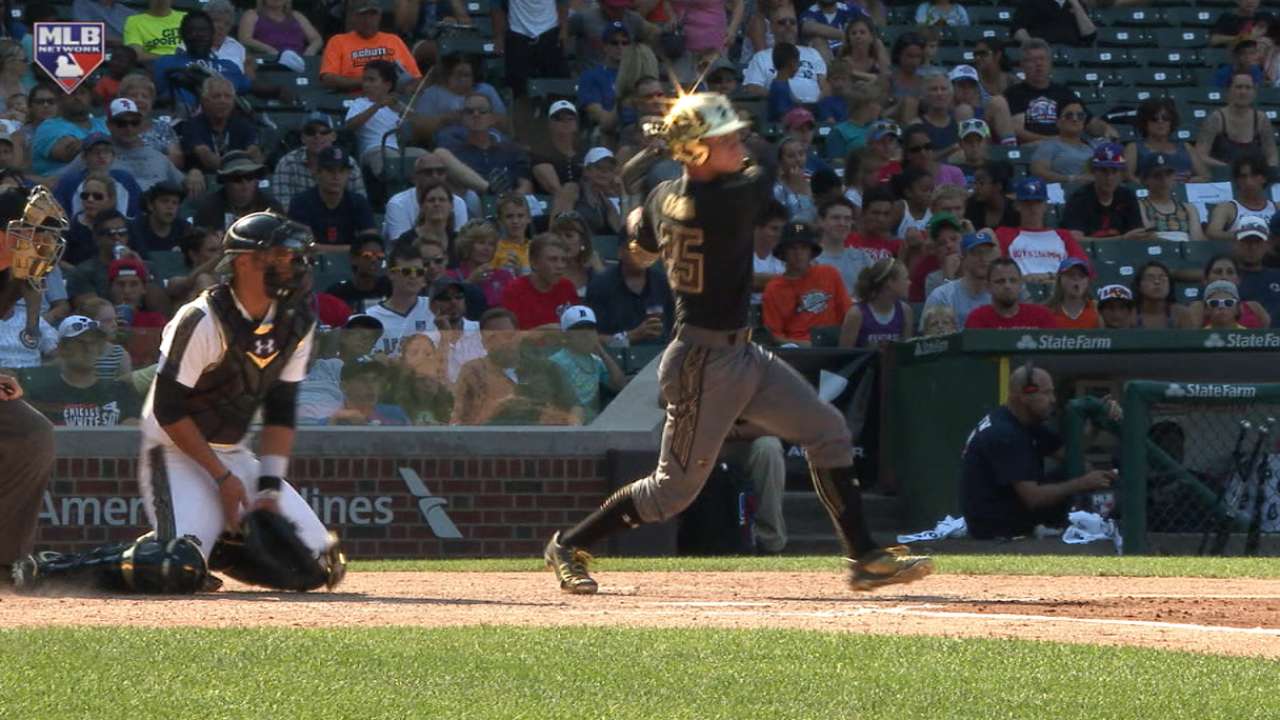 Andy Yerzy brought the power for the National Team in the second, and he had a nice Wrigley Field moment as the Canadian catcher from Toronto's York Mill Collegiate Institute hit an opposite-field two-run homer into the basket.
Yerzy and Carter Kieboom from Walton (Ga.) High School each earned Most Valuable Player honors.
The oddest play of the game came in the bottom of the fifth, when American right-hander Brenden Heiss walked the bases loaded before uncorking a wild pitch that allowed the runner from third to score.
Catcher Thomas Dillard's flip to Heiss covering the plate was wild, bringing in the runner from second, and the toss back to home from the first baseman to nab the second runner was also poor, allowing the runner from first to also come around to score.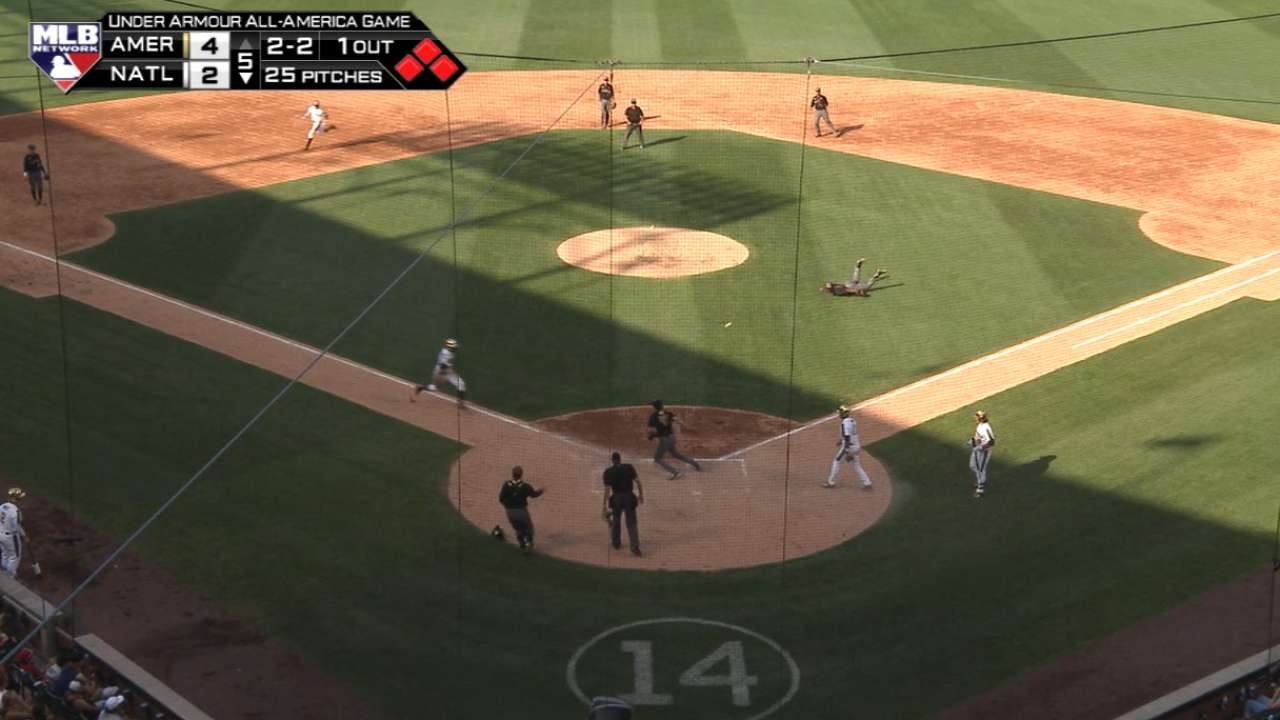 "I don't know, man. It was just a freak accident," Amditis said. "It worked out."
Said Bichette, who was at the plate: "Everybody was freaking out and I was like, 'What's going on?' I was like, 'Well, there goes my RBIs.'"
Cash Kruth is a reporter for MLB.com. Follow him on Twitter at @cashkruth. This story was not subject to the approval of Major League Baseball or its clubs.