Red Sox bats put on historic display
Boston tops 15-run effort in opener with 22 runs, 26 hits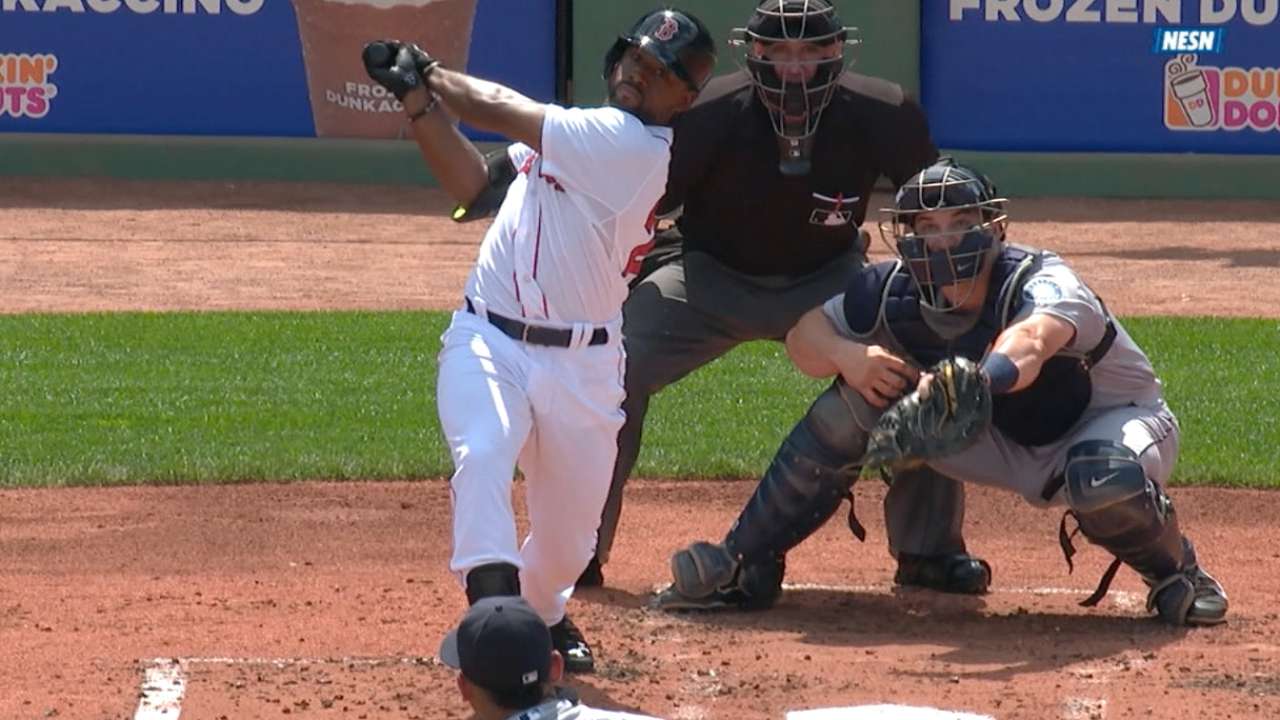 BOSTON -- At first glance, Red Sox fans checking the scoreboard during Saturday's game at Fenway Park might have thought they were either watching a video game, a football game or some combination of the two.
But it was, in fact, an overwhelming showing of offense that outclassed the previous night's 15-run outburst: Boston steamrolled the Mariners in a wild 22-10 victory and pounded out 26 hits in the process. If those numbers weren't already hard enough to believe, the Sox pulled it off with a former Cy Young Award-winner on the hill in Felix Hernandez.
From the moment Mookie Betts started the hit parade with a leadoff single in the first inning to when Jackie Bradley Jr. hit his second home run -- and the team's fourth -- in the eighth, the crack of Boston's bats was unceasing, powerful and relentless. And it left interim manager Torey Lovullo incredulous.
"I wish I could tell you. I wish I knew," Lovullo said. "It's just a bunch of guys going up, having a great approach. Not missing their pitch. We were having some really, really loud contact throughout the course of the game and throughout the course of [Friday's] game. Against arguably one of the best pitchers in baseball. There was no let-up by us."
"I looked up at the board," said Betts, who finished with three hits. "Twenty-two runs and 26 hits is a lot. Hopefully we didn't waste them all today."
The Mariners gave Hernandez the hook after just 2 1/3 innings, over which he allowed a career-high-tying 10 runs, 12 hits and three home runs -- by Bradley, Pablo Sandoval and Alejandro De Aza. Bradley led the way with five extra-base hits and seven RBIs, while five of his teammates collected three or more. Blake Swihart went 4-for-5 with three RBIs and Xander Bogaerts finished 4-for-7 with a pair of RBIs, while David Ortiz was 3-for-3 with three RBIs and Brock Holt added three hits and two RBIs.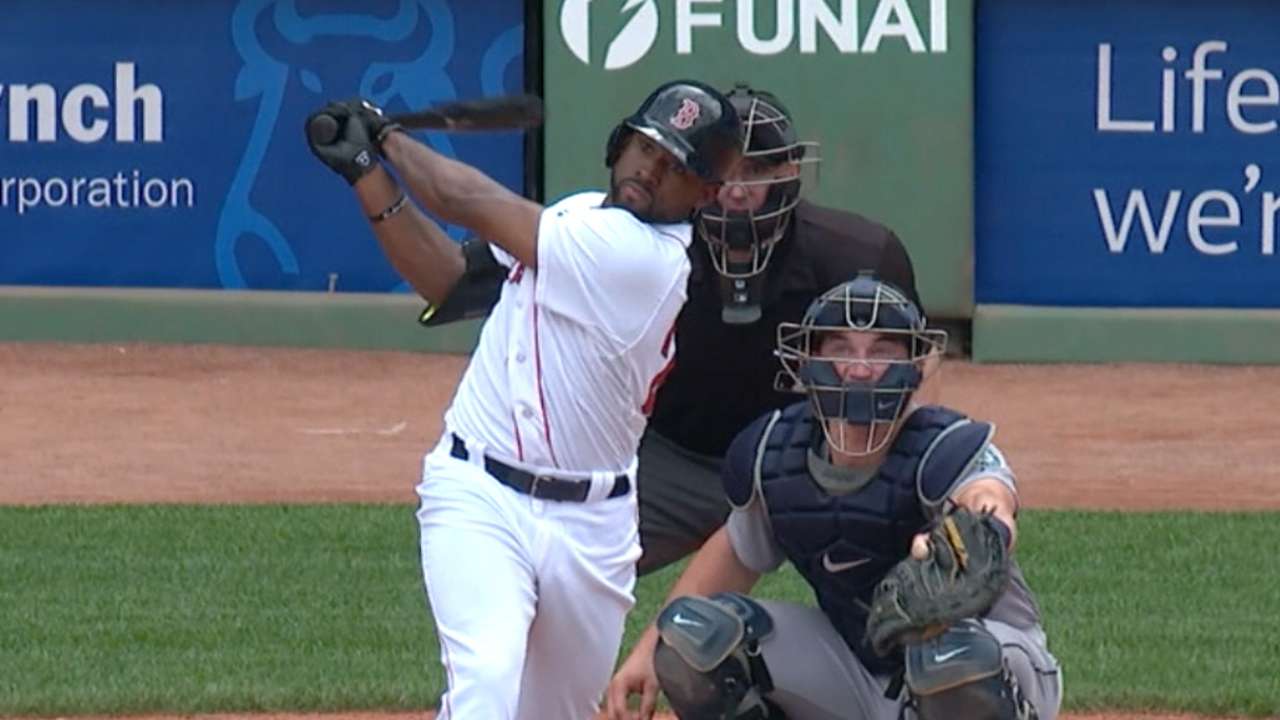 Starter Wade Miley -- sporting a mustache after trimming his beard -- cruised through seven innings after being staked to a huge lead. He'll consider sticking with the 'stache if the hits keep falling.
"Fifteen runs, 22 runs, back-to-back games," Miley said. "[I'm] superstitious a little bit. So I don't know. I know it doesn't look good, but you've got to roll with it."
The real kicker, though, is that the Sox's outburst came one game after erupting for 15 runs on 21 hits in Friday night's series opener. Their 37 runs and 47 hits in back-to-back games make them just the second team in history to collect at least that much offense, joining the 1950 squad against the St. Louis Browns.
Other historical implications of Saturday's 22-run slugfest include: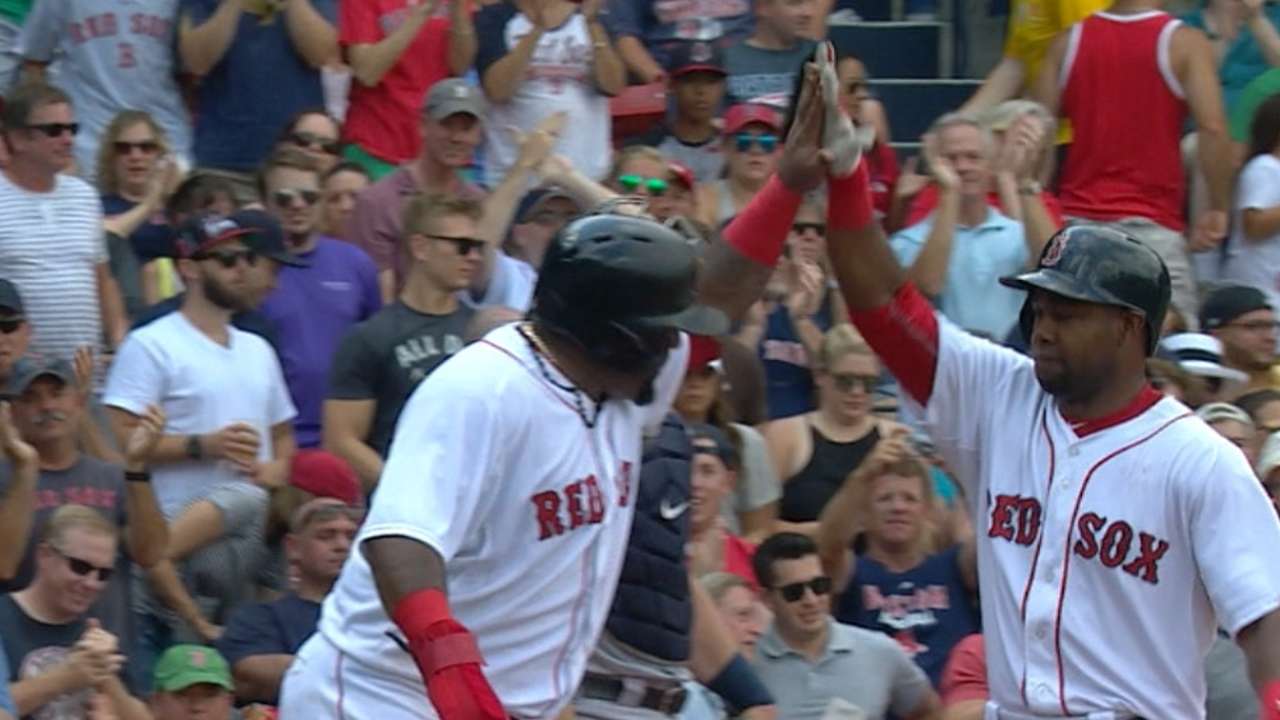 • The Red Sox's 22 runs were their most since scoring 25 against the Marlins on June 27, 2003.
• They batted around three times for the first time since May 20, 1986, against the Twins, according to Elias.
• They scored 15 runs in back-to-back games for the first time since turning the trick in 1998, against the Expos on July 2 and the White Sox on July 3.
Bright spots have been few for the Red Sox in 2015. Friday's news that manager John Farrell will miss the rest of the season while battling lymphoma only added to the perception that this year's squad is snakebitten.
Their response on the field in the two games since, Lovullo says, feels like a blessing amid a surreal 48 hours.
"It makes a lot of us feel like somebody's watching over us and giving us some good luck that we finally deserve," Lovullo said. "[Friday's] news still hits hard with several of us. I don't think that'll ever go away until we know John's healthy and cured. It's going to stay with us.
"We've had a wide range of emotions, but what we've done is we've separated it at game time. We get between the white lines, we go out there and play baseball. These guys deserve a lot of credit for being able to compartmentalize and separate it."
Alec Shirkey is an associate reporter for MLB.com. This story was not subject to the approval of Major League Baseball or its clubs.