Smyly eager for return to mound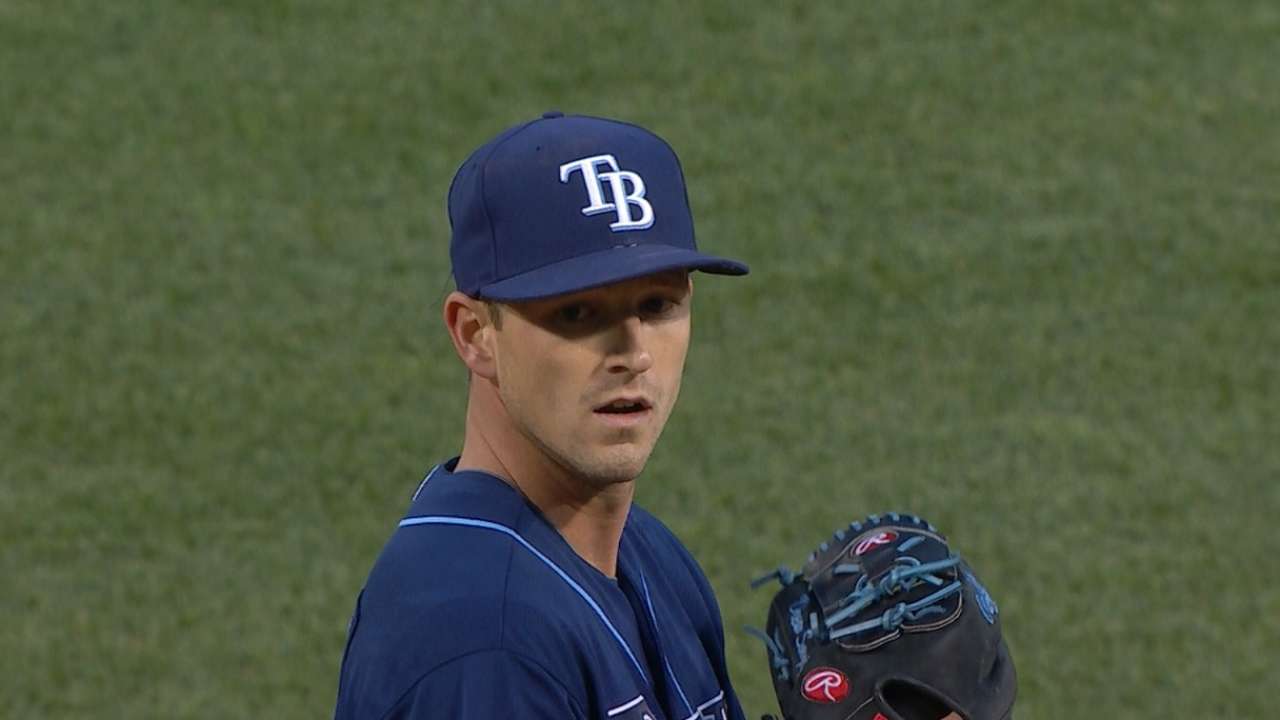 ARLINGTON -- Left-hander Drew Smyly will be reinstated from the 60-day disabled list to start for the Rays against the Rangers on Sunday.
"I feel very anxious," Smyly said. "I feel ready. My arm feels ready. I haven't had any pain throwing. My next step is to go out there and compete with Major League hitters. I look forward to the opportunity. I know it will be tough. They have a lot of heavy hitters in that lineup. But you know, you have to get thrown in there sooner or later."
By the time he takes the mound, 102 days will have passed since his last start. Smyly went on the DL on May 9, retroactive to May 6, due to a torn left labrum (shoulder). That stint was his second of the season, as he began the 2015 campaign on the DL and didn't make his first start until April 24 against the Blue Jays.
Smyly made four rehab starts, three for Triple-A Durham and one for Class A Advanced Charlotte, going 0-2 with a 9.64 ERA. Not until his final rehab start did he pitch without lingering thoughts of getting re-injured.
"When you're hurt for an extended period of time, it's a tough mental game," Smyly said. "It wears and tears on you and it's hard to get that out of your head. Protecting your arm, babying it, so to speak. But sooner or later you have to get over it. It is what it is.
"Everything happens for a reason. So for right now, I feel healthy. My last game I felt healthy, clear conscious. And who knows what will happen in the future. But right now I feel ready to go and I can't wait for tomorrow."
Smyly came to the Rays from the Tigers in the David Price trade, a three-team deal that included the Mariners. When healthy, he has pitched well.
In the 10 starts he has made for the Rays, he is 3-2 with a 1.96 ERA and he has held opponents to a .159 batting average. Equally impressive is the fact that he has allowed three runs or fewer in all 10 of those starts.
Most thought the worst when Smyly's shoulder issue was diagnosed, but the extent of the injury now appears as though it was less severe than was feared. When asked if his injury had simply healed, Smyly couldn't give a definitive answer.
"I don't know, I'm playing tomorrow," Smyly said. "So what problem? That's like I'm saying. You just kind of put it in your past. Everyone has injuries. Some people have to deal with them constantly. Some people, they just come and go. But like I said, I'm very grateful to be playing and I'm not going to take it for granted. Because when you get knocked out of the game, it's hard to just sit around and see your teammates playing every day. But now I'm here and I'm back. I'm very anxious and excited to play again."
To make room for Smyly on the active roster, the Rays optioned Kirby Yates to Durham after Saturday night's 12-4 loss to the Rangers. They will make a move to clear a spot on the 40-man roster on Sunday.
Bill Chastain is a reporter for MLB.com. This story was not subject to the approval of Major League Baseball or its clubs.