V-Mart takes field, gives Miggy night at DH
Martinez plays first base for first time since September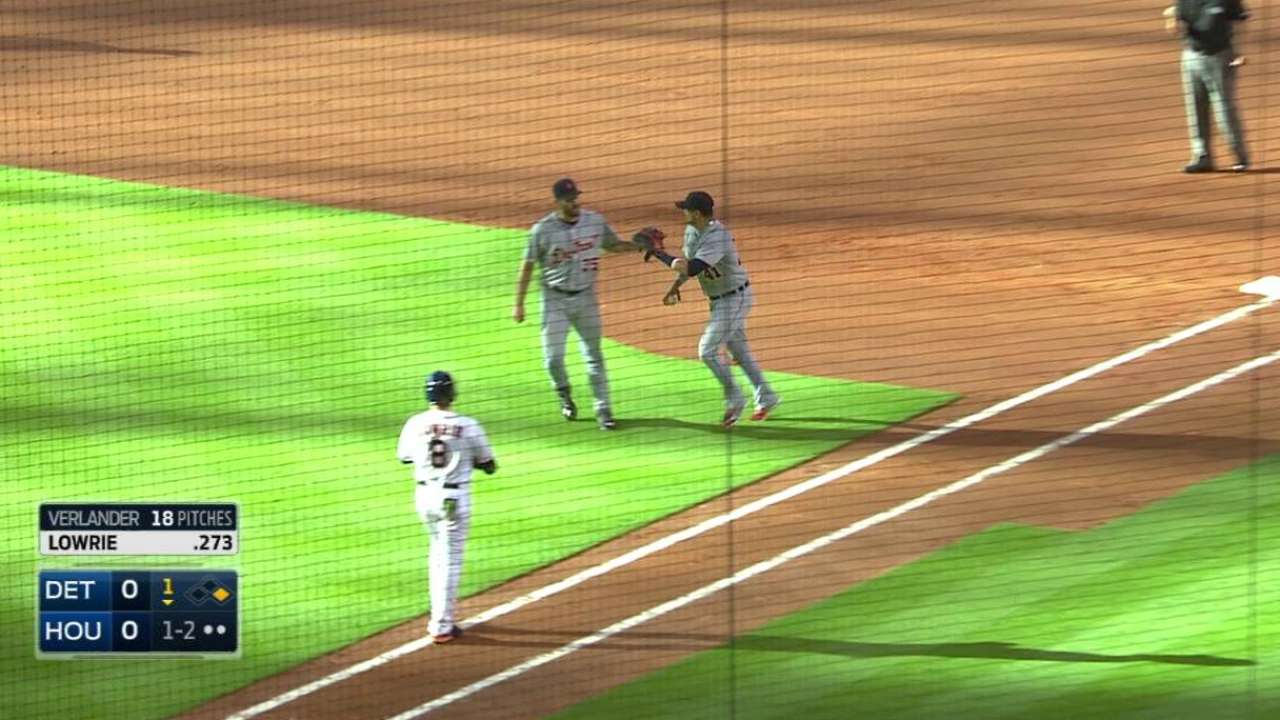 HOUSTON -- Victor Martinez finally won over his manager, Brad Ausmus. Martinez's return to first base took a lot of convincing, a little more work, and even more planning.
He had been taking ground balls in the infield for the past month, anticipating that Miguel Cabrera might benefit from a game or two at designated hitter once he returned. He practiced with infield coach Omar Vizquel and defensive coordinator Matt Martin, and both were confident enough in his surgically repaired left knee holding up to talk to Ausmus about at least considering the possibility.
"He knew that Miggy was going to need some days off at first base," Vizquel said, "so he was getting ready for that. He has been working toward that point."
Vizquel was acting as an interpreter for Martinez, who speaks perfect English but decided to try a Spanish-English interview for fun as a chance of pace. After Martinez hit the go-ahead double in the 11th inning to send the Tigers on their way to a 4-2 win, he called on Vizquel to translate again.
"When the time came [to play first], he was ready," Vizquel said.
Martinez hadn't played there since Sept. 21. He has been a backup for Cabrera at first base in past seasons, but once he needed surgery in February to address a meniscus tear in his left knee, Ausmus considered him a DH exclusively.
Six months have passed since surgery, and while Martinez's knee is still a concern after a monthlong stint on the disabled list (mid-May to mid-June) to strengthen it, it's stable enough through the work he was doing that the reward outweighed the risk.
"I've had a couple coaches trying to convince me for a while," manager Brad Ausmus said. "In Kansas City [earlier in the week], Matt and Omar did some stuff with him at first base and said he was moving great. I talked to Victor a couple times about it, and he said he's fine, so I relented."
Martinez was immediately busy. He applied the tag on Jose Altuve after Justin Verlander caught him on a first-inning pickoff move as Altuve looked to check his lead. Two batters later, Martinez went to the ground to stop Jed Lowrie's well-hit grounder for the final out of the inning.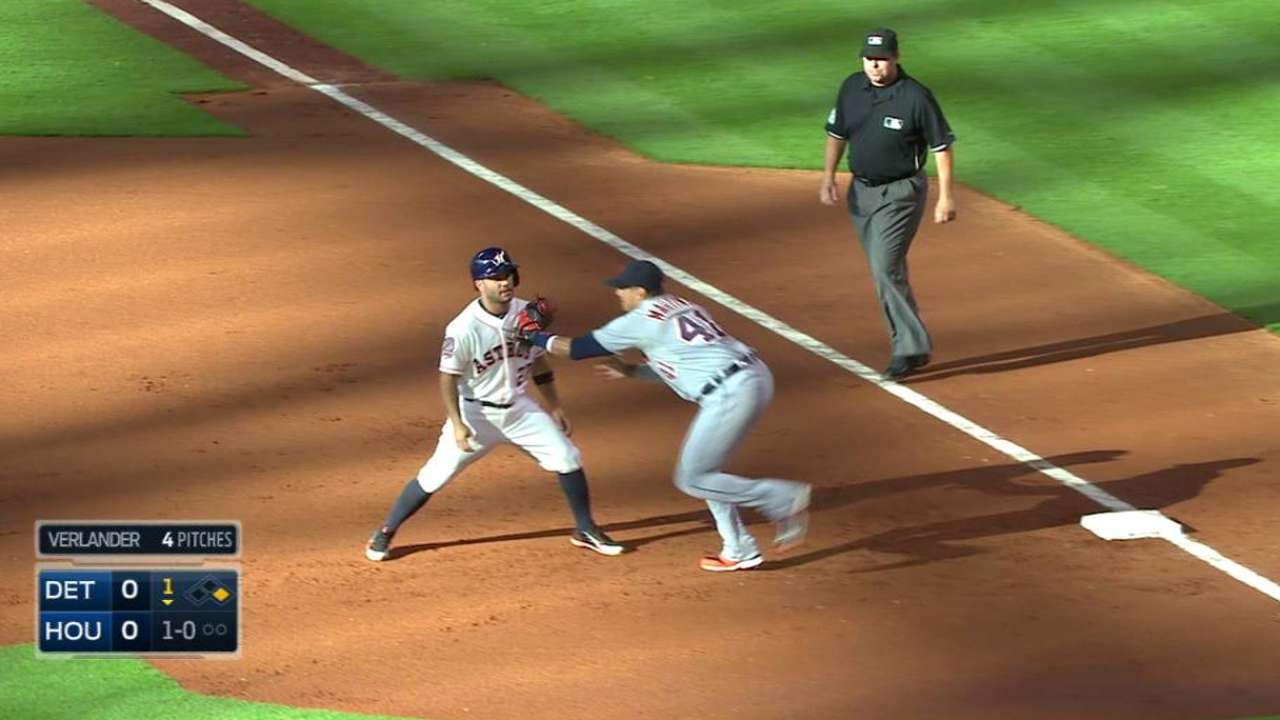 Ausmus left open the possibility Martinez could play there again as the season winds down. For now, though, it's a very occasional consideration.
"We have two hitters in the heart of our lineup both coming off leg injuries," Ausmus said, "so it would be nice to be able to get them off their feet."
Jason Beck is a reporter for MLB.com. Read Beck's Blog, follow him on Twitter @beckjason and listen to his podcast. This story was not subject to the approval of Major League Baseball or its clubs.