Chatwood takes big step forward in sim game
Right-hander continues to recover from second Tommy John surgery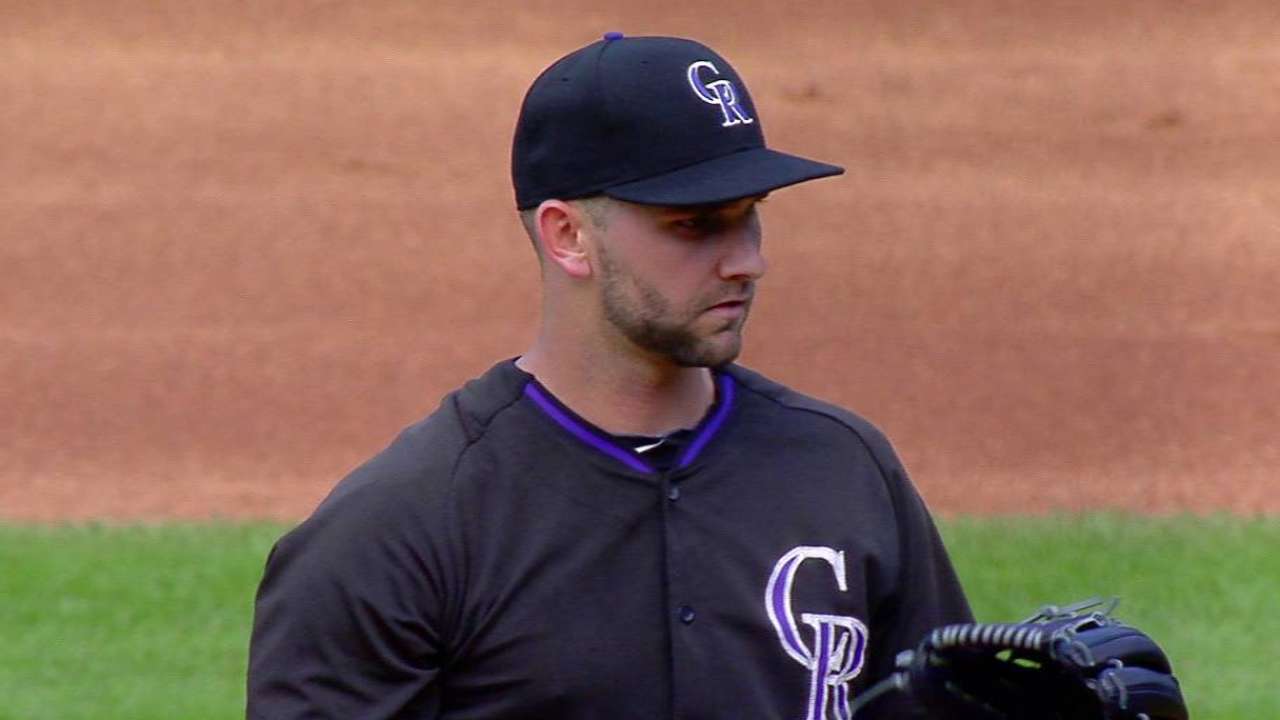 DENVER -- With coaches and teammates sprawled out behind the batting cage and down the first-base line, Tyler Chatwood had quite an audience for his simulated game on Saturday afternoon.
And for good reason. It was a monumental step for the Rockies right-hander, who is making a comeback from his second Tommy John surgery. In all, Chatwood threw 58 pitches -- 35 in the bullpen, eight warmup tosses and 15 to hitters Daniel Descalso and Justin Morneau.
"I've been anticipating that for a while," said Chatwood, who underwent Tommy John in July 2014. "I was out there and threw strikes and felt like everything was right where I expected it to be. I think the biggest thing was seeing a hitter in there and not getting scared of throwing strikes."
What the next step will be is still unknown. Rockies manager Walt Weiss said Chatwood's showing was a step in the right direction, but that "there is still a ways to go" as far as a potential return this season.
Chatwood is being cautious as well. After originally being diagnosed with a flexor strain and right elbow inflammation in April 2014, he tried to set a timetable on his return -- one that ultimately proved false after undergoing the second surgery.
Chatwood doesn't want to endure that disappointment twice.
"I'd love to get back out there this year," Chatwood said, "but last year, I tried to put a timetable on when I would try to return. When I wasn't able to, I was kind of devastated that I'd let myself down. So this year, I think we're just going to play it by ear and see how everything goes. But today was definitely a big step."
Although Saturday was his first time facing hitters in quite a while, Chatwood said he's felt normal for "about two months," adding that he's been able to get through various bullpen sessions without any pain or soreness.
He threw all his pitches on Saturday, generated a few swing and misses and said he believes his fastball hasn't lost any velocity. More important, perhaps, is that Chatwood didn't report any hesitation with his breaking ball, something that often occurs during Tommy John recovery.
"I was actually throwing a breaking ball like it was in a game," Chatwood said. "Bounced them, threw it for strikes. So I felt good, and I didn't really have anything in the back of my mind. That was a big hurdle to get over too."
Added Weiss: "Everybody's pulling for him. It was good to see him take a big step today. He had a great support group out there. Everyone knew that this was a big day for him."
Dargan Southard is an associate reporter for MLB.com. This story was not subject to the approval of Major League Baseball or its clubs.