Matz makes first Minor League rehab start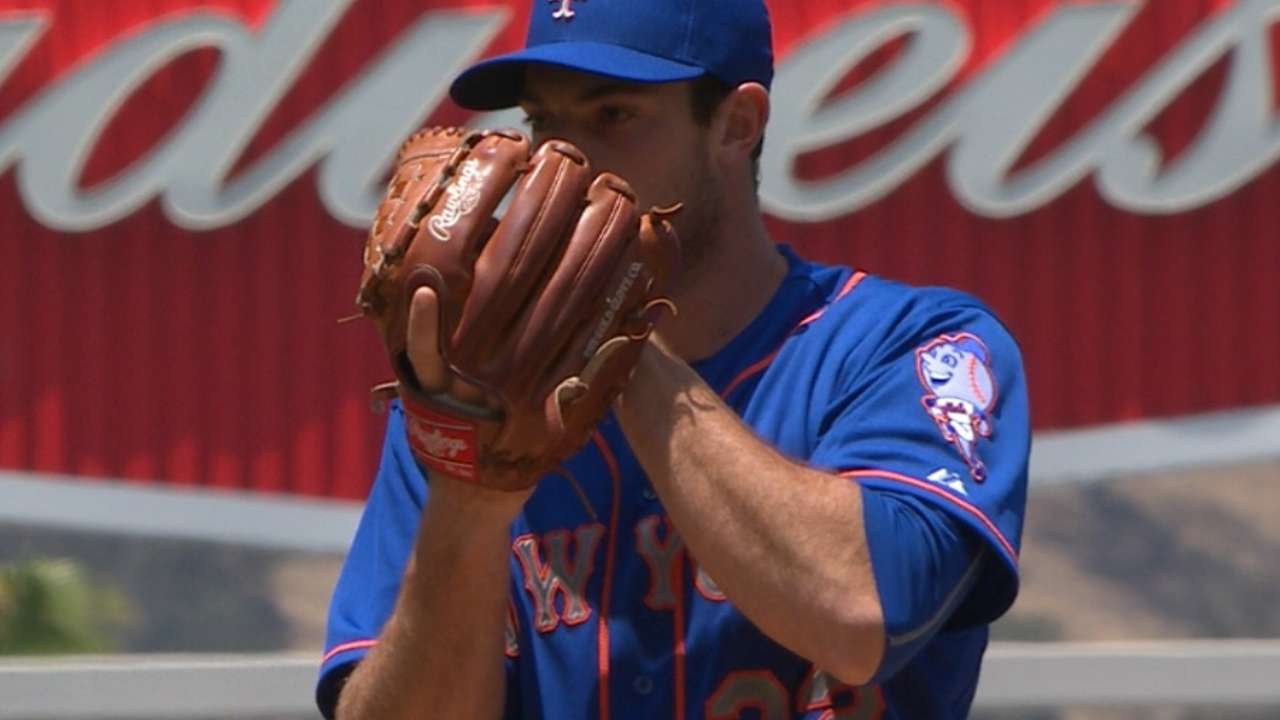 JUPITER, Fla. -- In his first rehab game since landing on the New York Mets' disabled list, rookie left-hander Steven Matz faced six batters on Saturday night and tossed six first-pitch strikes.
He felt no pain from his lat-strain injury. And he struck out two batters in one inning of work with Class A Advanced St. Lucie.
Those were among the positives for the Mets, who likely did not mind too much that Matz gave up three hits and one run. Two of the hits were of the infield variety, and the third was a blooper.
"My arm feels really good," Matz said. "I'm a little bit rusty. But I will knock the rust off in the next couple of outings, and I should be hopefully back to where I left off."
Where Matz, 24, left off was with a sterling 2-0 record and a 1.32 ERA. As a hitter, he had an astounding five RBIs in six at-bats.
On Saturday, Matz said he was most pleased by the fact that he felt no pain or discomfort.
"You sit out for a month, and you don't feel as comfortable as when you were in midseason form," Matz said. "[But] I wasn't worried. I've been throwing off a mound, and I've been feeling great."
Matz's velocity seemed to be down a bit, but that's probably to be expected considering he hasn't pitched since he tossed six scoreless innings against the Los Angeles Dodgers on July 5.
On Saturday, Matz was throwing his fastball in the range of 92-93 mph. Normally, he throws 93 to 95 and can rear back and reach 96 to 98 on occasion.
"The command is not where I want it to be exactly, but I didn't walk anybody," Matz said. "I got deep into one count. But other than that, I filled it up [the strike zone]."
Matz, who threw 23 pitches, including 16 for strikes, appeared comfortable throwing his changeup and curveballs.
That was good news for the Mets, who need Matz to get back to the Majors so they can go to a six-man rotation, in part to lighten the innings load on staff aces Matt Harvey, Jacob deGrom and Noah Syndergaard.
"I watch all the games," Matz said of the first-place Mets. "It's really exciting. It just makes you want to get back up there. I have to be patent. Don't try to rush back.
"But I really want to make it back up there [as soon as possible and] definitely for the playoffs."
Walter Villa is a contributor for MLB.com. This story was not subject to the approval of Major League Baseball or its clubs.