Phillies aim toward Tuesday return for Franco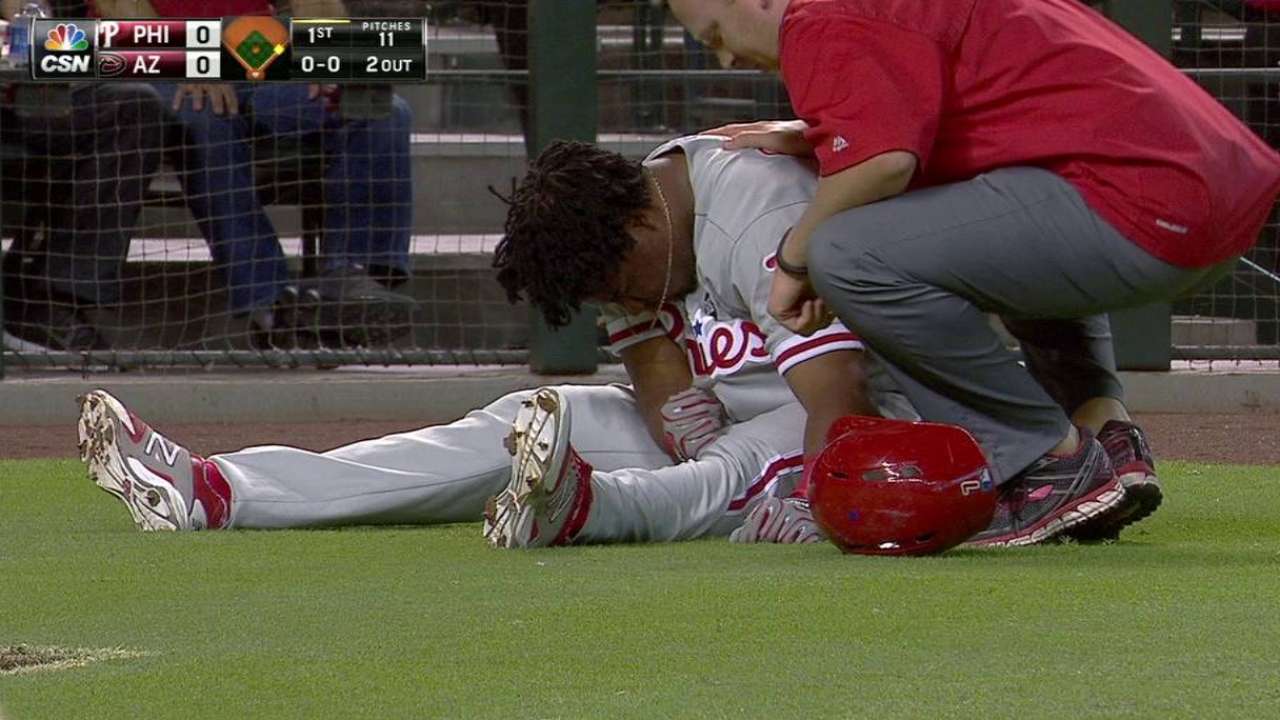 MILWAUKEE -- Philadelphia Phillies third baseman Maikel Franco no longer has a wrap covering his bruised left wrist, but it will likely be at least a couple of more days before he returns to the lineup.
Phillies interim manager Pete Mackanin expects Franco to sit out the remainder of the weekend series against the Milwaukee Brewers before possibly returning to the lineup Tuesday.
The Phillies have an off-day Monday before opening up a two-game set with the Toronto Blue Jays at Citizens Bank Park on Tuesday.
"More likely Tuesday [than Sunday]," Mackanin said. "There's no need to push him, although I'd like to have him in the lineup. I'm pretty sure he'll be ready by Tuesday."
Franco hasn't played since being hit in the left wrist by a fastball from D-backs right-hander Jeremy Hellickson in the first inning Tuesday in Arizona.
Without the restriction of a wrap around his left wrist, Franco went through a workout Saturday and planned to take batting practice in the cage at Miller Park.
Even if all goes well Saturday, the Phillies will take a cautious approach with Franco.
"I did my program in the training room with [head athletic trainer Scott Sheridan], and I feel much better," Franco said. "I will try to go to the cage and see how I feel when I swing."
Cesar Hernandez has shifted over to third base to fill in for Franco, which has allowed Mackanin to keep the red-hot bat of Chase Utley in the lineup at second base.
Andrew Gruman is a contributor to MLB.com. This story was not subject to the approval of Major League Baseball or its clubs.