Latest Dodgers Dreamfield accessible for all
Kershaw, Gonzalez and Pederson help dedicate facility designed to serve youth with disabilities
LOS ANGELES -- The Dodgers have a long history of inclusion, and on Saturday the organization dedicated its first universally accessible Dodgers Dreamfield for youth with disabilities.
The Los Angeles Dodgers Foundation and its partners have now built 38 baseball fields around the city, but this is the first that's ADA accessible.
"The reason this is so important is because the Dodgers have been setting the stage forever," said Herb J. Wesson Jr., president of the Los Angeles City Council. "They have done so much where it relates to race relations and civil rights, making sure that all people can have an opportunity to participate."
Dodgers stars Clayton Kershaw, and wife Ellen, Adrian Gonzalez, and wife Betsy, and Joc Pederson, and older brother Champ, were on hand Saturday morning for the dedication.
"Events like this are the highlight of what I do," said Dodgers president and chief executive officer Stan Kasten. "The Dodgers are not just a first-place team, they're also made up of great individuals and great human beings who care about their community. Adrian and Betsy, Clayton and Ellen, Joc and Champ, these are people -- and our whole team is full of players like that -- who not just excel on the field, but excel in our community."
For the Pedersons, this project hits close to home. Champ, Joc's oldest brother, has Down syndrome. Champ flew in from Northern California and addressed the crowd at Saturday's event.
"It's important to me to speak for people with disabilities and advocate for them and myself," Champ said. "Playing sports is about making new friends and life experiences. It's about getting along. I love baseball. I think it's great that everyone can play and have a chance. Having a disability does not mean not getting opportunities that other people get. I know it means a lot to kids with disabilities to have this and do anything they want."
The ADA-accessible field is located at the Baldwin Hills Recreation Center at 5401 Highlight Place. The $650,000 project transformed an asphalt play area into a state-of-the-art facility over a six-month period.
The field features an adaptive synthetic turf surface, allowing free movement for wheelchairs and walkers, as well as oversized dugouts. There's a scoreboard in right field resembling the one at Dodger Stadium. It's also the first field in Los Angeles with energy-efficient LED lights.
The Dodgers Dreamfields program is one of the Los Angeles Dodgers Foundation's signature initiatives. Its goal is to provide baseball fields where youngsters can learn the game of baseball in an organized program that is administered by the city or county in a safe environment, while learning the importance of playing team sports and key characteristics such as sportsmanship, ethics and fair play.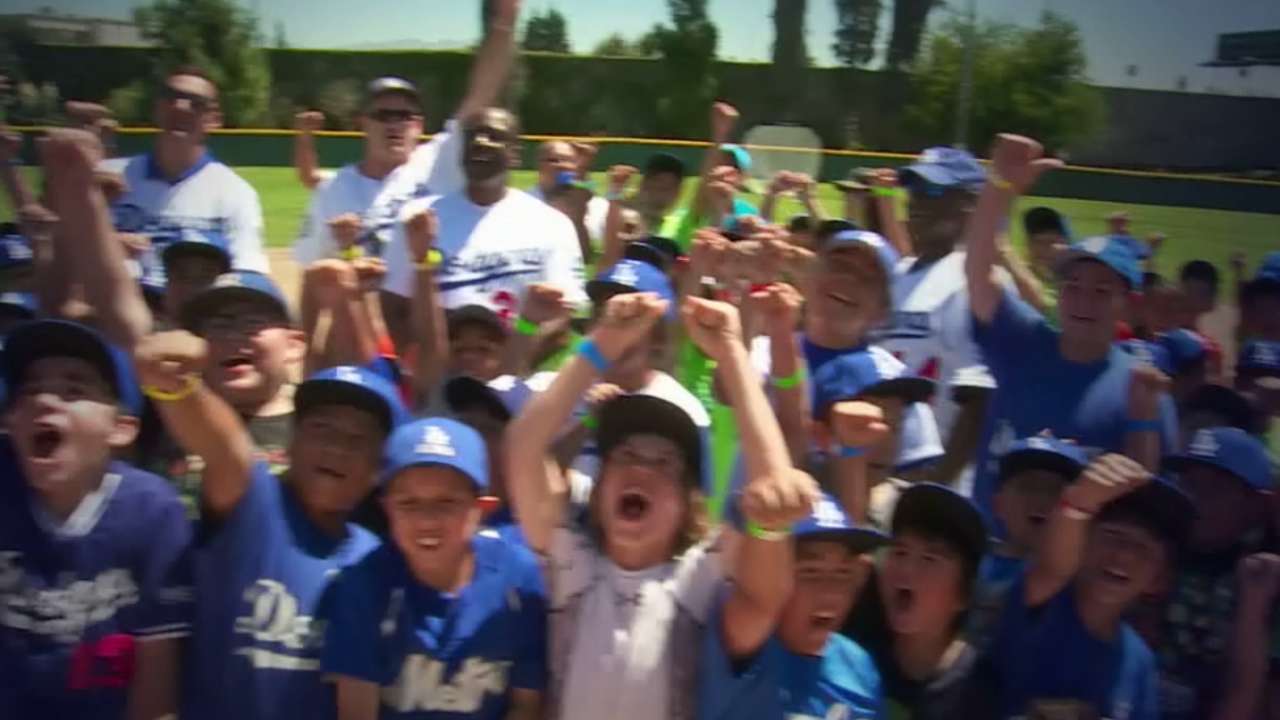 "We are so proud to provide a place for children with special needs to enjoy our nation's pastime and all the added benefits of the game," said Nichol Whiteman, executive director of the Los Angeles Dodgers Foundation. "When children are on this field, everyone plays, everyone scores, everyone runs home. It's a Dreamfield in every sense of the word."
Partners included the City of Los Angeles Department of Recreation and Parks, the LA84 Foundation, the Miracle League, the Car Ripken Sr. Foundation and Security Benefit.
Austin Laymance is a reporter for MLB.com. This story was not subject to the approval of Major League Baseball or its clubs.