O's bring up Urrutia to start at DH, option Lake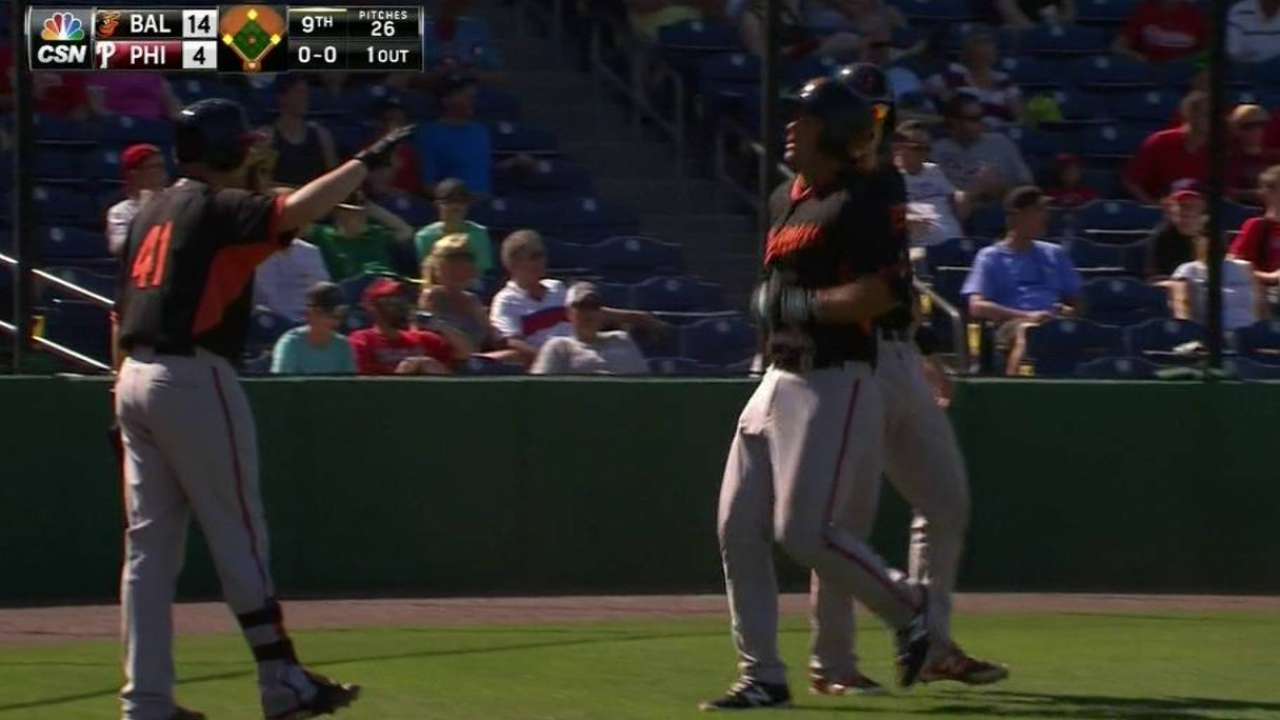 BALTIMORE -- As expected, the Orioles added Henry Urrutia from Triple-A Norfolk prior to Saturday's game against the A's and optioned outfielder Junior Lake to clear a roster spot.
The 28-year-old Urrutia got the start for the O's at designated hitter in his season debut. He batted .292/.344/.414 with 21 doubles, a triple, 10 home runs and 50 RBIs in 107 games with the Tides this season. He ranks fourth in the International League with 126 hits and ninth with his .292 batting average.
"He was probably [Norfolk's] best hitter, we thought, and their hottest hitter," Orioles manager Buck Showalter said. "The timing was right to take him because we had a need. We'll see if Henry can help us."
Urrutia, who was named the 2013 Orioles Brooks Robinson Minor League Player of the Year, first played with the Orioles that same year when he saw action in 24 games, batting .276/.310/.586. He's spent the majority of the past two seasons in Norfolk, with the exception of 14 games with the Gulf Coast League Orioles in 2014.
The newest member of the Orioles got into the clubhouse at around 3:30 on Saturday afternoon, and he hadn't even gotten a chance to check the lineup before he received a text from his wife telling him he was in it. The news came as a surprise to Urrutia, as did the news of his promotion.
"I was playing in Triple-A, and when you have a long time waiting for [the Majors], at some point of the season you stop thinking of this," Urrutia said. "I was trying to do my best I could do in Triple-A, and that was it. When RJ [Ron Johnson] told me, 'You are going to the big leagues,' I remember I was feeling like my first time in 2013."
The Orioles hope that Urrutia can add a spark to their lineup as Baltimore continues its quest for the postseason. Urrutia will also play some outfield for the Orioles, which was a point of emphasis for the 28-year-old during his time with the Tide.
"I know the want to is real strong with him and he wants to do it now," Showalter said. "It's been a little frustrating for him down there seeing other people getting opportunities, and now he has his. Let's see if he can run with it."
Lake, acquired in the Orioles' trade with the Cubs for reliever Tommy Hunter, hit .208/.250/.333 in 24 big league games between Chicago and Baltimore.
Connor Smolensky is an associate reporter for MLB.com. This story was not subject to the approval of Major League Baseball or its clubs.