Kemp's cycle a first for Padres, and a joy
Can first no-hitter be far behind after 46 seasons and counting?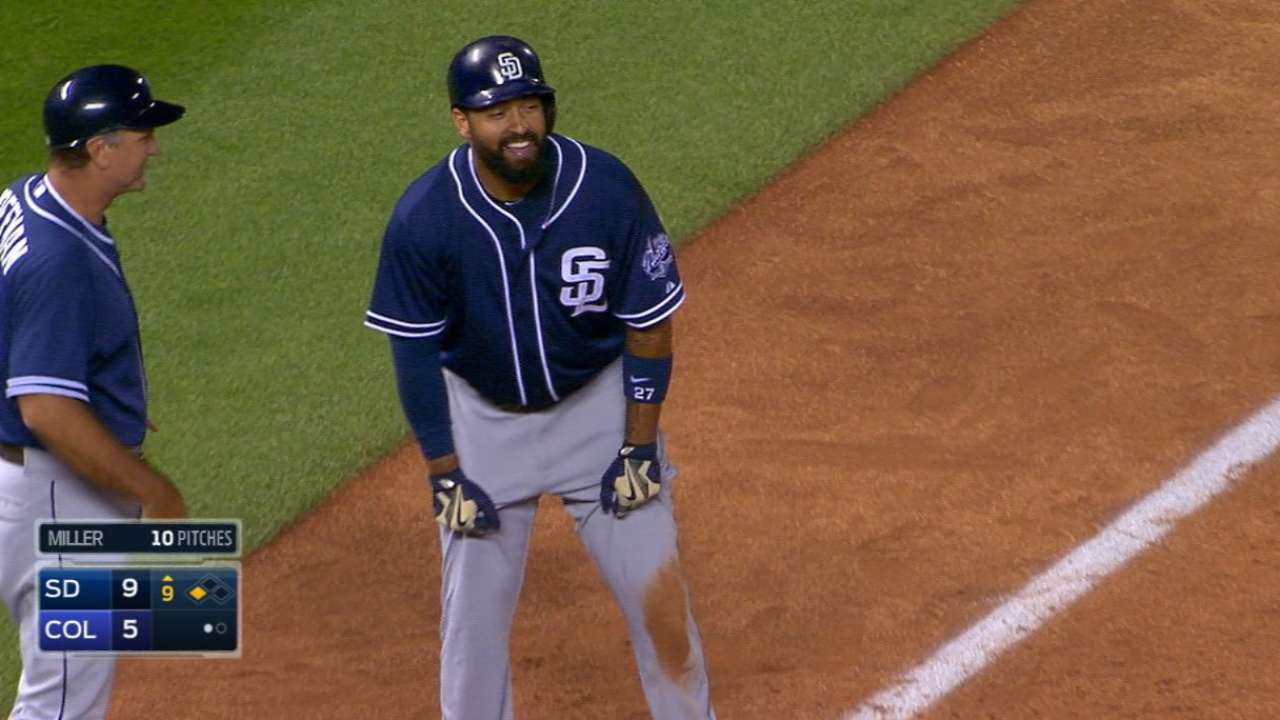 Bill Center, longtime sportswriter for U-T San Diego, is an employee of the Padres.
Matt Kemp and the Padres would have been better served if the right fielder's ninth-inning drive Friday night high off the fence in right-center field at Coors Field had cleared the barrier rather than bouncing off the padding and rolling as Kemp ran the bases.
Statistically speaking, had the ball cleared the fence, Kemp would have had two homers in the game and five RBIs.
Instead, he got a triple and completed the first cycle in the 7,444-game history of the Padres. Through the first 46 seasons of the franchise's history, no player -- including Hall of Famer Tony Gwynn -- had notched a single, a double, a triple and a home run in the same game.
In the history of Major League Baseball, there had only been 308 cycles. That's an average of only 10 per team -- and remember baseball was a 16-team game until 1960.
Until Kemp, the Padres were one of two teams -- Miami is still on the clock -- without a cycle. Before Kemp, a Padres player had fallen one element short of the cycle 361 times.
Gwynn had three of the four pieces 22 times and once was a single shy when manager Jim Riggleman pulled him from a game (with at least one at-bat remaining) to give him a break after he tripled.
Kemp entered the ninth inning as the 259th Padres player needing a triple to complete a cycle. The odds of tripling there for the cycle were astronomical. But Kemp did it, getting his first as well as the Padres' first. As it turns out, Kemp was once turned away by the Padres in a cycle bid.
But the absence of a cycle by a Padres player had become one of the major voids in the franchise's history. Next on the bucket list is the first no-hitter -- although that accomplishment won't totally erase the pain of the near-misses suffered by Clay Kirby (pulled for a pinch-hitter after throwing eight hitless innings) and Steve Arlin (denied by a single past a third baseman playing out of position).
Hopefully, the first no-hitter isn't far away … followed by the first World Series title.
From the scorecard
• Over the Padres' last 42 games, Kemp has nine homers, a triple, nine double and 31 RBIs. That is roughly a 35-homer, 120-RBI pace. He is hitting .298 (46-for-155) since June 25. Kemp is 11-for-29 (.379) in a seven-game hitting streak with a double, a triple and two homers for eight RBIs and six runs scored. Over his last two games, Kemp is 5-for-9 with a double, a triple, two homers, seven RBIs and three runs scored.
• Second baseman Jedd Gyorko is also on a seven-game hitting streak, going 9-for-29 with two homers and nine RBIs and three runs scored. He is 5-for-12 in his last three games with two homers and eight RBIs.
• Catcher Derek Norris hit his 13th homer Friday night. It was only his second since June 28. Norris is 4-for-11 over his last three games with two doubles and a home run, and he leads all Major League catchers with 22 doubles. He is hitting .354 (17-for-48) over his last 13 games with three doubles, two homers, eight RBIs and seven runs scored.
• Right-handed starter Tyson Ross had four runs scored against him for only the fourth time in 25 starts this season -- although half the runs were unearned, thanks to his own throwing error.