Red Sox tag Felix for 10 in 22-run outburst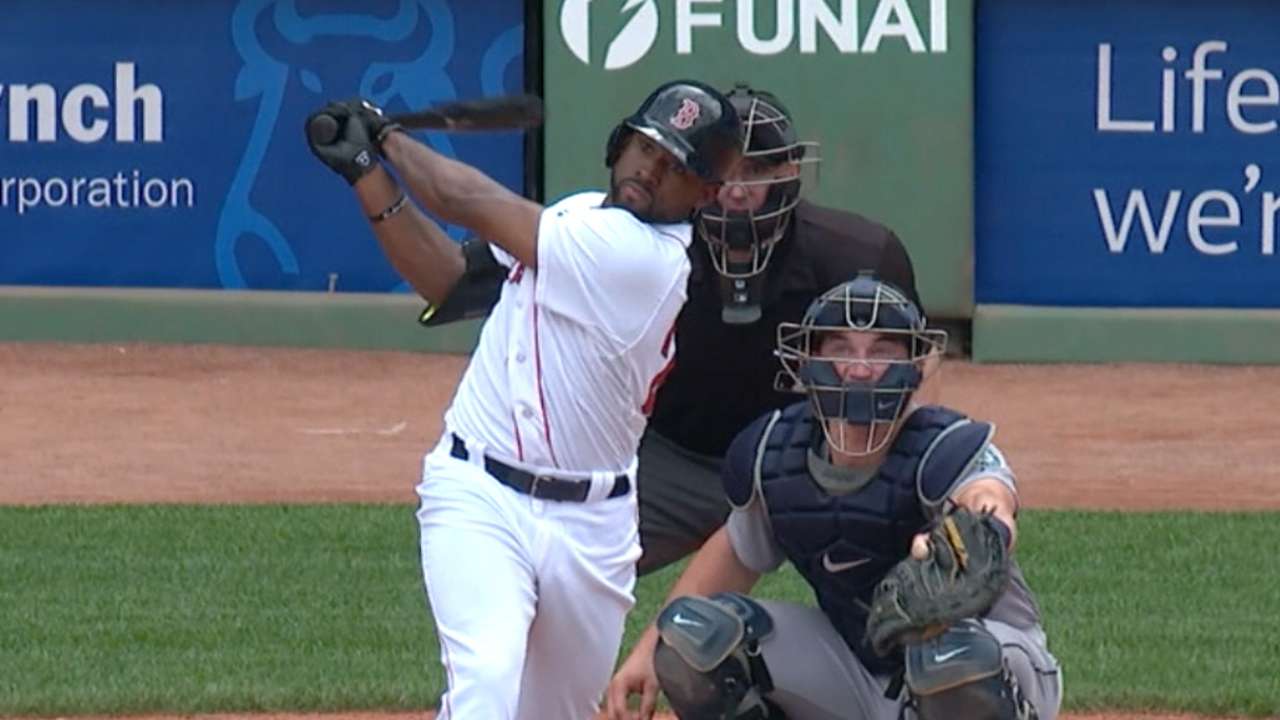 BOSTON -- For the second time in as many days, the Red Sox erupted at the plate in an inspired offensive showing, seemingly scoring runs at will in Saturday's astonishing 22-10 rout of the Mariners at Fenway Park.
After breaking out for 15 runs and 21 hits in Friday night's blowout victory, Boston's bats outdid even that stellar performance by accounting for 26 hits, including 11 extra-base knocks, and saddling Seattle ace Felix Hernandez with one of the worst losses of his career. Six players finished with at least three hits, and the surging Jackie Bradley Jr. clubbed five on a record-setting day for both himself and the team.
The overwhelming follow-up by the Sox comes just over 24 hours after the team learned that manager John Farrell will miss the rest of the season with lymphoma.
"It makes a lot of us feel like somebody's watching over us, and giving us some good luck that we finally deserve," interim manager Torey Lovullo said. "[Friday's] news still hits hard with several of us. I don't think that'll ever go away until we know John's healthy and cured. It's going to stay with us. We've had a wide range of emotions, but what we've done is we've separated it at game time. We get between the white lines, we go out there and play baseball. These guys deserve a lot of credit for being able to compartmentalize and separate it."
Hernandez was battered for 10 runs -- which tied his career high set in 2006 and marked the first time he allowed 10 earned runs -- and three home runs in only 2 1/3 innings as he fell to 14-7 with a 3.65 ERA. The Mariners put a small dent in the deficit late, scoring eight runs off the Boston bullpen, but fell victim to an historic showing by their opponent.
The Red Sox have totaled 37 runs and 47 hits in the first two games of the series, just the third Major League team since 1953 to score 15-plus runs and 20-plus hits in back-to-back games. The 22 runs allowed by Seattle were the most in franchise history and it was also the first time the Mariners have allowed 15-plus runs in consecutive games.
"There's not a lot you can say," said Mariners manager Lloyd McClendon. "We got our butts kicked. The only silver lining in all of this is today we scored 10 runs. The offense came alive and kept battling. And there were no injuries. You just move on and get ready for the next one."
MOMENTS THAT MATTERED
Unbelievable Bradley: The 25-year-old outfielder kept his torrid stretch at the plate running strong with a monster five-hit game that included a pair of home runs, three doubles and seven RBIs. Over his past five games, Bradley has collected four doubles, two triples, two homers, 10 runs and 11 RBIs. The outburst made Bradley the youngest Red Sox player with at least 10 total bases and five RBIs in a game since Fred Lynn in 1975.
"Actually getting the results, hitting balls hard and having something to show for it," Bradley said. "As cliché as it sounds, when you hit the ball hard, you want something to show for it. It's finally showing." More >
Cruz still cranking: Though Nelson Cruz saw his 21-game hitting streak snapped Friday, the Mariners right fielder bounced back with a 2-for-3 game with a walk and hammered his Major League-leading 35th homer with a two-run shot to center in the eighth. Since Cruz did get walked Friday, he has reached base in 26 straight games, the longest active on-base streak in the Majors and one shy of Miguel Cabrera's AL-best of 27 this year for the Tigers. Cruz had three RBIs, putting him at 73. The Mariners also got late homers from Austin Jackson and Mike Zunino.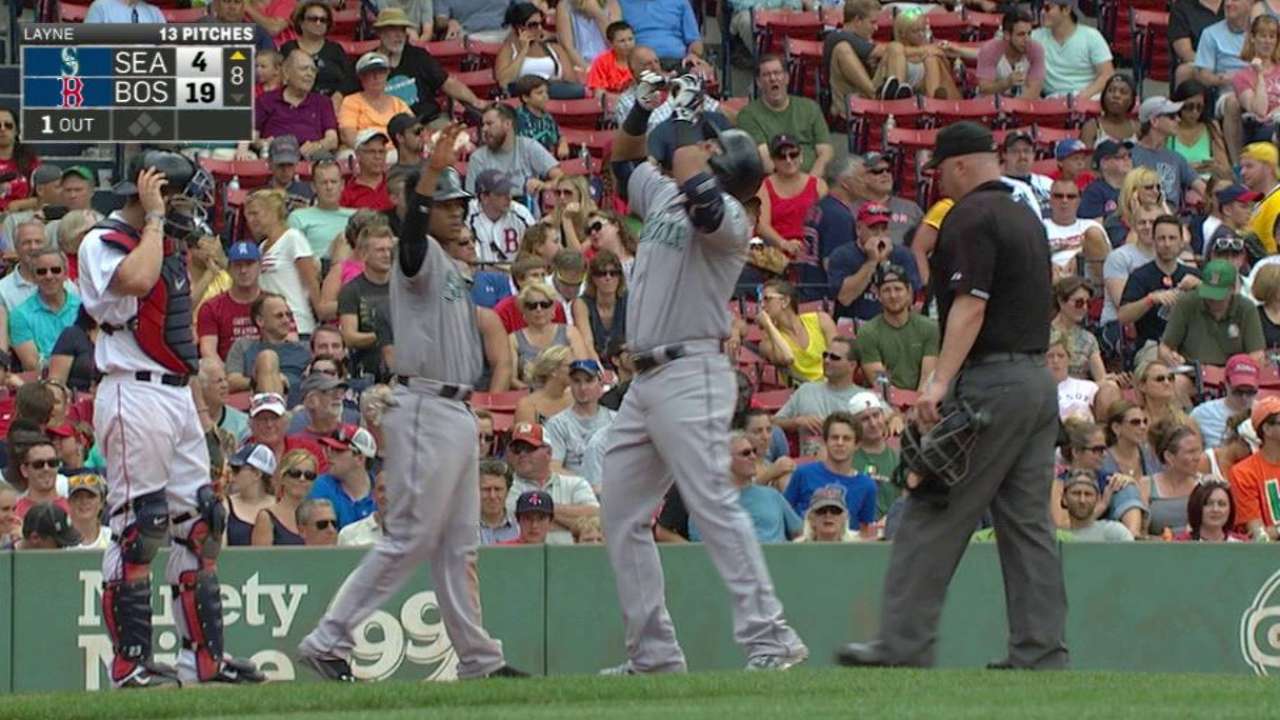 Wade surges through seven: With his offense scoring enough to last a week, Boston starter Wade Miley comfortably worked his way to a commendable performance, and he capped off the outing by retiring 11 of the last 12 batters faced. Over seven innings, the left-hander allowed two runs, four hits and three walks while striking out eight.
"You want to talk about the offense, but we got to give Wade a lot of credit here," Lovullo said. "Wade was aggressive in the strike zone with a couple pitches. I know he had some swing-and-miss breaking balls. ... He wasn't pitching the score. He was pitching aggressively and going out there and executing pitch by pitch. And I think that's what we all saw. He was unaffected by what was around him."
Digging deep into the 'pen: With the back-to-back blowouts wearing heavily on Seattle's bullpen, backup catcher Jesus Sucre was called on to finish things up on the mound in the bottom of the eighth with his team trailing, 19-6. Sucre, who pitched a scoreless inning in a 10-0 loss at Houston on June 12, wasn't as fortunate this time. After getting two quick outs with his 90-mph fastball, he wound up allowing three runs on five hits, including Bradley's second homer of the game as his ERA jumped to 13.50 for the season.
"Sucre has a cannon,"said Bradley. "So I definitely just wanted to try to treat it like a pitcher. Because if you get caught up into 'Oh, [a] position player's on the mound,' he'll get you out just like any other person would."
QUOTABLE
"You don't see that every day. Unfortunately, we had two bad ones. But a loss is a loss, you know? They're swinging the bat pretty good. We cannot feel sorry for ourselves. It's a shame, but there's nothing you can do. Even when you play good, the next day is another game you have to play and that's the way we look at it. We just have to refocus and do it tomorrow." -- Cruz, after Seattle allowed the most runs in a two-game span in franchise history
"It's a smile. It's a confident look. We've had a lot of different times with Jackie. And he's had a lot of good moments, but nothing as special as what he's had over the past week. I know the numbers dictate that it's almost equal to his career, what he's done this past week. We love Jackie, and he deserves a lot of this credit." -- Lovullo, on Bradley's reaction to his hot streak
SOUND SMART WITH YOUR FRIENDS
After racking up 21 hits in Friday's 15-1 win, the Red Sox's fast start Saturday gave them 25 runs and 34 hits in the first 11 innings of the series. They only scored seven runs in their first four games against the Mariners this season.
The Sox recorded at least 20 hits in back-to-back games for the first time since 1988. They did so June 19 against the Orioles and June 20 against the Indians. More >
A WOUNDED PANDA
Pablo Sandoval exited the game after three innings due to a bruised right elbow. Hernandez hit Sandoval in the elbow with a pitch in the third, leaving him doubled over in pain for a few moments while a trainer tended to him. He remained in the game and scored on De Aza's home run, but Brock Holt wound up replacing him at third base in the following frame. The X-ray on Sandoval's elbow was negative, and Lovullo considers him day to day.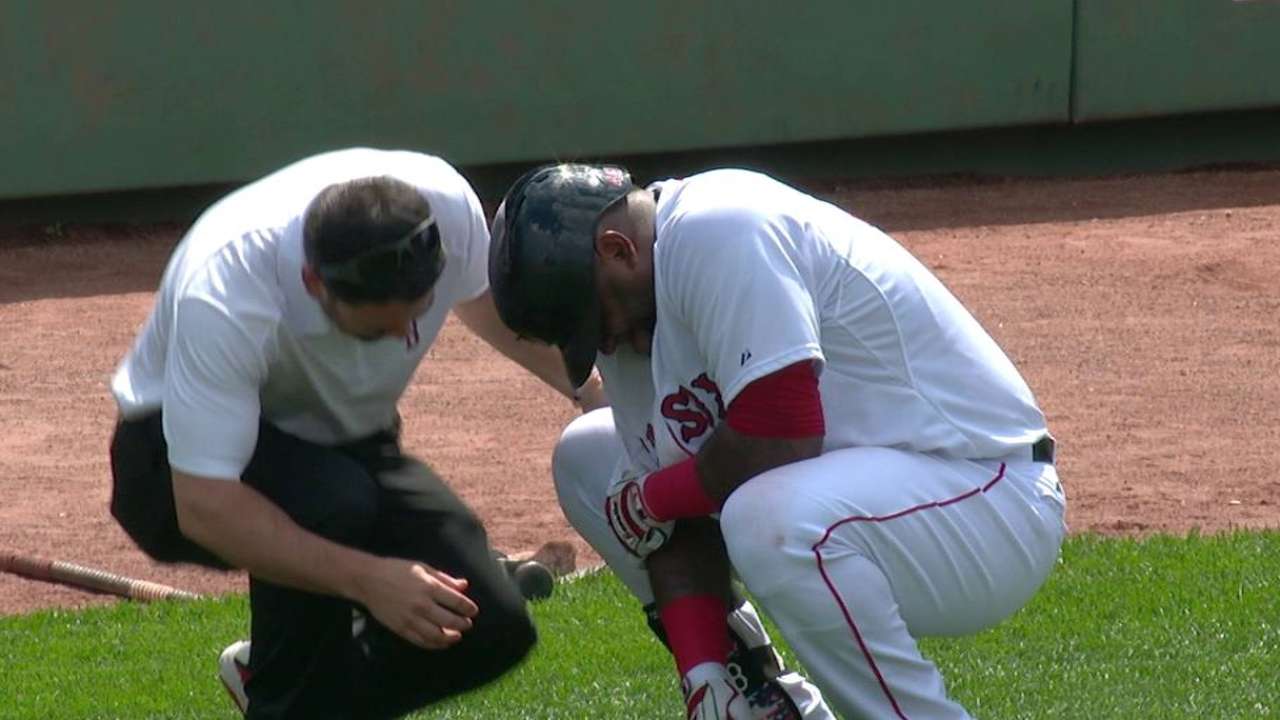 "It was just a ball that cuts a lot," Hernandez said. "It was a fastball that cut into his elbow. I just texted him. Hopefully he's fine." More >
UNDER FURTHER REVIEW
The Red Sox challenged a safe call at first base in the fourth. With a man on first and none out, Holt tried to turn two after Jackson hit a weak grounder to short. Replay showed the throw getting to first baseman Travis Shaw just before Jackson's foot touched the bag. After 44 seconds of review, the initial ruling was overturned and the Sox came away with a double play.
WHAT'S NEXT
Mariners: Left-hander Vidal Nuno makes his third start since joining the rotation following the trade of J.A. Happ in Sunday's 10:35 a.m. PT series finale. Nuno hasn't won a game in 17 straight starts with the Yankees, D-backs and Mariners, going 0-9 with a 3.98 ERA dating back to June 27, 2014, while going 0-1 with a 2.02 ERA in 21 relief appearances in that span.
Red Sox: Rookie lefty Henry Owens will try to carry Boston to a series sweep when he makes his third Major League start -- and his Fenway Park debut -- on Sunday at 1:35 p.m. ET. Owens picked up his first career win in Detroit last Sunday, holding the Tigers to one run on three hits over five innings.
Watch every out-of-market regular-season game live on MLB.TV.
Alec Shirkey is an associate reporter for MLB.com. Greg Johns is a reporter for MLB.com. Follow him on Twitter @GregJohnsMLB, read his Mariners Musings blog, and listen to his podcast. This story was not subject to the approval of Major League Baseball or its clubs.