ICYMI: Kemp's cycle impels history, victory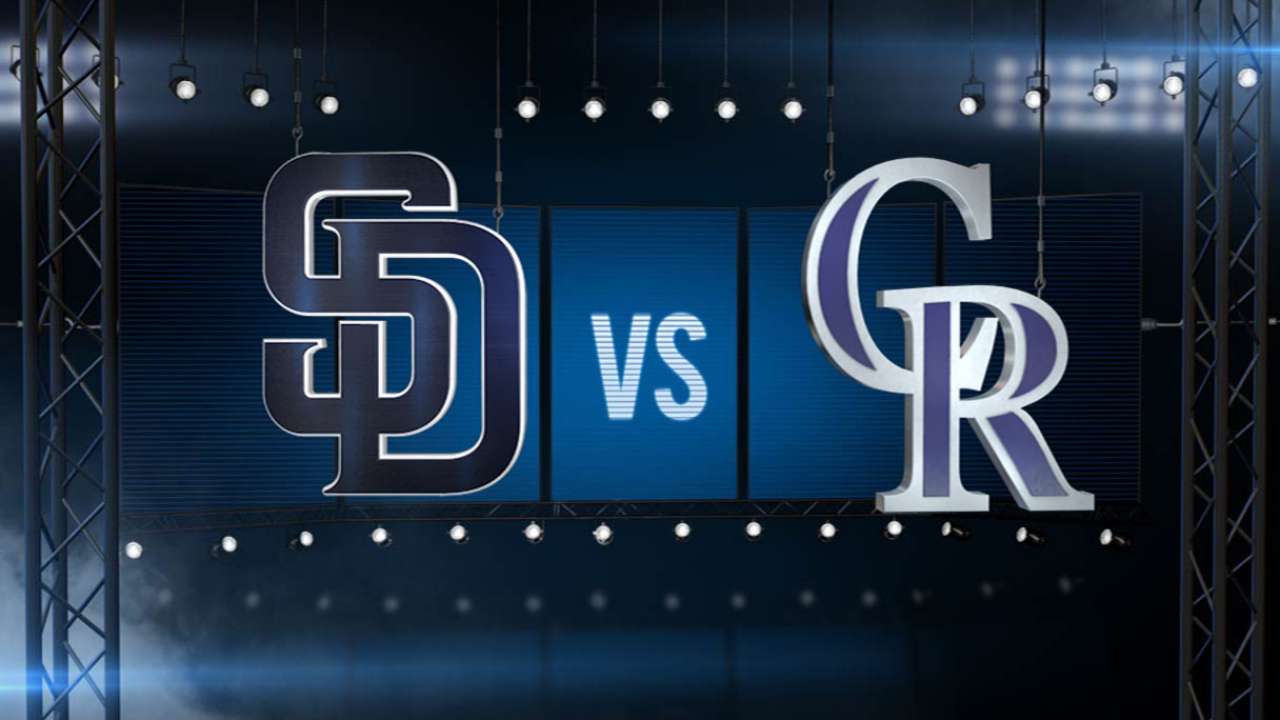 It was a night to remember at Coors Field on Friday, as Matt Kemp recorded the first cycle in the Padres' 46-year franchise history to propel San Diego to a 9-5 victory over the Rockies in the first of a three-game set. After five lead changes and solid pitching from both the Friars' and Rockies' bullpens, a pair of 4-RBI performances and three Padres homers proved to be the difference-makers.
The night started off with Tyson Ross doing an effective job in his 25th start of the season after surrendering four runs -- only two of which were earned -- on six hits and five strikeouts over five-plus innings. Reliever Bud Norris recorded his first win since becoming a member of the Padres earlier this week. Norris surrendered only one hit without allowing any runs over one inning.
The rest of the Padres' bullpen did an excellent job as well, as Marc Rzepczynski, Shawn Kelley, Joaquin Benoit and Craig Kimbrel combined for three innings without surrendering an earned run. Rzepczynski allowed an unearned run in the seventh inning, but outside of that hiccup, the bullpen corps continued to look steady.
For the second game in a row, Kemp headlined the Padres' offense with a stellar performance. This time, however, Kemp collected the first Padres cycle. On the 7,444th game in team history, Kemp went 4-for-5 at the plate with four RBIs, recording a home run in the first, a single in the third, a double in the seventh and then a triple in the ninth to solidify his place in Padres history.
The significance of Kemp's feat was certainly not lost on Twitter.
7,444 games it took for a Padre to hit for the cycle. Add up those numbers, and whataya get? 19! Somewhere in heaven, Tony is smiling!

— Mark Grant (@Mudcat55) August 15, 2015
Matt Kemp: "Hoffy says, That's the first one. I said, Yeah, that is my first one. He said, No, that's the first one for the Padres."

— Dennis Lin (@dennistlin) August 15, 2015
In the #Padres 7,444th all-time game, Matt Kemp has the first cycle in franchise history. #Marlins are only #MLB team without a cycle.

— Friar Figures (@FriarFigures) August 15, 2015
While Kemp's cycle certainly stole the show, the Padres pounded out 12 hits en route to scoring nine runs to topple the Rockies. Jedd Gyorko joined Kemp in having a 4-RBI performance after he launched his eighth homer of the year in the seventh inning, while Derek Norris recorded a solo shot in the fifth. Norris enjoyed a multihit game as well.
In case you missed it, here are some highlights and stories from Friday.
Padres postgame recap: Padres down Rockies behind Kemp's cycle
Gyorko rips an RBI double into left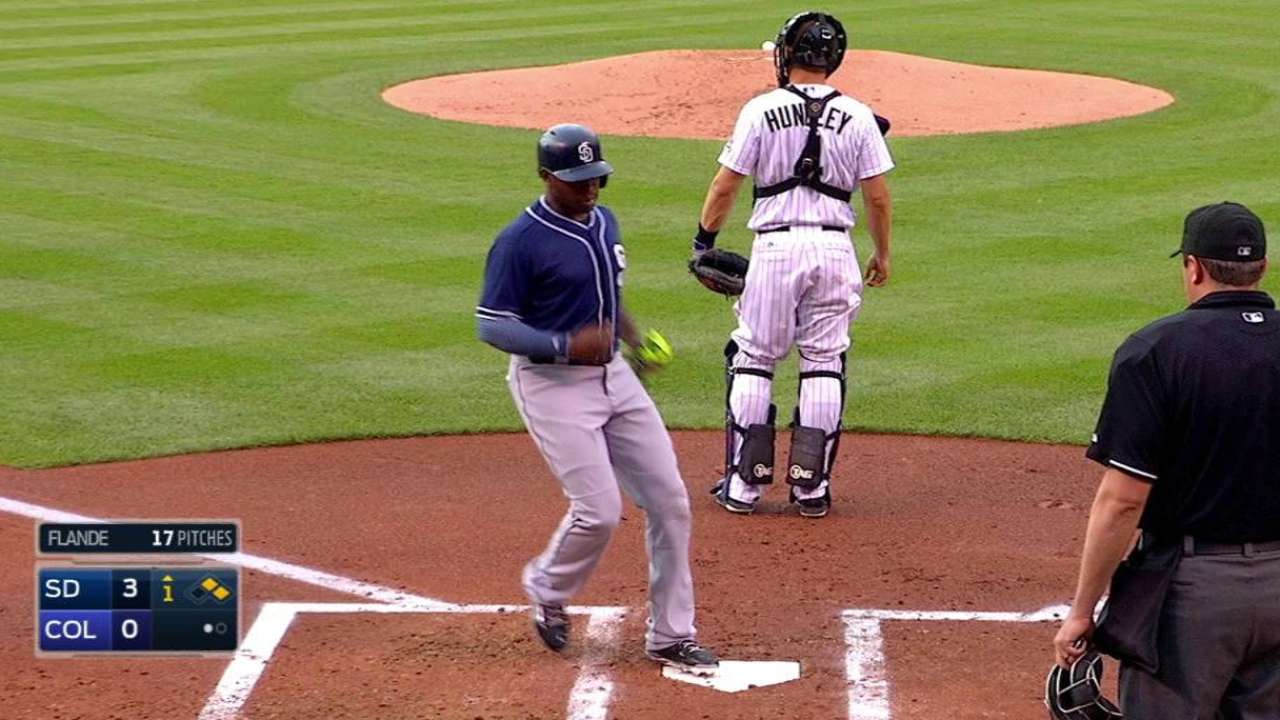 Padres claim a 4-3 lead
Gyorko smashes a three-run homer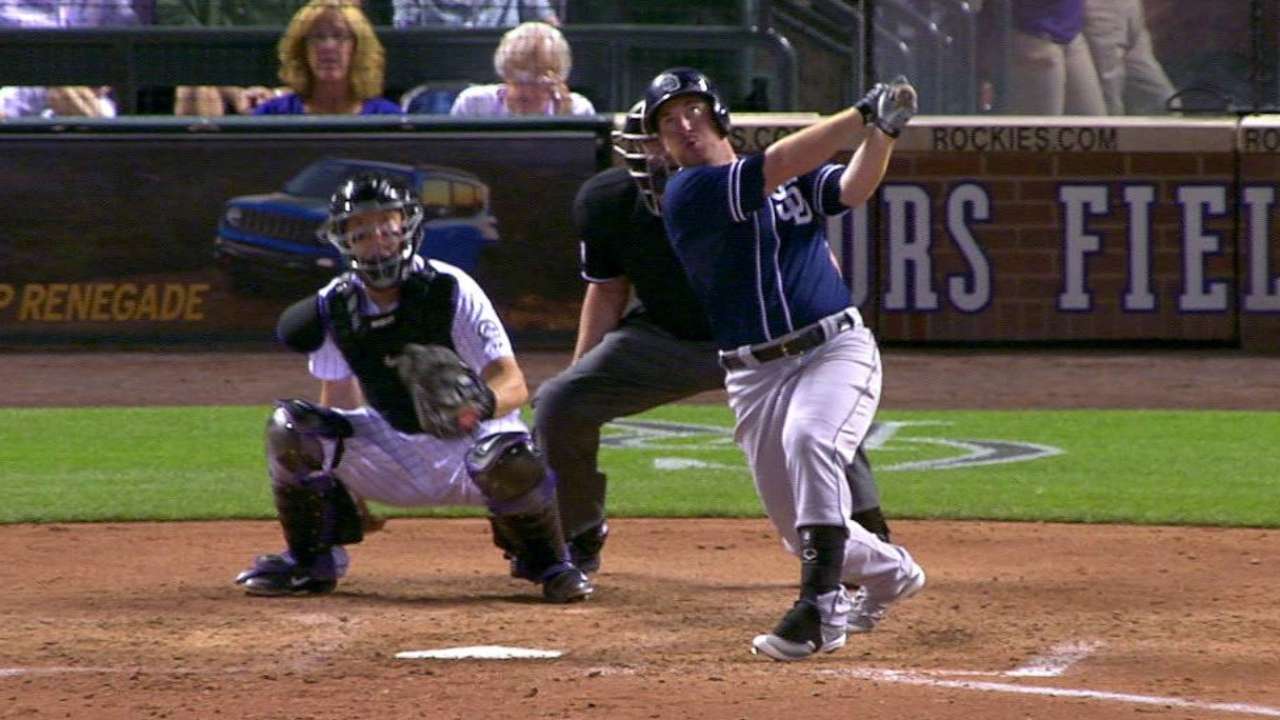 Kemp propels himself into team history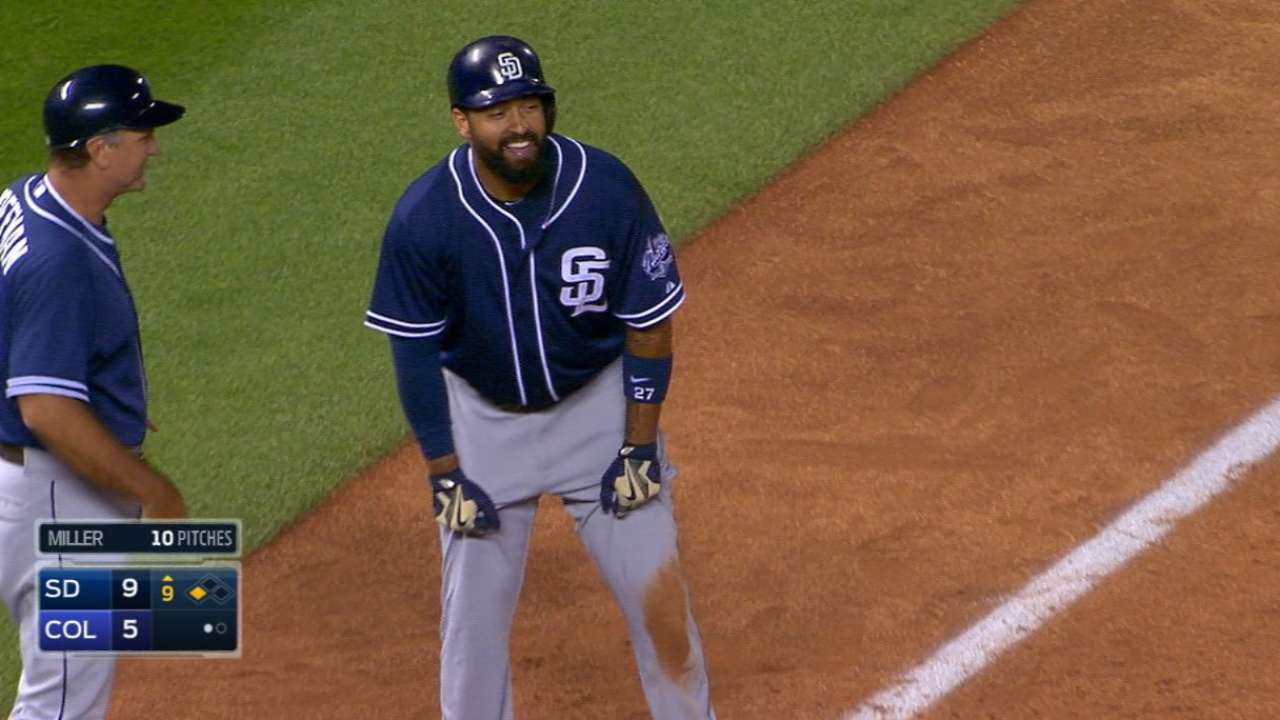 Friar Faithful will never forget Aug. 14, 2015: Kemp completes first cycle in Padres history
By way of a home run, then single, then double, then triple: Kemp's historic feat joins other cycle firsts
Padres perennial leadoff man progresses in recovery: Myers takes swings with own bat without pain
Middle infielder returns from disabled list: Versatile Spangenberg activated by Padres
No matter the distance, rookie's got support: Rea clan comes out in force for prospect's debut
Down on the farm: Lamet starts second straight shutout win
Weekly forum returns to keep fans engaged: #PadresFanChat with Bill Center: August 14th, 2015
Game Notes @ COL (08.14) Padres Open Roadtrip with Three-Game set at Coors Field
Looking forward:
Friar Forecast: Cashner looks to shut down Rockies at Coors Field
Saturday's probable pitchers: Andrew Cashner (4-12, 4.09 ERA) vs. Jon Gray (0-0, 2.70 ERA)