Bullpen rewards Mattingly with shutdown night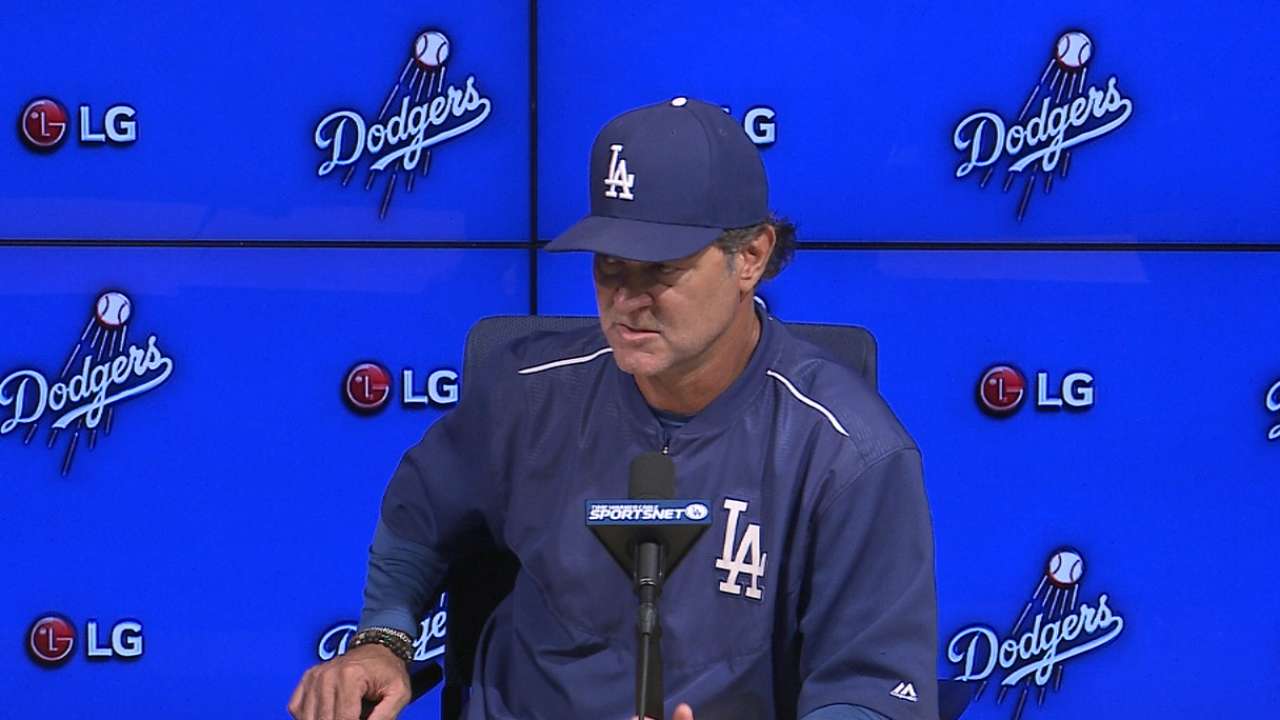 LOS ANGELES -- Though starter Alex Wood was at just 82 pitches and facing the bottom of the order in the seventh, Dodgers manager Don Mattingly decided to pull his starter.
Mattingly has drawn some ire from his fanbase in the past with his bullpen decisions and his use of the double-switch, but on Friday night, Donnie Baseball pulled the right strings as the Dodgers topped the Reds, 5-3, at Dodger Stadium.
The Dodgers' bullpen, which ranks 25th in the Majors with a 4.19 ERA, has been chewed up in recent games, but the reinforcements provided 2 2/3 innings of perfect relief to bring home the victory.
"[Wood] got us where we needed to go," Mattingly said of the decision. "From that spot in the order, there's four guys where you want to have a right-hander, so it just made sense."
Wood earned his first win as a member of the Dodgers, lasting 6 1/3 innings, allowing five hits and three runs. Two of his three walks on the night came around to score, one in the first on a double by Joey Votto and the other as part of a two-run homer by Votto. Even after taking a line drive off the ankle early in the game, Wood felt as though he had plenty left in the tank.
"It's one of those things, it's a cool night. Whether at 80 pitches or 100 pitches, you feel like you can keep going but we've got some sweet arms in the bullpen that shut it down for us," Wood said.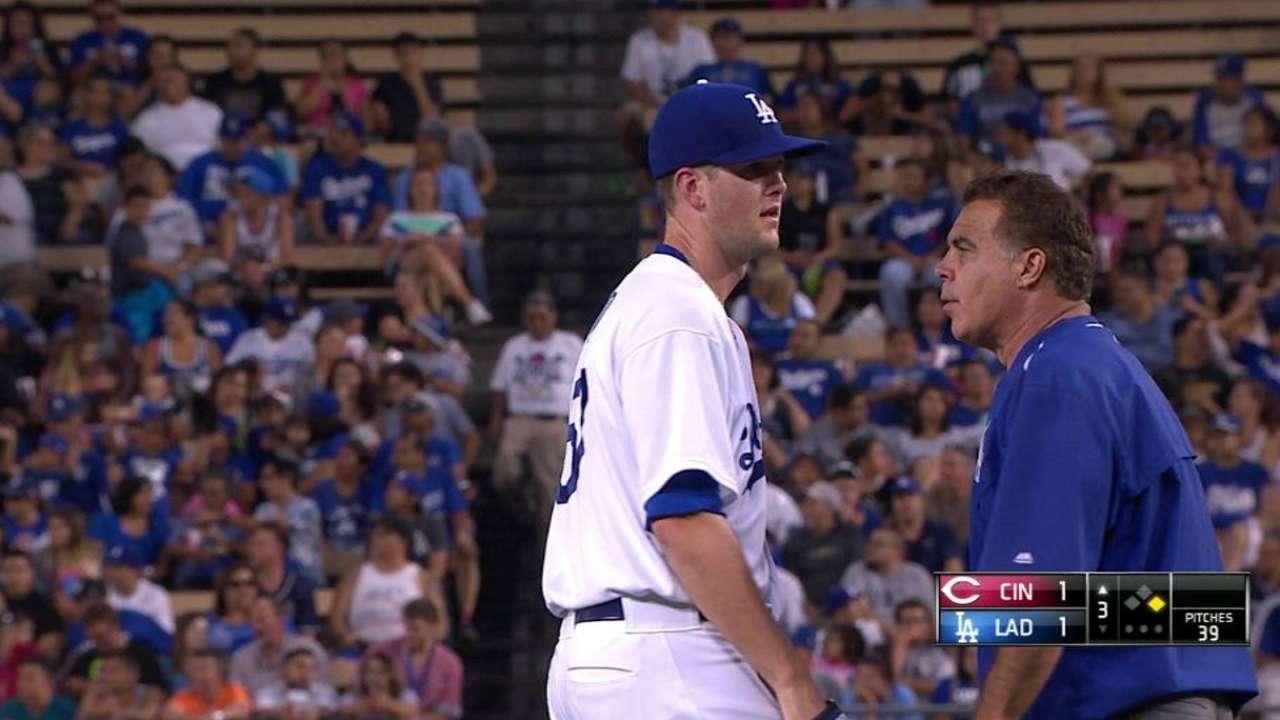 Wood might've been a little off on it being a "cool night" -- there is an excessive heat warning in effect from Friday to Sunday night in the Los Angeles area -- but Wood was spot-on about his relievers.
Jim Johnson pitched his second consecutive scoreless outing after allowing eight runs in 2/3 of an inning to the Pirates on Aug. 9. Pedro Baez needed just six pitches to work through the eighth inning, one night after allowing a three-run homer to Eugenio Suarez in a 10-3 loss. Finally, Kenley Jansen converted his 16th straight save to close it out.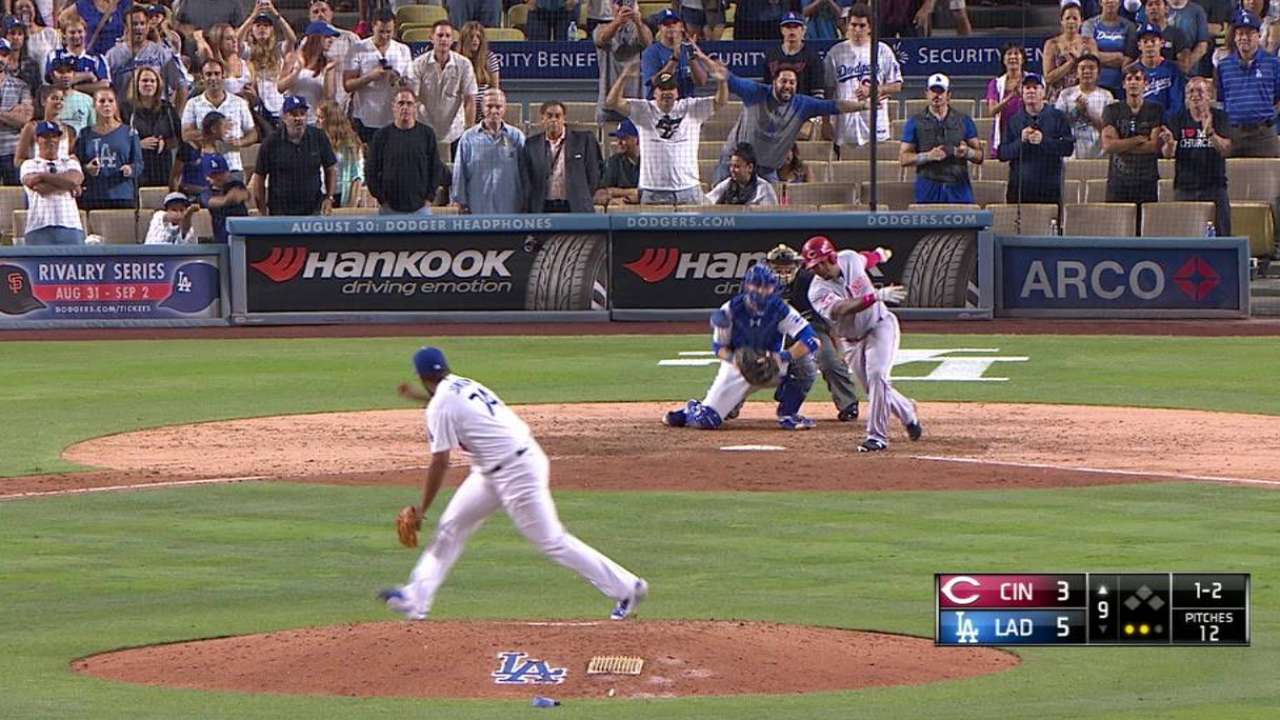 "Jim's had two outings in a row that have kind of restored that," Mattingly said of his confidence in the relievers. "Tonight was good, hopefully we just build off it with some confidence."
Wood, too, will look to build off what was his best start in Dodger blue. Wood allowed seven runs in 11 1/3 innings in his first two starts with Los Angeles.
"For him to get to the back part, outs-wise, where we're trying to get to Kenley was really nice tonight," Mattingly said.
Steve Bourbon is an associate reporter for MLB.com. This story was not subject to the approval of Major League Baseball or its clubs.