Barnes snaps skid with help from Padres
Outfielder tallies strange triple, single after offensive drought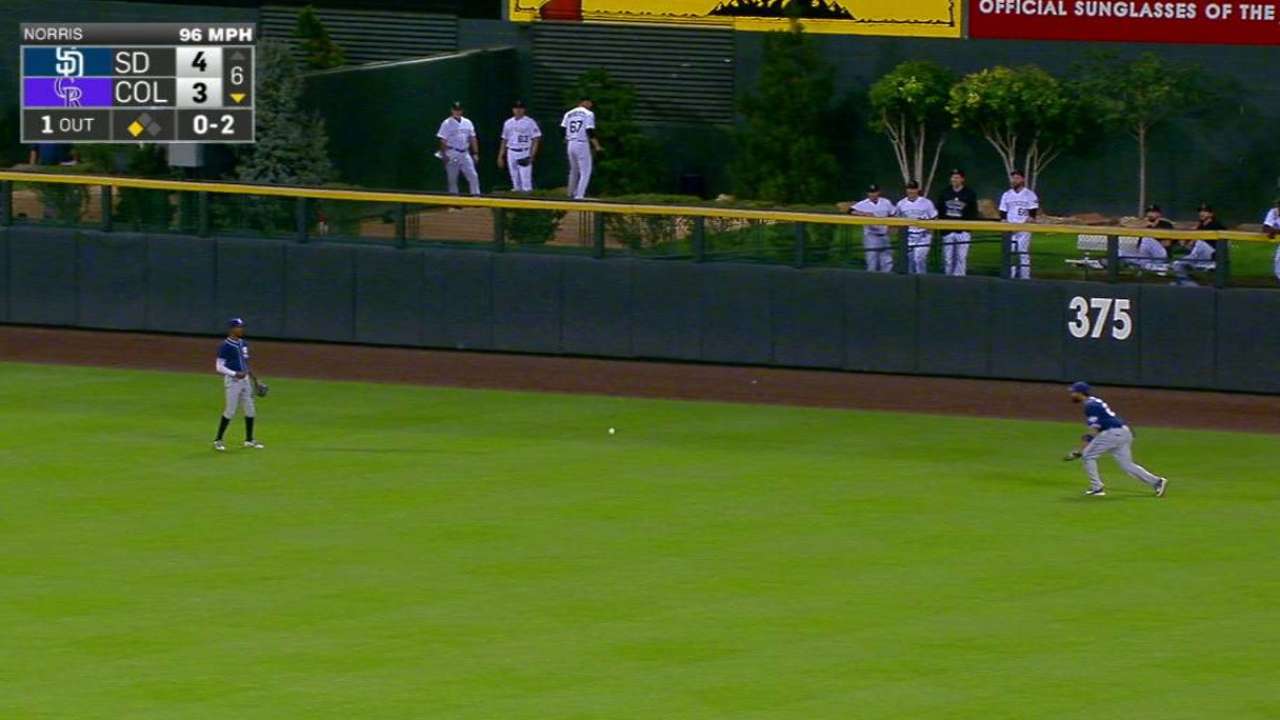 DENVER -- When a player is fighting through a slump, even the smallest break can seem like the biggest life preserver.
Brandon Barnes may have found just that on Friday. In Colorado's 9-5 loss to the Padres at Coors Field, the Rockies left fielder delivered a game-tying triple in the sixth, which snapped an 0-for-21 skid and represented his first hit this month. He also added a fourth-inning sacrifice fly and an eighth-inning single, producing his first multi-hit game since July 18.
Barnes' triple, though, didn't come in an ordinary fashion. With DJ LeMahieu on third and Colorado trailing, 4-3, Barnes sent what appeared to be an easy popup out to right-center. Only center fielder Melvin Upton Jr. stopped short of the ball. Right fielder Matt Kemp did the same. The ball plopped down right between the two.
"I was jogging to first because I figured it was a catch," Barnes said. "As soon as I kind of saw them both look at each other and start to slow down, I just said, 'I'm going to turn it on and go for it.' And they both kind of just stood there, and I just took off."
Barnes slid into third easily and stood up with a look of relief. Although he certainly had some assistance, the skid was finally over.
And once again, Colorado had clawed back to even.
"Guys kept fighting back," Rockies manager Walt Weiss said. "We've done that pretty consistently."
Barnes has kept a similar mentality even under imperfect circumstances. With the promotion and regular usage of former first-round Draft pick Kyle Parker, Barnes has seen his at-bats drop tremendously. In just 19 plate appearances this month, he has eight strikeouts.
But with a productive night like Friday under his belt, Barnes continues to plow forward.
"Guys I have around me continue to push me," Barnes said. "Guys like CarGo told me the other day to get ready sooner, getting my backside ready to hit. That's helped me.
"We all know I've been struggling a little bit as of late, but it's just continuing to grind."
Dargan Southard is an associate reporter for MLB.com. This story was not subject to the approval of Major League Baseball or its clubs.