Minor adjustment pays off big for Beltran
Yankees outfielder chokes up on bat, then delivers go-ahead blast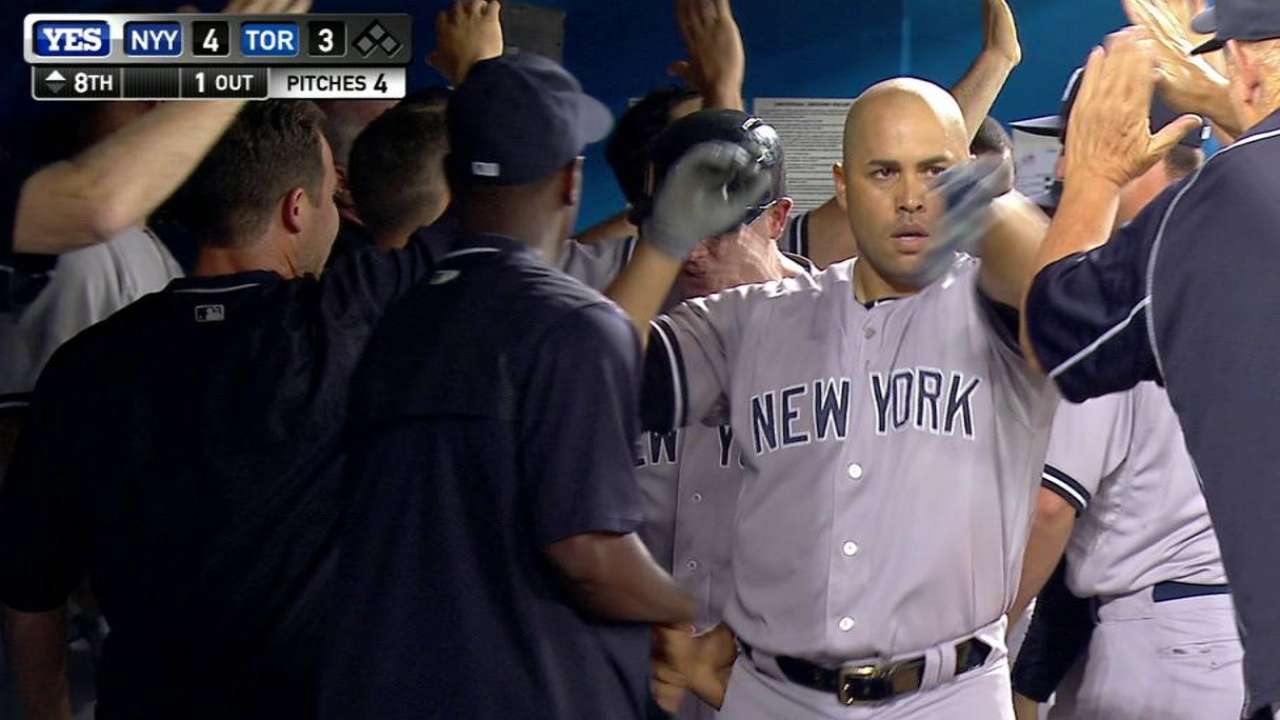 TORONTO -- Carlos Beltran has not had many highlight-reel moments to celebrate in his second season with the Yankees, but coming off the bench on Friday, the veteran slugger said he choked up on the bat before being rewarded with his biggest hit of the year.
Sensing that hard-throwing right-hander Aaron Sanchez might try to blow a fastball by him, Beltran inched his hands up to shorten his swing. He guessed right, slugging a pinch-hit, three-run homer that gave the Yankees the lead and helped vault them back into first place with a 4-3 victory over the Blue Jays.
"He threw me a few fastballs up in the strike zone and I was late on them, then he threw me another one up and in for a ball," Beltran said. "In my mind, I was thinking, 'I'm late, so he might try to throw me another one.' I choked up a little bit and got a better pitch to hit, right down the middle, and I put a good barrel on it."
Connecting with a 97-mph heater on a 1-2 count, Beltran said he knew immediately that the ball was going to clear the fence for his 11th home run of the season. Beltran was on the bench with lefty masher Chris Young starting in right field against David Price, but Price exited after surrendering a run-scoring ground-rule double to Chase Headley.
"As a pinch-hitter, there's basically not much you can do other than take a few swings before the game off the tee or soft toss, get ready mentally for the guy you're going to face," Beltran said. "Sanchez, I know he's a hard-thrower and also has a good breaking pitch, so I was trying to get something in the strike zone."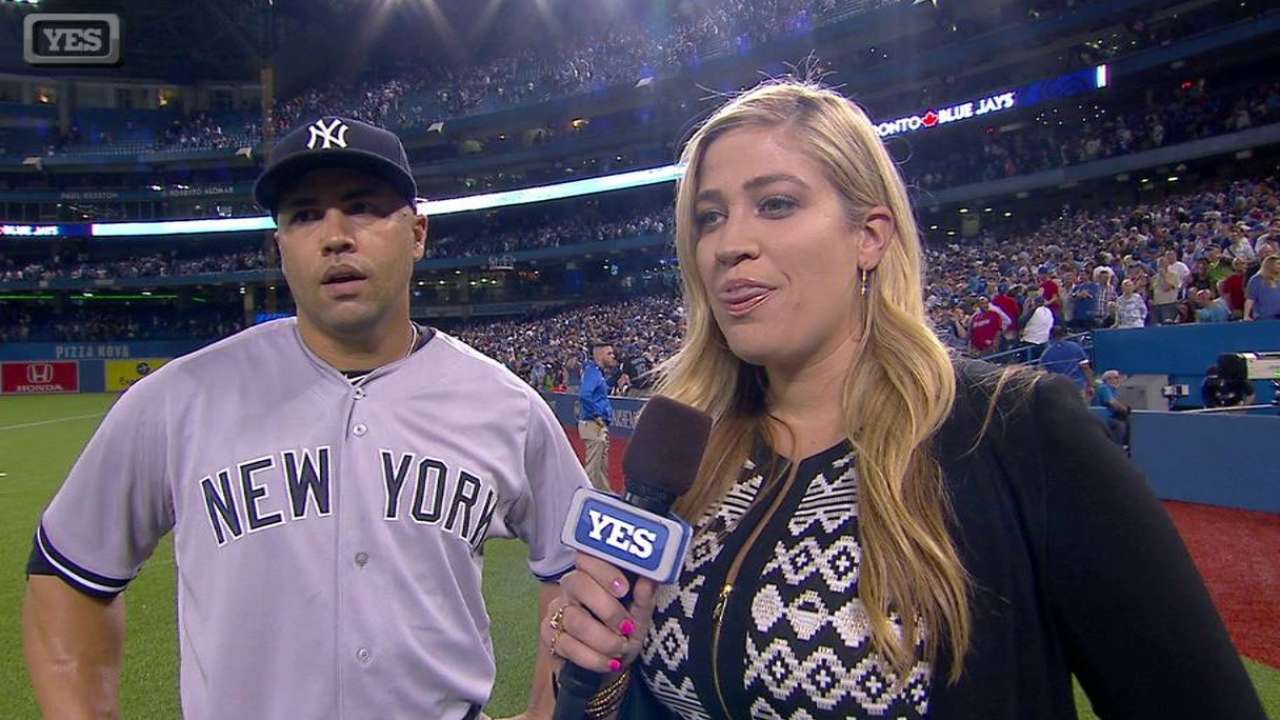 Sanchez said that he changed his approach after seeing Beltran wave at a pair of 97-mph fastballs.
"Coming into the situation, I'm trying to get the ball on the ground," Sanchez said. "With the crowd in the stands, I was a little amped up. I'd seen that I threw the first pitch by him and it was elevated so I was just trying to attack there."
Beltran refused to take a victory lap for out-thinking Sanchez and catcher Russell Martin in that pitch sequence.
"I can't say he made a mistake, because if I would have swung and missed, I would have struck out," Beltran said. "That's baseball, man. I was able to put a good barrel on it. Martin is a smart catcher, but this time, I was able to read what they were trying to do to me. It happens sometimes, and sometimes it doesn't happen that way."
Bryan Hoch is a reporter for MLB.com. Follow him on Twitter @bryanhoch, on Facebook and read his MLBlog, Bombers Beat. This story was not subject to the approval of Major League Baseball or its clubs.