Blue Jays fall short of franchise-record streak
Toronto was poised to win its 12th straight game before the Yanks rallied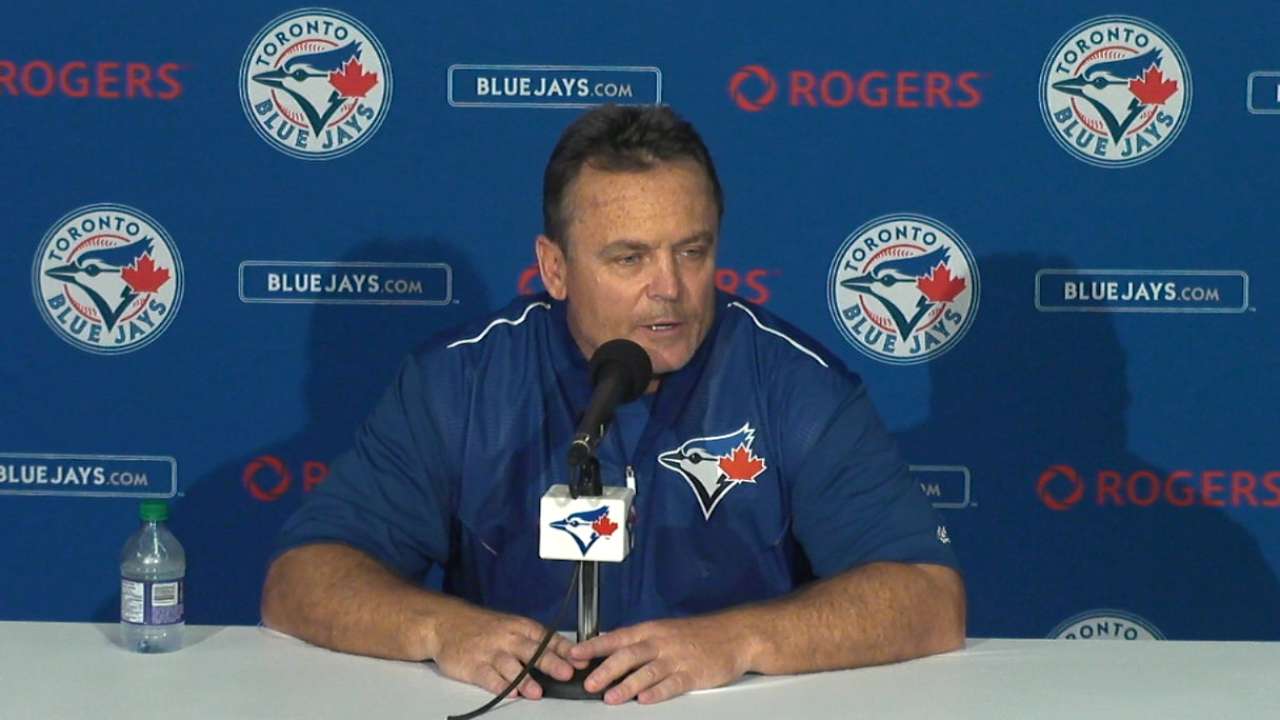 TORONTO -- The Blue Jays saw their 11-game winning streak come to an end on Friday in the series opener against the Yankees. Toronto looked poised to set a club record for most consecutive wins, but the wheels fell off in the eighth as the Yankees rallied for four runs before the New York bullpen locked it down en route to a 4-3 loss for the Blue Jays.
With a three-run lead, Blue Jays ace David Price surrendered three hits and a run in the eighth before turning the ball over to Aaron Sanchez, who promptly gave up a go-ahead three-run home run to pinch-hitter Carlos Beltran.
"They snuck it in late, that's part of it," said Price, who gave up three earned runs on 11 hits over 7 1/3 innings. "A loss like this can definitely bring a team closer, whenever it happens like that. And in this situation, I know we'll come ready to win tomorrow."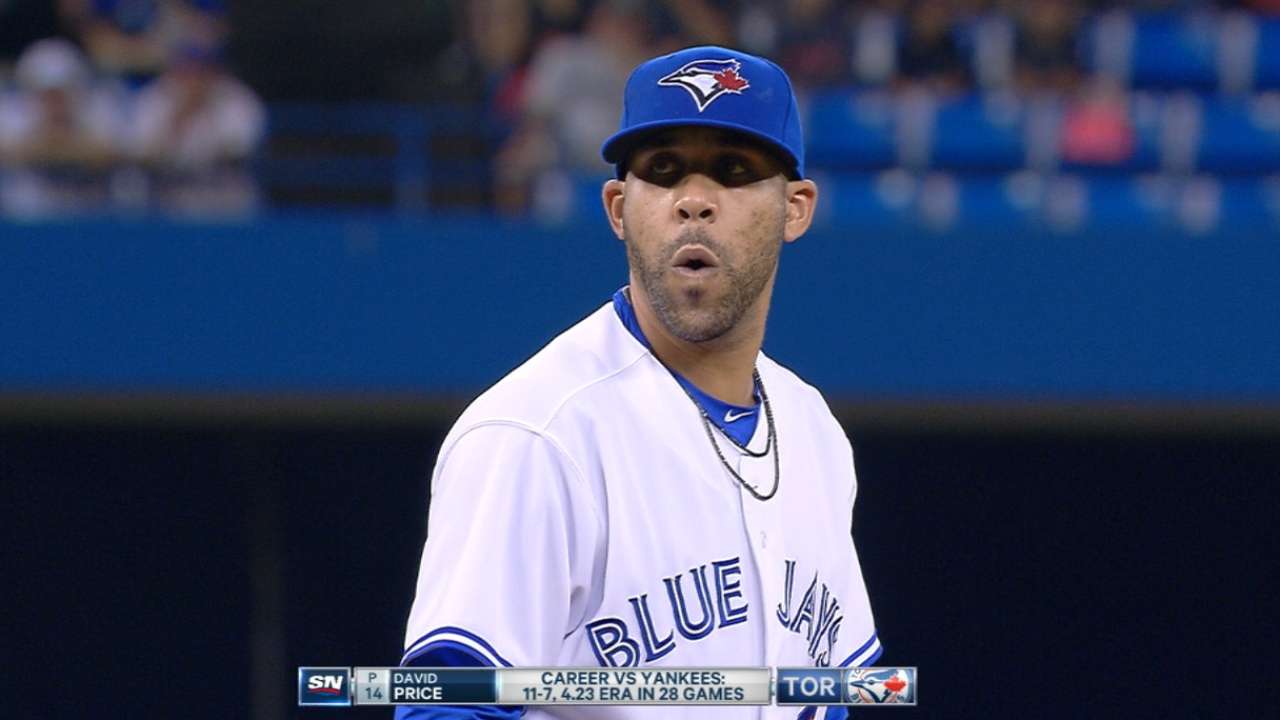 The Blue Jays, who've been on a tear since the non-waiver Trade Deadline, saw their slim lead in the American League East disappear as the Yankees jumped ahead by a half-game.
Price, making his third start in a Blue Jays uniform since being acquired at the Trade Deadline, managed to duck and dodge several tight spots until the eighth.
That's when, after a pair of one-out singles, Chase Headley hit an RBI ground-rule double to center field, bringing home the first Yankees run, which snapped a streak of 20 consecutive scoreless innings recorded by Price.
That prompted Blue Jays manager John Gibbons to go to hard-throwing right-hander Sanchez, who'd given up only two hits and one earned run over his last 9 2/3 innings dating back to July 25. After throwing three fastballs to Beltran, Sanchez was up in the count, 1-2. He thought he'd try to slip another high heater past the switch-hitting slugger, but instead left one out over the plate, which Beltran hit out for the game-winning shot.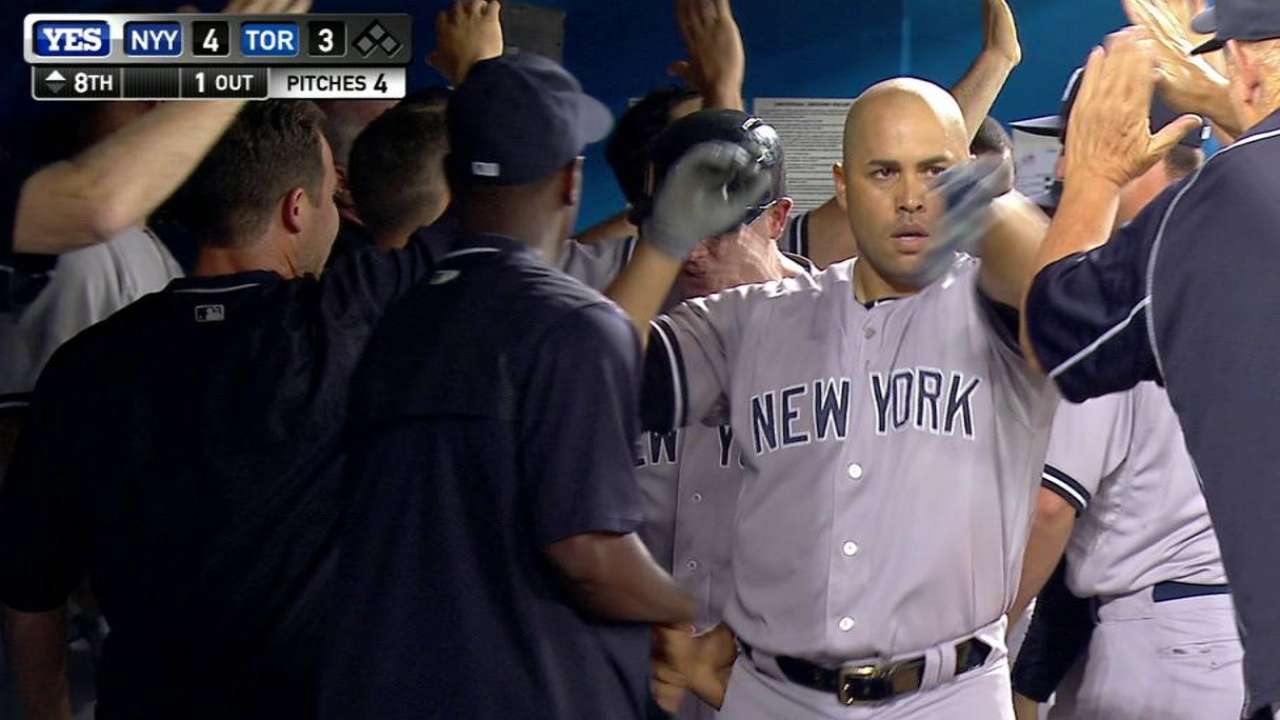 Sanchez said the sold-out crowd of 46,689 had him a little "amped up" coming out of the bullpen, which contributed to missing his spot on that fateful pitch.
"I just got a little excited," said Sanchez, who was saddled with the loss.
The Blue Jays pressured in the ninth, but they couldn't bring the tying run home from third as Troy Tulowitzki went down swinging in a 12-pitch at-bat against Yankees closer Andrew Miller to end the game.
Gibbons said he didn't think the streak-ending loss would have a deflating effect in the clubhouse as his team prepares to face the Yanks again Saturday afternoon.
"It was a good ballgame, it went down to the wire," Gibbons said. "These guys have all been through it before. I don't think it'll be a problem at all."
Jamie Ross is an associate reporter for MLB.com. This story was not subject to the approval of Major League Baseball or its clubs.