Keuchel in command, runs streak to 11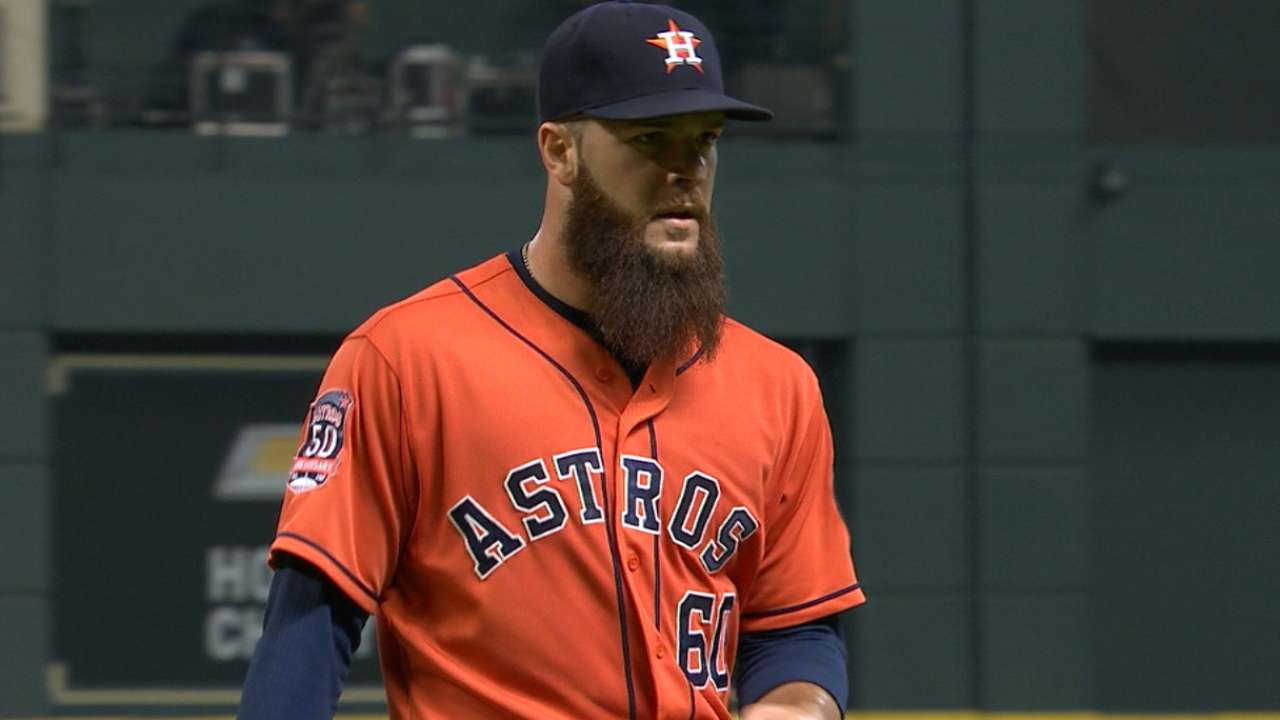 HOUSTON -- Dallas Keuchel can't figure out what hinders the Astros on the road or, frankly, why he and his team are so good at home.
With Friday's 5-1 win over the Tigers, Keuchel won his 11th straight home start of the season and 12th in a row dating back to last season. It's the second-longest streak in franchise history, one behind Danny Darwin's 13-game streak from 1989-90. In his last 16 starts at Minute Maid Park, spanning 114 2/3 innings, Keuchel hasn't allowed a home run -- joining J.R. Richard and Joaquin Andujar as the only Astros pitchers to accomplish that feat.
And since the Keuchel's Korner cheering section along the left-field line -- where fans wear fake beards and orange T-shirts -- was introduced, he is 5-0 with a 0.73 ERA and 48 strikeouts.
"If we knew how to play more complete on the road, we would," Keuchel said. "It's just one of those things where we play better at home right now. We're going to have to figure it out before too long, but it's nice to be back home with the support of the fans and the city."
Keuchel's command was particularly precise on Friday. He recorded four of his eight strikeouts through the first three innings, during which he threw only eight balls.
During their second time through the order, the Tigers adjusted and were more aggressive toward fastballs, meaning a bit more work for Keuchel, who stranded runners in scoring position in the fourth and fifth before retiring seven of the final 10 batters he faced.
"I've been working on a breaking pitch backdoor," he said. "That was kind of getting me ahead of guys. Especially with that lineup, I can't afford to get behind a bunch of guys. That's what I've been doing the last couple outings with some walks and some hard-luck hits. I just wanted to attack the zone today, and I was able to do that."
Although Keuchel pitched into a bit of trouble in the later innings, his performance was vintage to skipper A.J. Hinch.
"It's always a cat-and-mouse game with Dallas in the strike zone," Hinch said. "He's got such good command that sometimes when he's just off and they're disciplined, they're going to throw a few more pitches. All in all, Dallas was in complete control virtually all night."
Chandler Rome is an associate reporter for MLB.com. This story was not subject to the approval of Major League Baseball or its clubs.