Green light a sign of confidence in Lowrie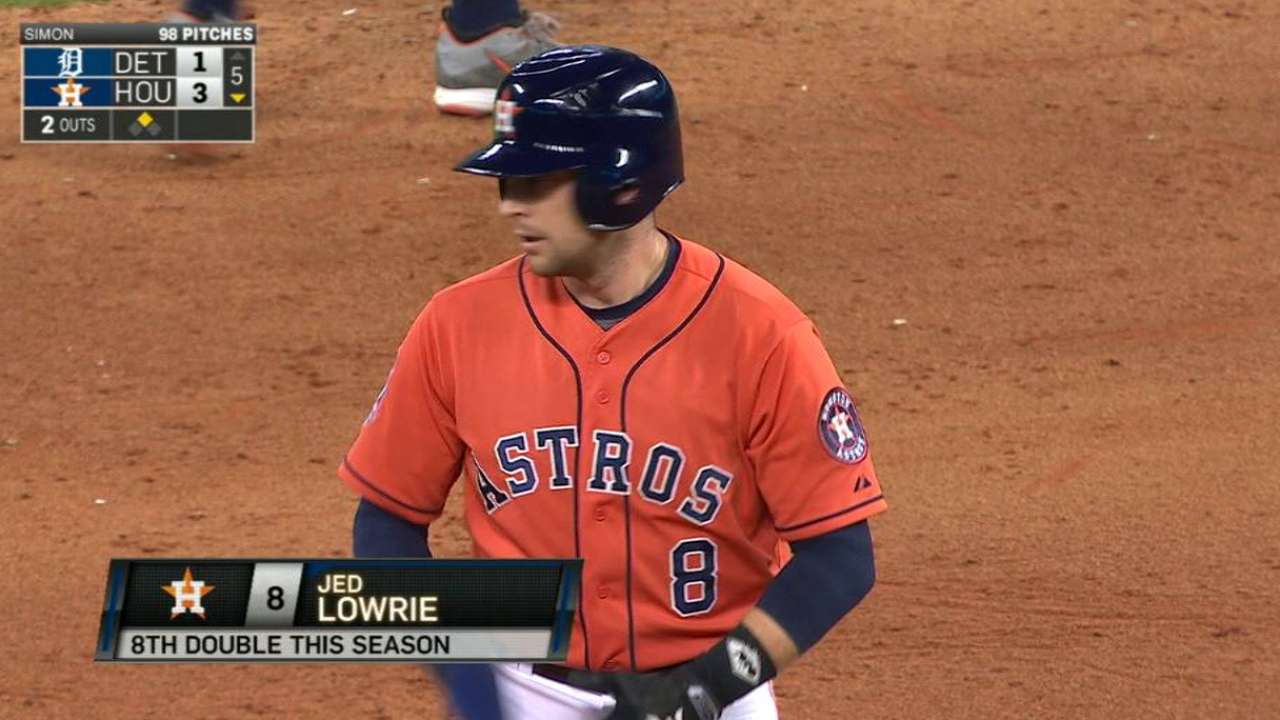 HOUSTON -- Tigers starter Alfredo Simon had thrown seven straight balls to begin the Astros' 5-1 win on Friday in what was headed to be a disastrous first inning. Jose Altuve led off the game with a single, and Simon walked Carlos Correa on four pitches to bring up cleanup man Jed Lowrie -- who eventually faced a 3-0 count with one out.
Lowrie was waiting on a 3-0 fastball, and that's what came, though he popped it up to left field for the second out, subduing the early rally.
"I guess that's the risk you take," Lowrie said of swinging in such a lopsided count.
Lowrie faced the same scenario with one out in the fifth -- a 3-0 count with runners on second and third in a 1-1 game. Simon threw a splitter, which Lowrie laid off for a called strike. He turned on the next pitch, a fastball, splitting the gap in left-center and giving the Astros the lead for good.
In keeping with the youthful, energetic vibe of his American League West-leading team, manager A.J. Hinch is often unapologetic about the aggression throughout his order, whether it be on the basepaths or in the batter's box.
"Run-scoring opportunities, we're going to swing 3-0," Hinch said. "We play loose, and we play with a lot of freedom, and Jed is hitting in the middle of the order to be productive. If it's on 3-0, it's great, if it's with two outs, a couple times the last week or so, he's delivered. His [decisions on] what pitches to swing at are generally pretty good and near the top on our team."
Unsurprisingly, Lowrie said he had the green light on 3-0 in the at-bat in the fifth inning, but held up when he saw the splitter.
Still, the confidence Hinch puts in his veteran infielder in his first season with the Astros carries a deeper meaning for Lowrie -- who's injury-plagued season is starting to round out, with playing time becoming more consistent and normal.
"You have to earn that confidence. It's not something you're inherently given, you have to earn that," Lowrie said. "This is my first year with A.J., so it's not like we have a long history of us going back to give me the green light. It means a lot. He's seen me over the last couple months and Spring Training. It's great, it doesn't really change my approach, but it means I feel like I've earned the respect of the manager."
Chandler Rome is an associate reporter for MLB.com. This story was not subject to the approval of Major League Baseball or its clubs.