Ichiro ties Cobb with 4,191 professional hits
Counting his numbers in Japan, outfielder matches MLB legend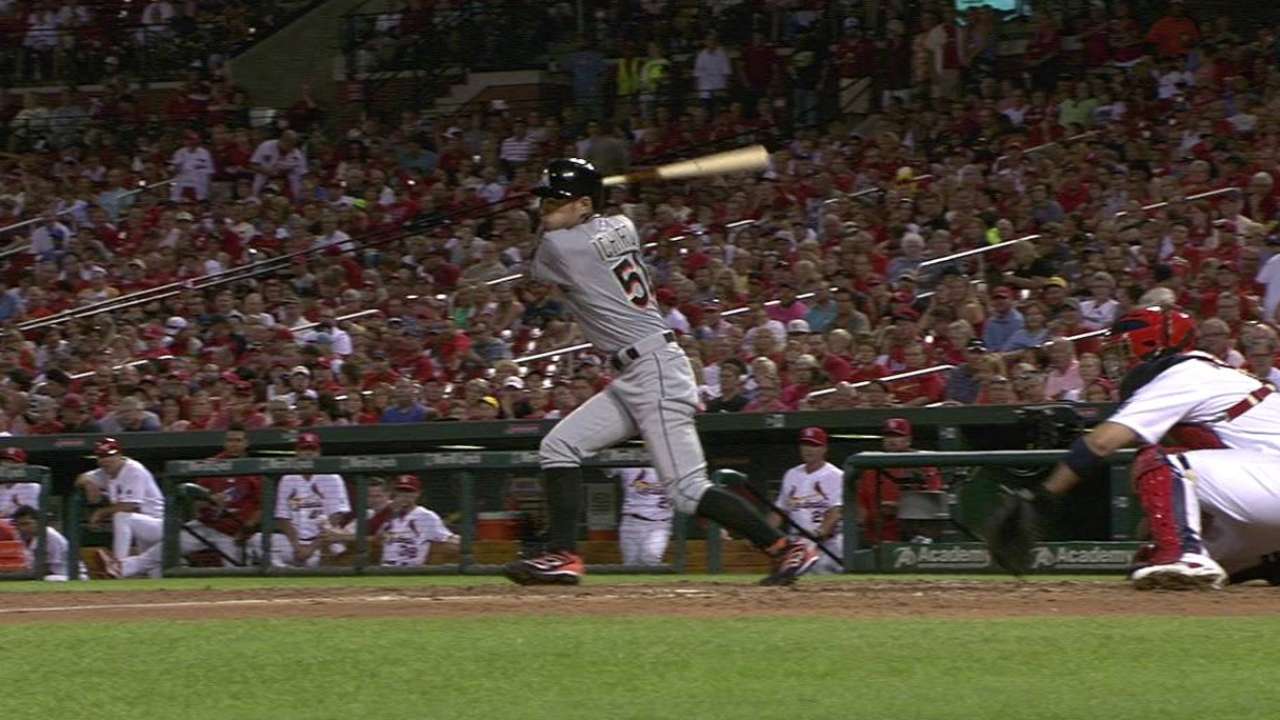 ST. LOUIS -- Ichiro Suzuki is at a point in his career where each hit moves him closer to another milestone. With his opposite-field single in the fifth inning of the Marlins' 3-1 loss to the Cardinals on Friday night, the 41-year-old now has the distinction of being mentioned in the same sentence as the legendary Ty Cobb.
Counting his hits from hits from the Orix Blue Wave in Nippon Professional Baseball along with his MLB numbers, Ichiro now has 4,191 professional hits, the same figure Cobb had in his Hall of Fame career. It's not recognized as an official record, but to compile that many hits at any professional level is impressive.
Major League Baseball is authenticating Ichiro's bat and the ball that was tossed back to the Miami dugout.
"Hall of Famer," Miami manager Dan Jennings said. "Plain and simple. He's a Hall of Famer. He continues to defy age. He gives tremendous at-bats. He ranges in the outfield. He's got to be one of the most prepared players of this era."
Ichiro now has 2,913 Major League hits, as he inches closer to becoming the 30th player in MLB history to reach the 3,000-hit milestone.
In nine seasons playing in Japan, Ichiro had 1,278 hits.
"To produce the way he's produced, and continue now at age 41, it's just a tip of the cap of just who he is and the career he's had," Jennings said.
With two outs in the fifth inning, Ichiro slapped a Jaime Garcia pitch into left field for hit No. 4,191. The piece of history was not lost on the crowd of 42,025, with many in Cardinals red applauding Ichiro, even though there was no official announcement that the veteran outfielder reached Cobb's mark.
There has been some dispute over how many hits Cobb actually has. Baseball Reference lists his total at 4,189. But the official mark MLB uses is from the Elias Sports Bureau, which recognizes 4,191, second all-time behind Pete Rose's 4,256.
"It's phenomenal," Jennings said. "Forever people talk about Pete Rose and the number of hits. Ty Cobb and the number of hits. Now, Ichiro Suzuki will be mentioned in that same breath because of what he's been able to accomplish. He's still a ways to go.
"He's a special player. He's a special talent. He's carried himself that way. It's great for our young players to see how this guy goes about it every day, how he prepares to go out and play a game every night. He's earned every one of those hits that he's got. It's an honor to be here and be part of it and watch him achieve that."
Joe Frisaro is a reporter for MLB.com. He writes a blog, called The Fish Pond. Follow him on Twitter @JoeFrisaro and listen to his podcast. This story was not subject to the approval of Major League Baseball or its clubs.