Lovullo's mind on Farrell in first managerial W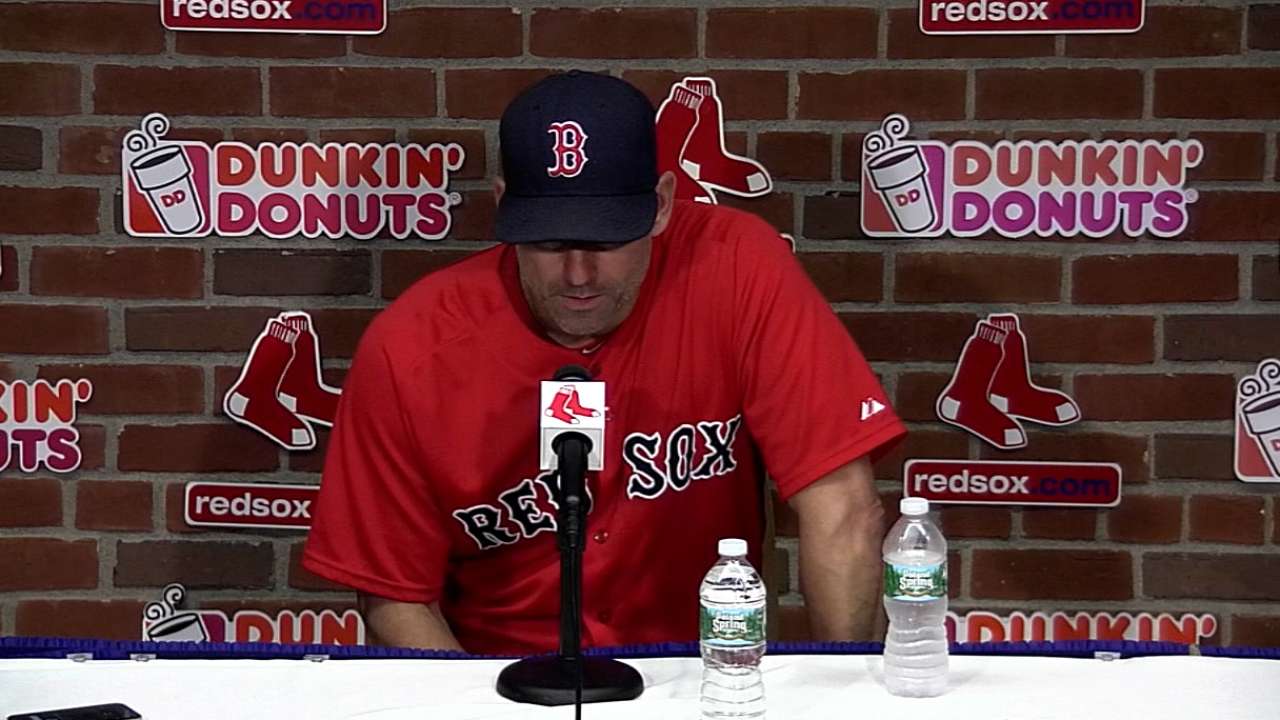 BOSTON -- Torey Lovullo, an energetic and well-liked figure around the Red Sox, will have the opportunity to manage the club for the final seven weeks of the season. But on Friday night, Lovullo's first as interim manager, his thoughts were with his close friend John Farrell before, during and after a 15-1 win over the Mariners.
"Tonight was a difficult night," said Lovullo. "I found myself probably 250 times thinking about John. I tried to just let that go and move off of it. That's one of my closest friends. It was difficult for me at times. But the guys made it easy. They went out there and performed and did the job."
Farrell has Stage 1 lymphoma that will keep him out of the dugout for the remainder of 2015. Lovullo found out about it on Thursday night, but he was still processing it by the time he took the podium late Friday.
"It's been tough. It's been an emotional 18 hours," said Lovullo. "I was up at 3:00 in the morning thinking about until 5:00 in the morning, slept for 15 minutes, thought about it again. It's never any type of information you're prepared for. He was candid. He came right out and said, 'I have cancer. This is what's happening.' For several minutes, he coached me through my emotions. By the end of it, we were laughing and chuckling about things."
Farrell and Lovullo have been close friends since 1993, when they were teammates with the Angels. When Farrell vacated his spot as pitching coach of the Red Sox to become manager of the Blue Jays, he hired Lovullo to be his first-base coach.
And when Farrell came back to Boston to manage, one of his first moves was to name Lovullo his bench coach.
"Personally, it's one of the hardest days I've ever had to endure," Lovullo said. "When you hear that type of news, it's not easy to work through. I'm still working through it. I'm not quite where I want to be. I don't think any of us will be. But we're going to fight for John. Like Papi said, we're on this ride with John. We're all together. We're a family."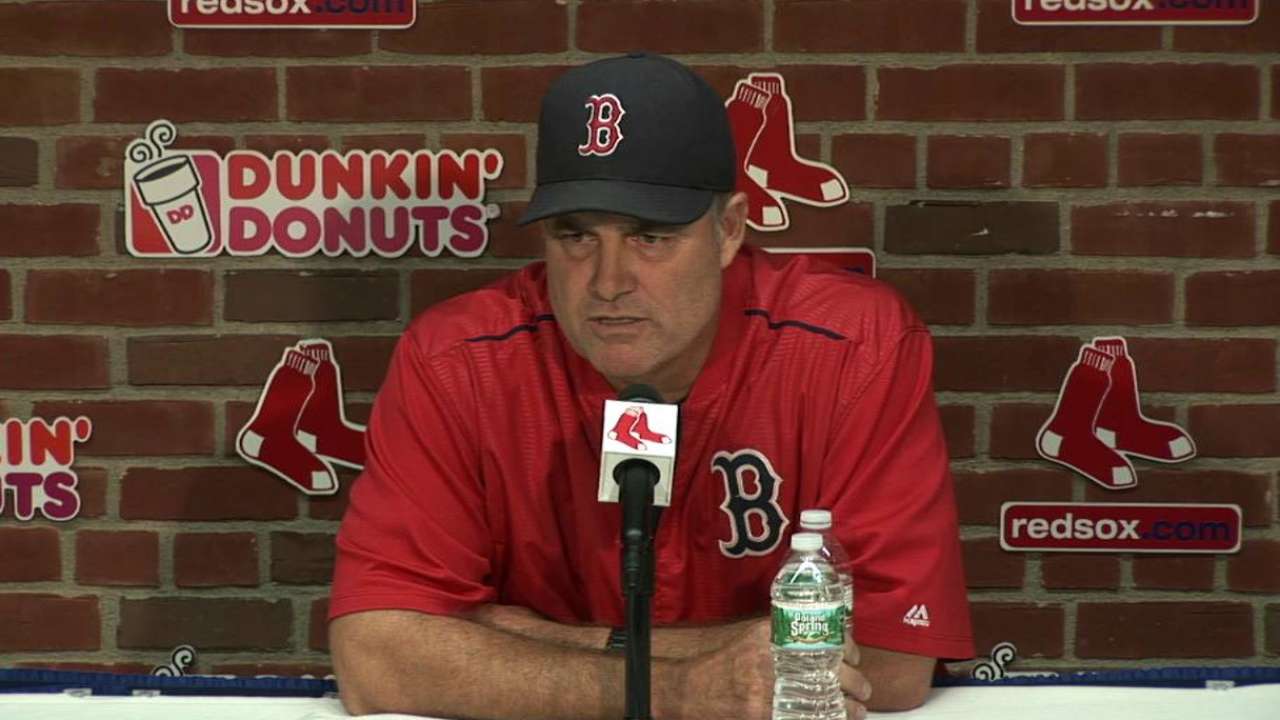 Lovullo, who has been touted by many as a future manager, will simply be trying to hold down the fort for his friend.
"I don't know what my style of managing is. I just expect a lot. I have demands of these players," Lovullo said. "And I want them to go out and represent the Boston Red Sox to the best of their ability."
Though Lovullo was probably too shaken up to realize it, his presence in the dugout on Friday was comforting.
"Yeah, it is," said shortstop Xander Bogaerts. "I mean, today in the dugout, just looking across and knowing that Torey is the manager since John is not available right now, that makes it a lot more comfortable for you as a player."
Though Farrell won't be managing the games, he will be around when he feels up to it, and will probably have his share of baseball conversations with Lovullo.
"I want to give him a ground-level view, a dugout view of what's happening, as often as I can," Lovullo said. "But getting ready to understand a little bit about what he's going through, I'm not going to force that upon him.
"As we always do, we have a clear line of communication. It's because of our friendship. But I want to keep him as close as I possibly can. I'm going to let him control the climate. He might be having a bad day, and I did tell him, 'If we're going to talk baseball and you're not having a good day, just tell me we need to postpone this.' This is uncharted territory for all of us. We don't know what's going to happen.
"Here's this warrior that's telling us it's going to be OK, but I know he doesn't know. I'm going to give him as much as he wants on a daily basis, just because he's my friend and also I want to keep him as engaged as possible.
"But he needs to separate a little bit. He needs to take care of John Farrell, and I think that's slowly registering for him."
Ian Browne is a reporter for MLB.com. This story was not subject to the approval of Major League Baseball or its clubs.