Parnell moves on after tough outing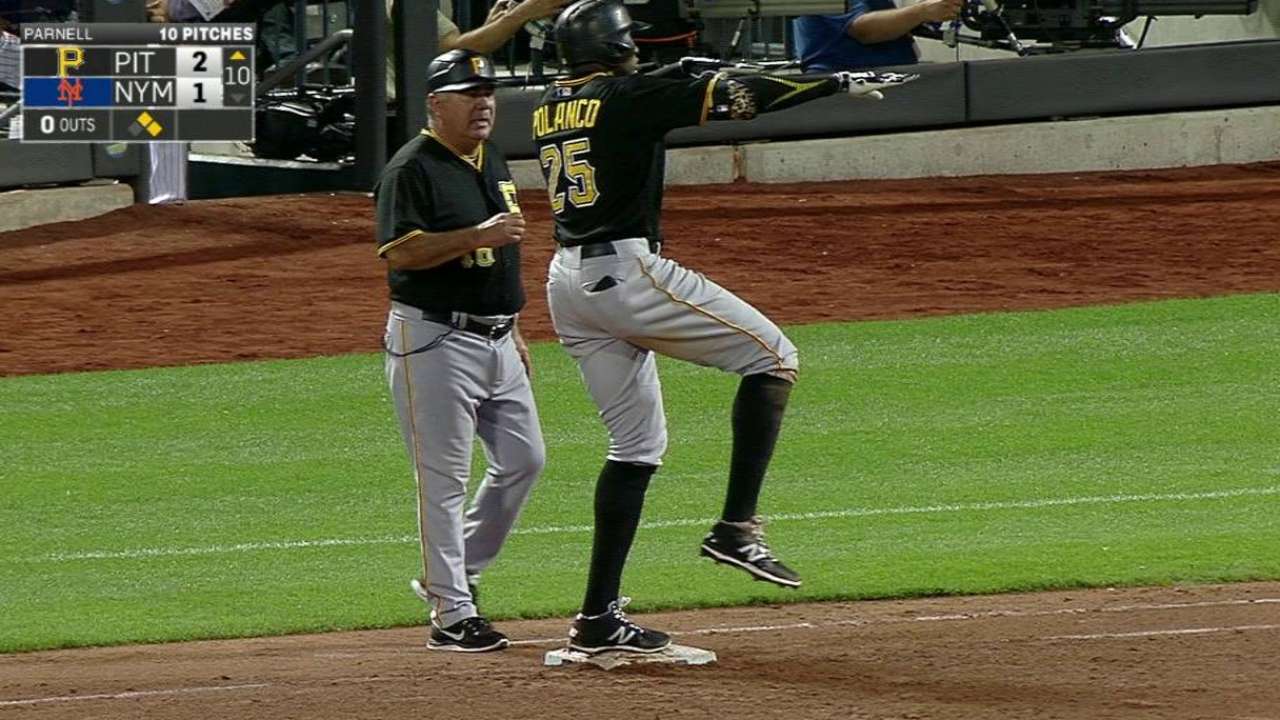 NEW YORK -- Night after night, the Mets are drawing sizable crowds to Citi Field. Tens of thousands have come out to support the new-look home team, clapping and screaming and cheering and -- on this night -- booing.
As Bobby Parnell walked off the field in the 10th inning Friday, having given up the go-ahead run in a 3-2 loss to the Pirates, pockets of fans around the park cupped their hands around their mouths, forcing Parnell to deflect their jeers as best he could.
"I also saw a lot of fans clapping me on," he said. "The true fans were out there supporting me. That actually meant a lot to me because it's kind of been a rollercoaster ride this year. Losing a big ballgame like that's not fun, and I saw some good fans up there show me some support."
In sum, Parnell's mound time was brief. Entering in a tie game in the 10th, the former closer gave up consecutive singles to Chris Stewart, Francisco Cervelli and Gregory Polanco, the last of them plating the go-ahead run. And that was that. Manager Terry Collins marched to the mound and the boos rained down.
"Fans are caught up in what's going on and they hate losing," Collins said, when asked about the booing. "I was a little surprised, the way things have been going, but it's part of the game. So you just shrug when that happens and move on."
Parnell literally shrugged in the clubhouse afterward, chalking this up to an isolated blip in an otherwise successful -- albeit spotty -- season. In his first year back from Tommy John surgery, Parnell initially hoped to rejoin the team at some point in April. But his velocity sagged and setbacks derailed him, and he did not wind up reaching the big league level until mid-June. Even then, Parnell's numbers on a Minor League rehab stint were ugly.
By and large, he has been successful since then. But Parnell's velocity -- once ince the 100-mph range -- is still not what it was in his standout 2013 campaign, his strikeout-to-walk ratio is even and he remains prone to big innings; Parnell blew a save in a crushing loss in Washington last month, giving up three runs that day and seven over a nine-day span.
Since that rough patch ended, Parnell had delivered five consecutive scoreless outings.
Until Friday.
"I think today was just a matter of trying to do too much," he said. "It was a big spot. I was kind of putting a lot of pressure on myself and trying to be too fine, and when I try to get too fine I give up those little weak hits and stuff like that. You live and you learn."
Anthony DiComo is a reporter for MLB.com. Follow him on Twitter @AnthonyDiComo and Facebook, and listen to his podcast. This story was not subject to the approval of Major League Baseball or its clubs.