MLB.com Columnist
Richard Justice
Farrell commands respect with fearlessness
A fierce competitor in playing days, manager will fight lymphoma diagnosis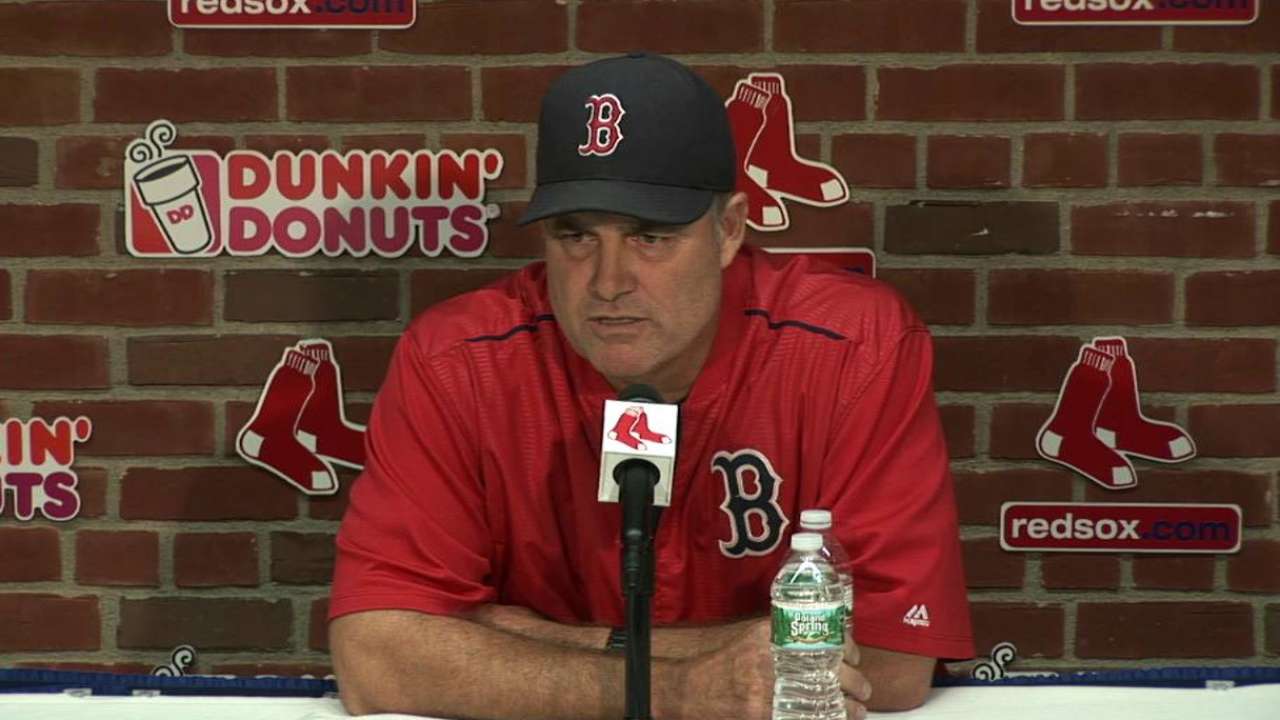 Most nights, when Red Sox manager John Farrell finishes his postgame news conference and returns to his office at Fenway Park, he does something that goes pretty much unnoticed.
Farrell walks slowly through the clubhouse amid the comings and goings of his players, grabs some food and returns to his office. He takes his time doing all of this, holds his head up, looks people in the eye.
When Farrell sits down at his desk, he leaves the office door open. In this way, he's sending a message to every player. He is available to them. He is willing to listen. If they are frustrated, Farrell wants to know. If they need a boost, he will deliver it. His guys know he will tell them the truth, even if it's not the truth they want to hear.
And this small gesture is part of Farrell's genius, part of why his players both respect him and like him. That he's this meticulous about something as simple making himself available to his players speaks volumes about how he pours himself into every aspect of the job.
Certain people seem born to do certain jobs, and John Farrell seems to be about as perfect a fit for the Red Sox as any manager ever has been. So Friday's news that Farrell, 53, will leave the team temporarily to undergo treatment for what he called a "highly curable" form of lymphoma is devastating on a variety of levels.
To know John Farrell is to like him. More than ever, managing a baseball team is about building productive relationships with players, and no one in the game has done that better than Farrell.
Farrell has an impressive physical presence. His players know he has their backs. They also know that their part of the deal is to give a smart, professional effort every single night. There are things a manager can and can't control, but these things are not negotiable.
Look, this has been a disappointing season for Boston, and Farrell would be the first to say just that. The Red Sox have been hit hard by injuries and poor performances and seem likely to finish last in the American League East for a second straight year.
Farrell has held himself accountable for this. He has declined to criticize his players, even though he can be blunt in his assessment of them at times. In this way, whatever needs to be said is said inside the walls of the clubhouse.
But this season has been about talent, about some players not doing things they were reasonably expected to do. This Farrell will not say. This serves no one.
So Farrell has constantly spoken of moving forward and working and being professional before getting on with planning for 2016.
And Farrell will be Boston's manager in 2016. Of all the club's problems, he is not one. In his essential decency, competence and huge heart, he's perfect to be one of the faces of the franchise.
Farrell was uniquely prepared for the job thanks to a career in which he'd done and experienced a little bit of everything. As a player, his 12-year career ran the gamut from second-round Draft pick of the Indians in 1984 to highly touted prospect to a guy who threw 210 1/3 innings and won 14 games in his first full big league season (1988).
Farrell was 6-foot-4, 210 pounds, a big, fearless guy who threw a 93-mph sinker, a pitch hitters referred to as "a heavy ball." He pitched 208 innings and had a 3.63 ERA in his second full season and was on the fast track to stardom.
And midway through the 1990 season, it started to come undone for Farrell. He would miss the 1991 and '92 seasons. He would undergo two Tommy John surgeries. Farrell pitched for six more seasons, mostly in the Minor Leagues with the Indians, Angels and Tigers. He showed the heart of a champion in tweaking his delivery and experimenting with different pitches. He simply refused to quit.
Farrell was 33 years old and pitching in Triple-A ball for the Tigers in 1996 when he finally gave into the reality that the career he dreamed of having was not in the cards.
But Farrell had impressed people with his tenacity and smarts. He spent five years at Oklahoma State University as both a pitching coach and student. He sent 14 pitchers into professional baseball and made a name for himself all over again with his training regimens and approaches to pitching. Farrell then spent five seasons as Cleveland's director of player development, once more seeing the game from a different angle. Finally, he arrived back in the big leagues with the Red Sox as the pitching coach for Terry Francona in 2007.
Farrell spent four seasons in that job, and through his ability to coach and counsel, to develop game plans and build relationships, he established himself as one of baseball's best.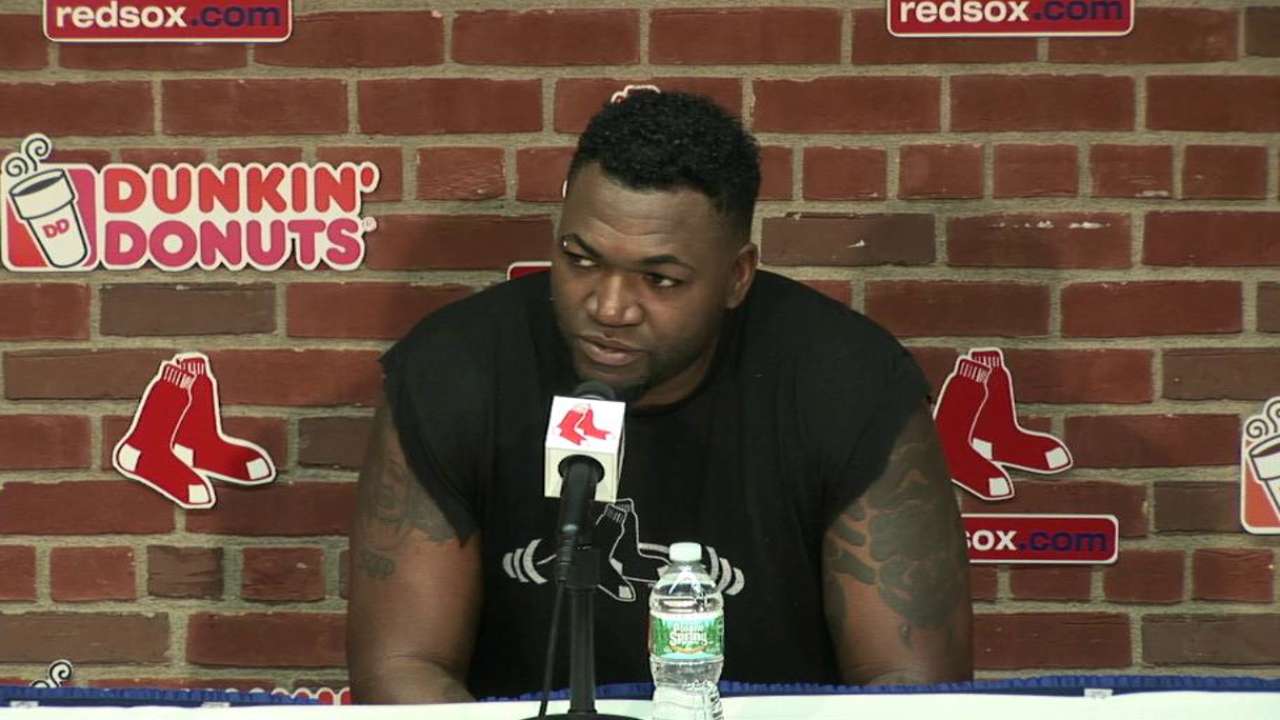 Farrell got a chance to manage with the Blue Jays in 2011 and returned to the Red Sox in '13, leading them on a magical run to a World Series title. On the night Boston won the clinching Game 6 against St. Louis at Fenway Park, he could have passed for the happiest man on earth.
He had done it the right way. Because the Red Sox already knew Farrell, their core guys -- especially Dustin Pedroia and David Ortiz -- held him in high regard. And his relationship with general manager Ben Cherington created a free flow of information going both ways.
All Boston has done in 2015 is prove how delicate and difficult winning can be. But the Red Sox have a deep farm system and believe that they can be back in contention in 2016.
Farrell, fighting back tears, said he hopes to be back on the job then. Here's hoping he knows how many people -- teammates, coaches, competitors -- are directing prayers and good thoughts toward his recovery. He has more admirers than he can ever know.
Richard Justice is a columnist for MLB.com. Read his blog, Justice4U. This story was not subject to the approval of Major League Baseball or its clubs.