Kiermaier times leap perfectly to rob Prince
Center fielder laments final outcome despite defensive gem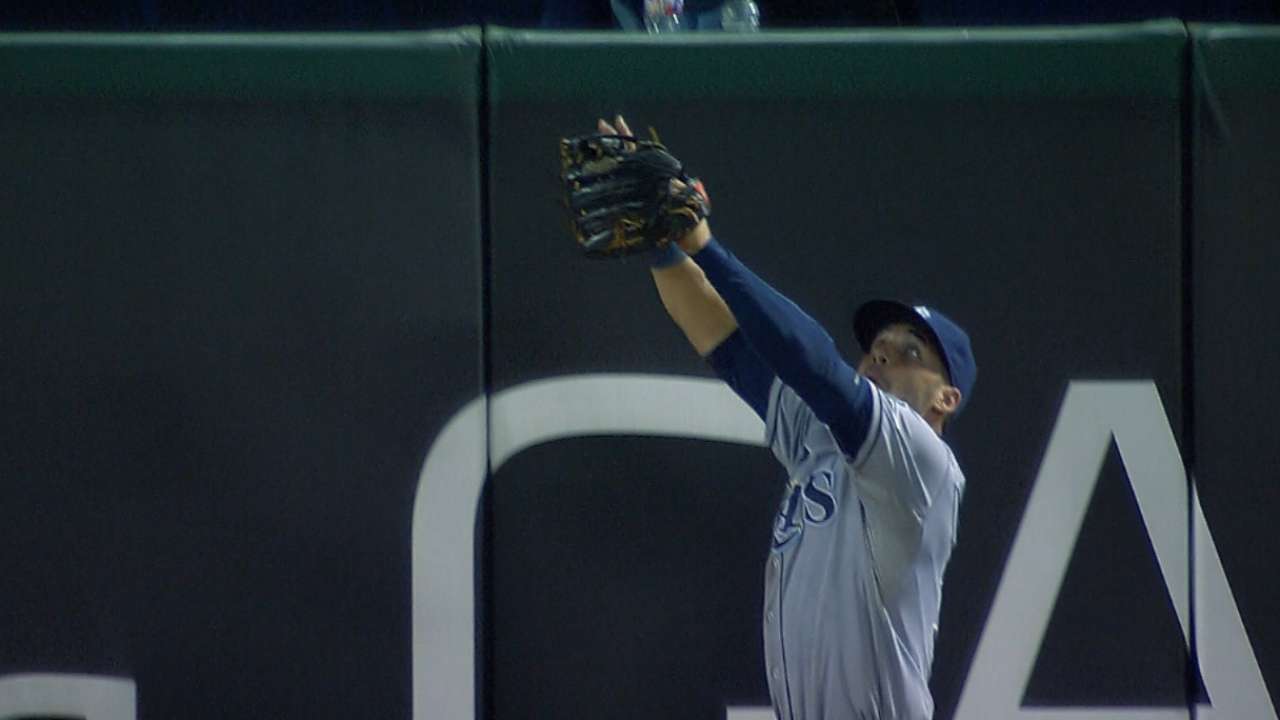 The dependable left-handed specialist got ahead 0-2 before Fielder rerouted an 89-mph fastball toward center field.
Kiermaier raced to the wall and leaped at the last instant to make the catch and deprive Fielder of his 18th home run of the season.
"That was a pretty good one," said Cash, when asked about the catch. "It was a big one at that part of the game. When that ball took off from the bat I thought it was a homer. I think the whole dugout thought it was a homer. Nothing really surprises me with K.K. out there."
Kiermaier loves his defense more than his hitting, but he could not celebrate the catch as much as he would have liked.
"Playing a little deep on him," Kiermaier said of Fielder. "He's been swinging the bat well all year and we were kind of shading him toward left-center [field], and I saw he hit it well off the bat. I just wanted to time my jump well and make the catch.
"I had the chance to do it in Chicago [against the White Sox] the other week and I didn't do it, so I'm glad I came down with it right there. But the rest of the game kind of put a damper on it a little bit. I'm a little bit upset about some wasted opportunities and certain things like that. It would have been much better if we would have won and I could have enjoyed the catch a little bit more. Just bummed out about the way that game ended up turning out."
Kiermaier scolded himself for what he described as a "bonehead play" in the eighth, when he tried to throw out Adrian Beltre going to third on Mitch Moreland's single. Beltre was safe, and by throwing to third, Moreland was able to advance to second.
"If I throw that ball into second base and keep it first-and-third, I feel like that changed the complexion of the whole inning," Kiermaier said. "Who knows what might have happened if I hadn't thrown that ball to third."
Kiermaier can beat himself up all he wants, but the chance of him winning his first Gold Glove Award this season is becoming more and more likely. He is a defensive weapon.
Bill Chastain is a reporter for MLB.com. This story was not subject to the approval of Major League Baseball or its clubs.