Segura scores from second on sac fly
Takes advantage after Phillies outfielders collide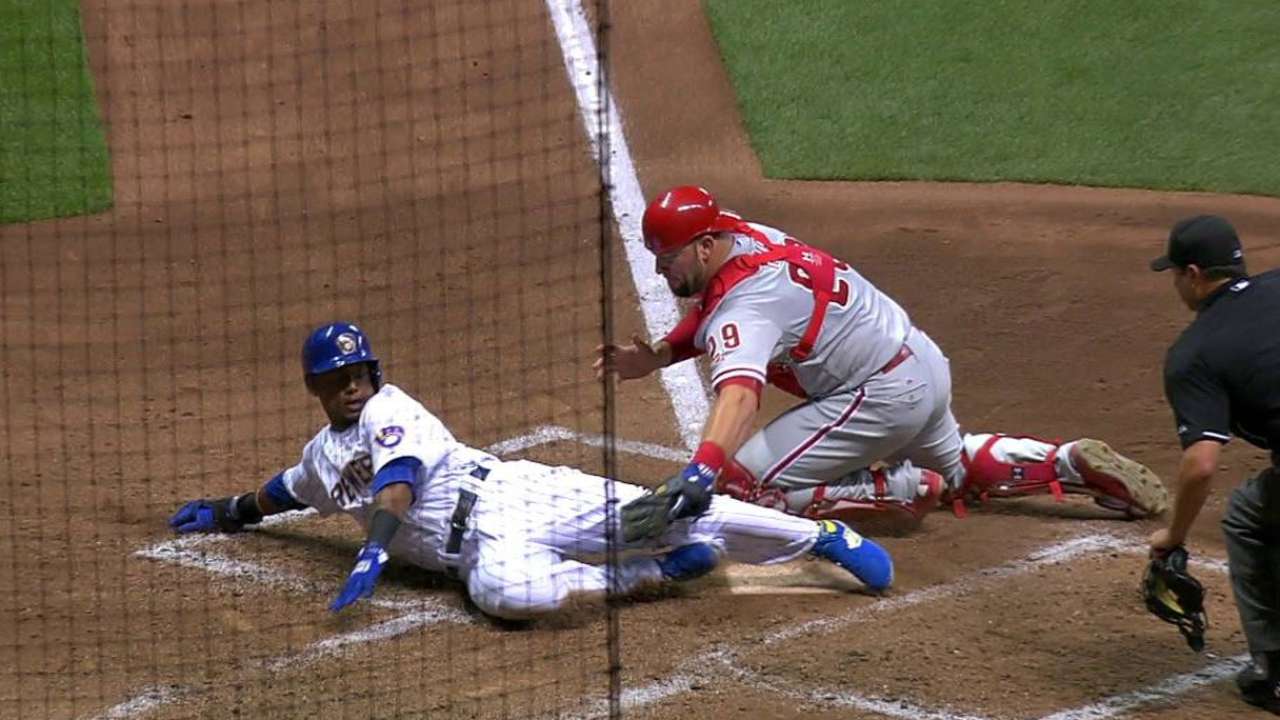 MILWAUKEE -- Not often do you see a runner tag up from second and score on a fly ball, but Brewers shortstop Jean Segura was able to do so on Friday night in Milwaukee's 3-1 win over the Phillies.
After driving in a run with a single, and advancing to second on a throw home, in the third inning, Segura scored on Jonathan Lucroy's deep fly ball to right-center field. Phillies center fielder Odubel Herrera stumbled over right fielder Domonic Brown at the base of the outfield wall while making the catch after a miscommunication between the two.
"Odubel has been fantastic this whole year. I really like him in center field," Phillies interim manager Pete Mackanin said. "He caught the ball. Maybe he needs to be a little more vocal. He's definitely aggressive, but a little more vocal. And the corner guys have to peel off. They've got to get out of the way. But that kind of thing happens."
"I saw them on the ground in the outfield, so I knew I had a good chance to score," Segura said. "[Third-base coach] Ed [Sedar] sent me and we did it. Any time you can take a chance with two outs like that, you have to take it."
Herrera was able to regain himself and make a relay throw, but the throw home was slightly late, allowing Segura to slide in just ahead of catcher Cameron Rupp's tag to give the Brewers a 3-0 lead.
"You don't see it a lot," Brewers manager Craig Counsell said of the play. "How you run the bases is important, and he cut the corner as well as he could. ... I think one of Jean's best traits is that he helps you in every area of the game. Tonight was a night where he helped you on the bases."
Brandon Curry is an associate reporter for MLB.com. This story was not subject to the approval of Major League Baseball or its clubs.