Susac could return to action next week
Injured Giants catcher hopes to rejoin team on road trip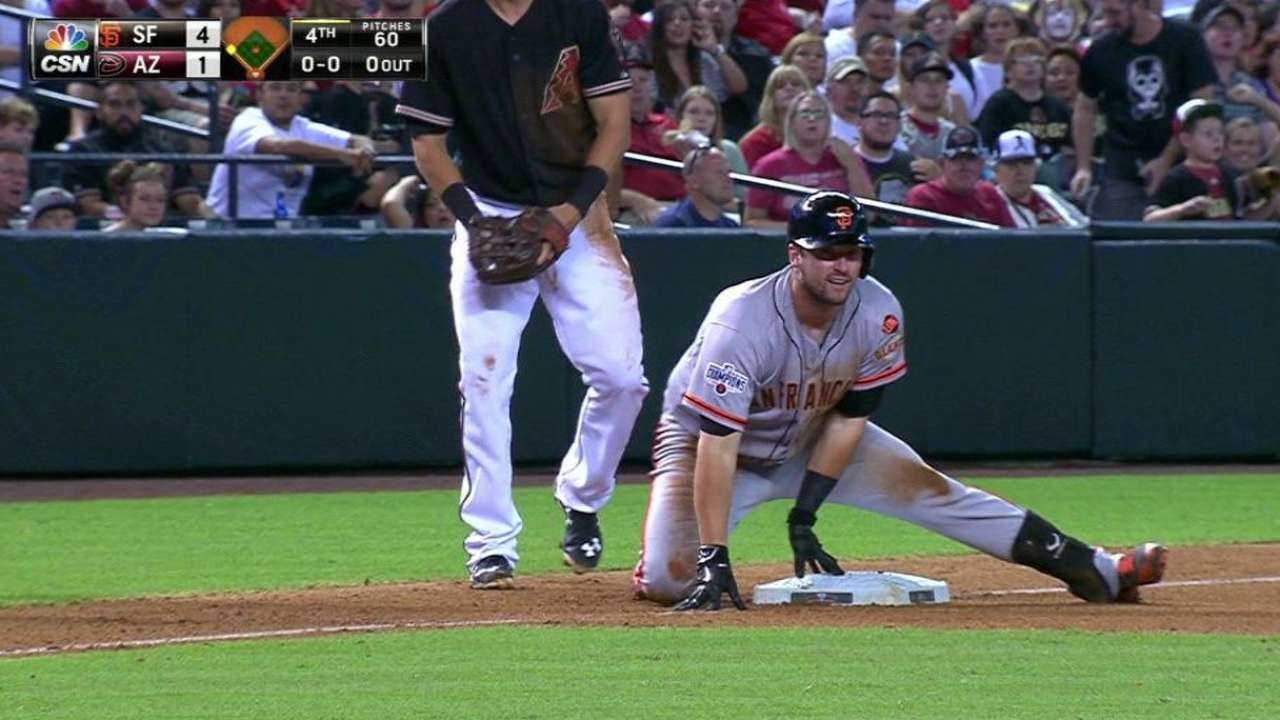 SAN FRANCISCO -- San Francisco Giants catcher Andrew Susac, who is working his way back from a right-thumb sprain, could return to the team during its upcoming road trip, Giants manager Bruce Bochy said Friday.
Susac has played in three rehab games for Class A Advanced San Jose and was scheduled to start there again Friday night. The 25-year-old will then catch for the Triple-A Sacramento River Cats on Saturday and take Sunday off to be reevaluated by team doctors.
"We'll see how he's doing, how he's swinging the bat, how he's catching and could make a call then, or give him a few more games," Bochy said.
Susac dove into third base against Arizona on July 18, and his thumb caught the corner of the bag, which caused the finger to bend awkwardly. He was placed on the disabled list the next day.
The rookie went 1-for-3 Thursday night with a double and an RBI for San Jose and is 2-for-10 in three rehab starts.
Susac's absence has resulted in Buster Posey playing behind the plate 19 times in his last 20 starts. Bochy had the luxury of playing Posey at first base and Susac at catcher while both were healthy, something he's looking forward to when the rookie returns.
"That's a pretty good option that we have," Bochy said. "Andrew can provide some offense and that's what we're looking for. It also enables me to give Buster a break, particularly against left-handers."
Worth noting
• Bochy said Nori Aoki participated in cardio exercises Friday and the symptoms from his concussion have calmed down. The Giants skipper said he believes Aoki will be able to return when eligible on Thursday.
• Mike Leake threw a successful bullpen session Thursday and is scheduled to make his first rehab start Tuesday, Bochy said. Leake threw around 70 pitches and will throw another light session prior to Tuesday's rehab start as he looks to return from a left-hamstring strain.
• Joe Panik continues to rehab his back with cardio and core workouts, but Bochy said it will "be close" on whether or not the second baseman will rejoin the team before September.
"What I'm more concerned about is make sure that we don't rush him back and make this thing worse," Bochy said. "There's not a lot he can do, he's got to take it easy right now."
Oliver Macklin is an associate reporter for MLB.com. This story was not subject to the approval of Major League Baseball or its clubs.