Hamels encouraged after side session
Lefty expected to make 3rd start for Rangers on Monday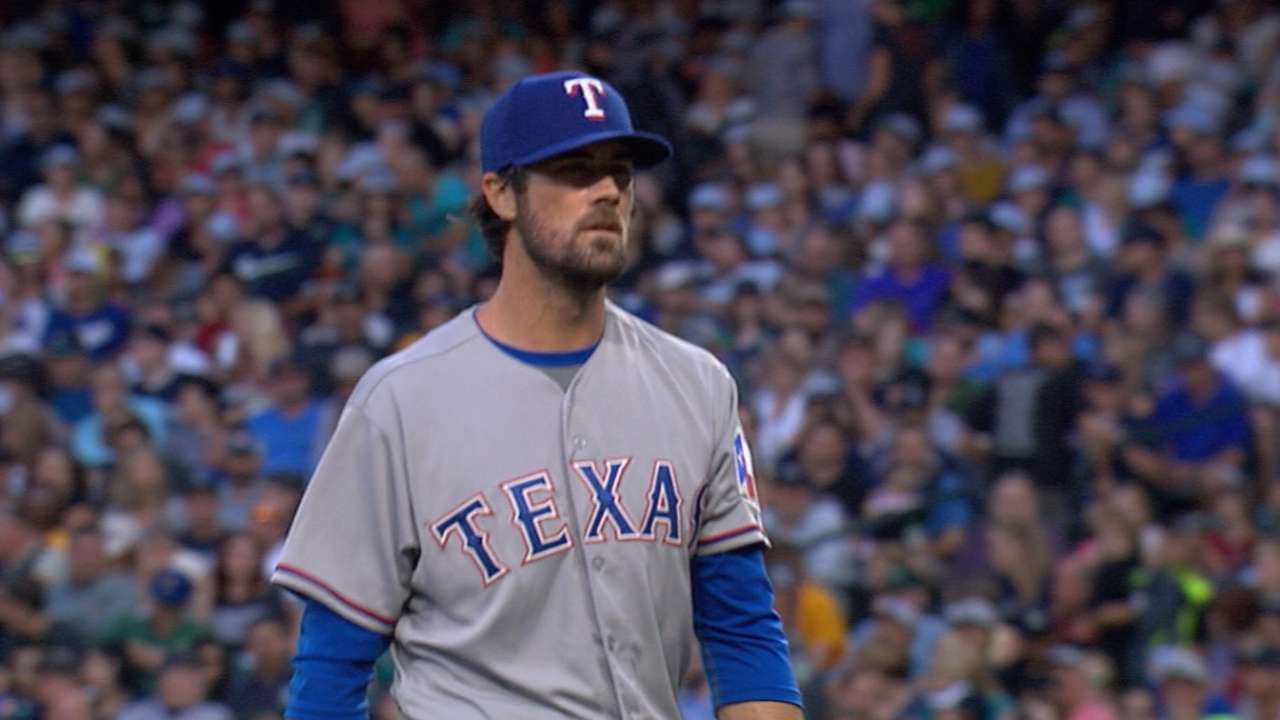 ARLINGTON -- Left-hander Cole Hamels threw a normal bullpen session without any issues Friday, giving the Rangers increased hope he'll be ready to start Monday against the Mariners.
Hamels was scratched from Thursday's start against the Twins because of groin soreness. The problem came up in the fourth inning of his start a week ago in Seattle. Friday marked the first time since then Hamels had been on a mound.
"It was nice to get on the mound again," Hamels said. "That's the telltale sign, feeling comfortable on the mound and knowing I can go out as close to 100 percent as I can. Making pitches, doing that rep after rep, felt good. I was able to throw all my pitches with the execution I need in the game with nothing in the back of my mind. I was able to get my bullpen in without the thought of anything coming up or it grabbing you."
The Rangers will wait at least until Saturday to see how Hamels recovers from his session before they lock him in for Monday.
"That's the best sign," Hamels said. "You want to feel comfortable and confident when you give the exertion at game speed and you're able to recover, and not linger and pull you down in a downward spiral."
Hamels has made just two starts since the Rangers acquired him from the Phillies on July 31. The Rangers are 0-2 in his starts.
"It's unfortunate, this is not what I wanted to happen," Hamels said. "I was feeling at my best physically. To have something like this with a new team, it's not what you want. You want to come in with guns blazing and throwing shutouts like a couple of guys are doing on their new team. I'd like to be doing that but it is better to be smart."
Chi Chi Gonzalez replaced Hamels on Thursday and will stay in the rotation. With Nick Martinez back at Triple-A, Gonzalez will start Tuesday against the Mariners.
T.R. Sullivan is a reporter for MLB.com. Read his blog, Postcards from Elysian Fields, follow him on Twitter @Sullivan_Ranger and listen to his podcast. This story was not subject to the approval of Major League Baseball or its clubs.