Jennings rejoins Rays from lengthy DL stint
Outfielder notches 3 hits in return; Butler sent to Triple-A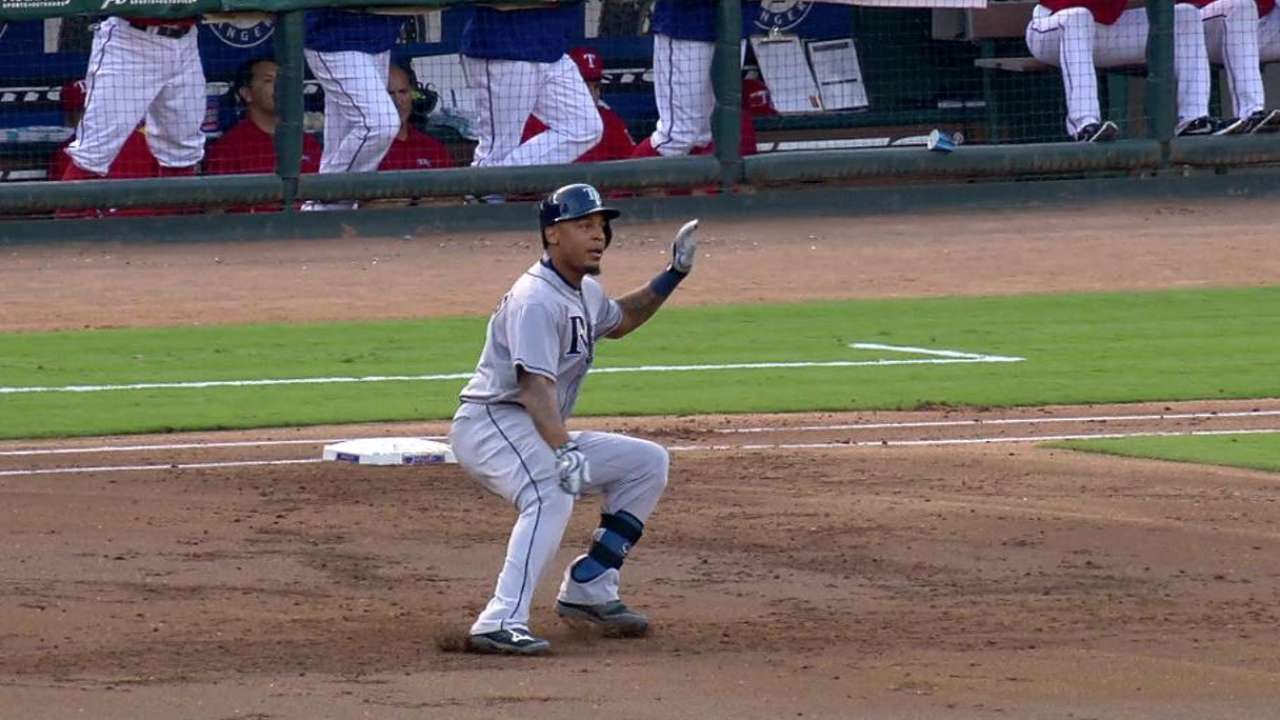 ARLINGTON -- Desmond Jennings was reinstated off the disabled list on Friday and made an immediate impact in his return to the lineup in the Rays' 5-3 series-opening loss to the Rangers.
Outfielder Joey Butler was optioned to Triple-A Durham to make room for Jennings on the 25-man active roster.
Jennings didn't waste any time Friday night showing the Rays what they've been missing. He singled home the Rays' first run and finished the night 3-for-4.
"Very promising," Rays manager Kevin Cash said of Jennings' return. "He looked really good. His at-bats were good. Squared the ball up. Got our first big hit for us to drive in the run. It's nice to see. He's going to help us a lot here over the next two months."
Jennings (left knee bursitis) was placed on the DL on May 3, retroactive to April 26; he missed 96 games.
As for what's expected from Jennings, Cash said: "He's healthy and we're going to do everything that we can to keep him healthy."
"I know that he's in a really good spot from a baseball standpoint and a health standpoint," Cash said. "We've got different matchups and we're excited that he's back. So we'll probably take it more day by day than anything."
Cash believes Jennings can still make a large impact on the season.
"Looking at it, he's probably the freshest player we have and he's a good one, a really good one," Cash said. "So we're excited to have him back. Our offense is swinging the bat really well right now. I think we're adding another side to our offense with a guy who can hit for power and also has a lot of speed on the bases. I don't think you would ever pass that up."
Jennings appeared excited to be back with the team.
"I feel good, I'm fresh," Jennings said. "I'm just anxious to play some baseball. ... Right now I just want to go out and play the game again. I'm excited about it. Be around my teammates and do whatever I can."
Bill Chastain is a reporter for MLB.com. This story was not subject to the approval of Major League Baseball or its clubs.