Betts crashes into Monster on terrific catch
Bradley, Holt add to defensive highlight reel with catches in eighth inning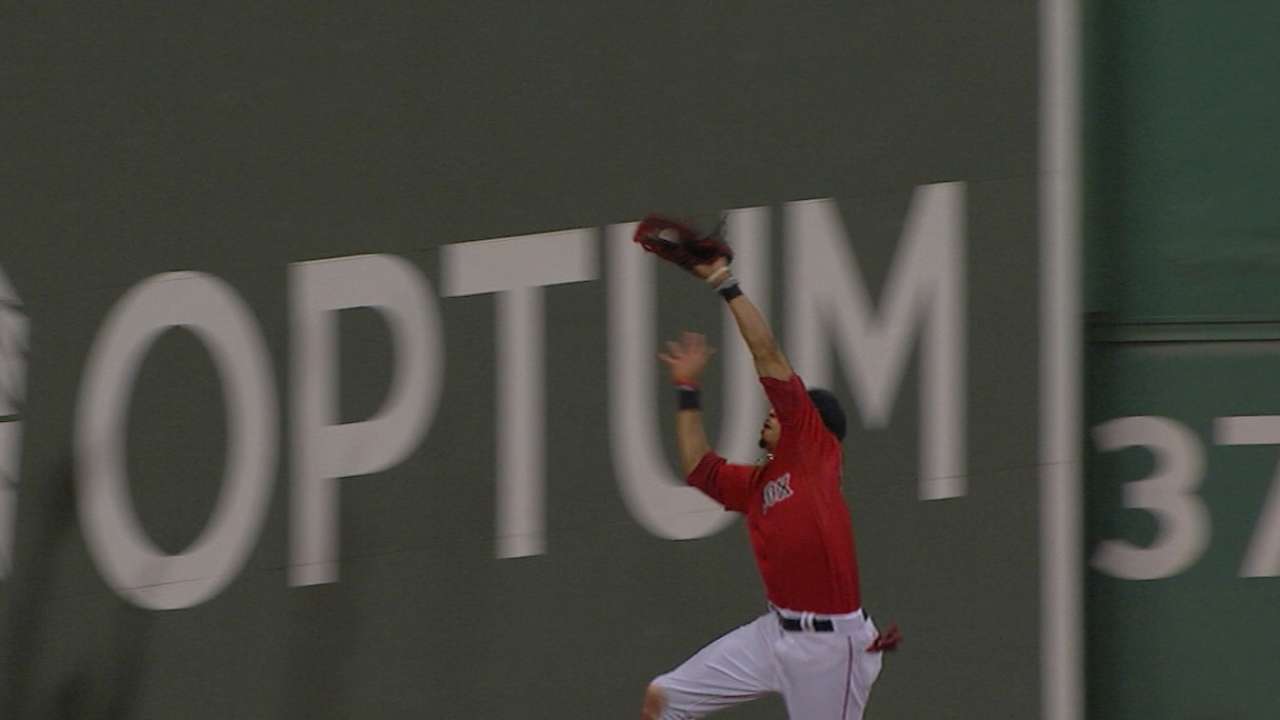 BOSTON -- The last time Red Sox center fielder Mookie Betts tried to make a jaw-dropping catch, he sustained a concussion and missed two weeks' worth of action. But on Friday, playing in just his third game since returning from that injury, the 22-year-old showed no trepidation while making a truly standout snag in Boston's 15-1 win over the Mariners at Fenway Park.
In the third inning, Robinson Cano laced a liner at the Green Monster through the left-center gap -- often an easy double at Fenway Park. But Betts got a great jump on the play, leapt at full sprint and grabbed the ball before crashing into the wall and falling to the ground. Betts raised his glove in the air to show he made the catch, and starter Joe Kelly raised his arms in gratitude.
The line drive traveled 379 feet and leapt off Cano's bat at a scorching 98 mph, according to Statcast™.
"[The coaches] just say go out and play," Betts said. "Basically, 'You're going to make the right decisions.' I know when I can go catch a ball and when it may be too dangerous. They just say go play and not worry about it."
Betts' catch proved to be one of several applause-worthy plays made by the Sox, who played inspired defense following the revelation that manager John Farrell will miss the rest of the season while he battles Stage 1 lymphoma.
"You had a little extra motivation tonight with that news," said first baseman Travis Shaw, who smacked a pair of homers in the victory. "So you definitely want to go out there and do something for him."
Third baseman Pablo Sandoval played his part in the second inning by hustling toward the stands to get his glove under a foul popup at the wall.
In the eighth, Jackie Bradley Jr. and Brock Holt continued the trend of high-energy defense on back-to-back catches. Bradley showed off his range on a smooth mid-air grab at the wall in right field, taking a potential home run away from Kyle Seager, while Holt jumped and extended his glove to snare a hard liner from Nelson Cruz in shallow right.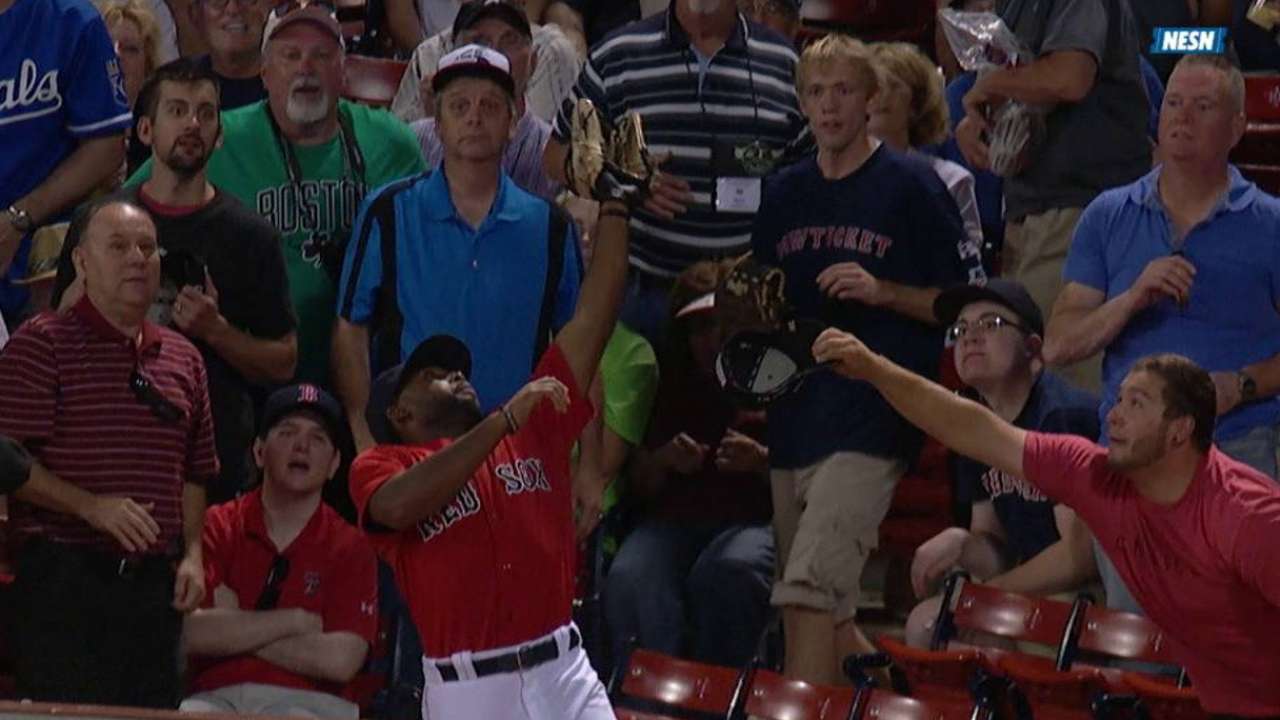 "Guys just crushing the baseball and playing good defense out there, too," Kelly said. "Especially Mookie, Jackie, Xander [Bogaerts]. All those guys were working hard out there and it was fun to watch. They didn't take any at-bats off tonight. Kept our foot on the gas. When I'm in the dugout, it's definitely fun."
As for Betts, his experience against the White Sox on July 28 clearly hasn't hindered him. Unlike the play that left him concussed, which saw him drop the ball and tumble into the Boston bullpen on a catch-turned-homer, the young outfielder held on to complete a fearless defensive highlight.
"Getting feedback from [the doctors] really gave me confidence that I can just go out and play and not worry about it," Betts said.
Alec Shirkey is an associate reporter for MLB.com. This story was not subject to the approval of Major League Baseball or its clubs.