Hamilton homers after MRI clears knee
Slugger will play through pain, delivers go-ahead RBI in win
ARLINGTON -- Outfielder Josh Hamilton went almost directly from the MRI tube to the Rangers' starting lineup on Friday. Then, playing for the first time in three games, Hamilton hit a home run in his first at-bat, a massive shot beyond the Rangers' bullpen in deep right-center.
"It has been awhile since I hit one like that," Hamilton said. "It felt good. I felt like I had some good at-bats tonight and got the barrel on the ball."
Hamilton also had the go-ahead RBI in the eighth inning with a sacrifice fly to deep center as the Rangers rallied for a 5-3 victory over the Rays. The Rangers are 9-1 in the last 10 games that Hamilton has an RBI. That may underscore the importance of Hamilton's presence in the Rangers' lineup.
"When he is locked in and going good, there are not too many players as special as he is," Rangers manager Jeff Banister said.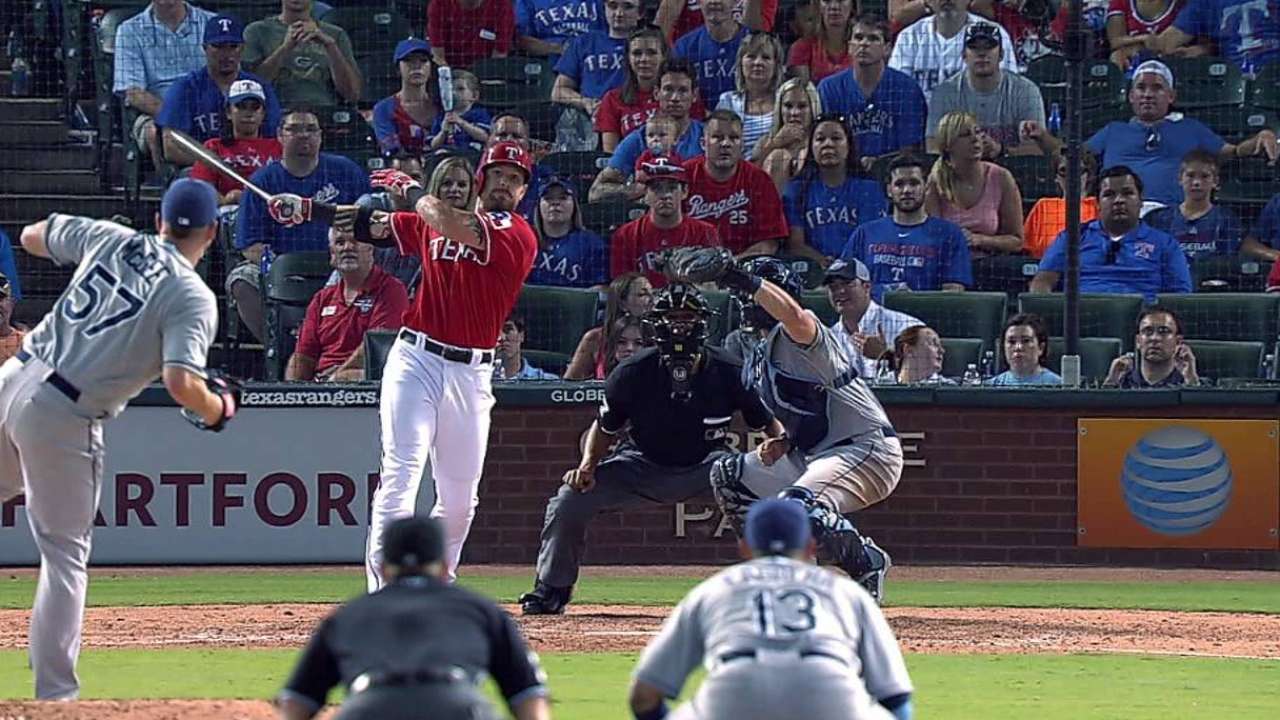 Hoping to keep Hamilton in the lineup, the Rangers received good news on Friday. The MRI on his sore left knee showed no structural damage. Hamilton can continue to play as long as he can tolerate the pain.
"Structurally, I can't make it any worse," Hamilton said before the game. "It will be painful but I can play. I feel like I want to be out there for the team and the organization. I need to be out there, get at-bats and get better at the plate."
Hamilton was acquired from the Angels on April 27 but wasn't activated until May 25. Because of various leg injuries, he has been able to play in just 36 of the Rangers' 69 games since May 25.
"He is sore, but in his words, he is in the game," Banister said. "This is the time of year you want to play, so we are going to get him out there and let him go. I don't think there is anybody in the clubhouse who isn't sore or banged up."
It won't be easy for Hamilton. In the second inning, he had to race toward the left-field corner to run down a double by Asdrubal Cabrera and a single by Desmond Jennings. The knee was talking to him.
"It hurt," Hamilton said. "You can go out in batting practice and run around and you've got pain. You wonder how long it is going to last.
"Yeah it was definitely positive news today. Now I understand I can run around and play and not cause any damage. At the same time, try to manage the pain."
Catchers showing improvement
Rangers catchers Robinson Chirinos and Carlos Corporan are both making progress from the injuries that put them on the disabled list.
Chirinos, who has been out since July 31 with a strained left shoulder, took batting practice Friday. He is scheduled to hit again Saturday and possibly start catching in the bullpen.
"We'll try to do a little more each day and see how it responds," Chirinos said.
Corporan, who has been sidelined since the All-Star break with a sprained left thumb, took batting practice Friday and caught Cole Hamels' bullpen session. It was the fifth day of hitting for Corporan and the first time he has caught a bullpen.
"Today was really good," Corporan said. "It's showing some progress. It's a matter of time."
Both catchers will likely need a rehab assignment in the Minor Leagues before they are ready.
Worth noting
• Pitcher Nick Tepesch will undergo surgery Wednesday on his right shoulder. Tepesch, diagnosed with thoracic outlet syndrome, will have a procedure to remove a rib that was putting pressure on a nerve and causing numbness in his arm.
• Outfielder Leonys Martin, who was optioned to Triple-A Round Rock on Aug. 4, will see a hand specialist for a second opinion on a broken hamate bone in his right wrist. If the diagnosis is confirmed, Martin could be out four to six weeks and would not be an option for a September callup.
• Right-hander Dillon Tate, who was the fourth overall pick in the 2015 Draft and is ranked as the Rangers' top pitching prospect, has been promoted from Class A Short-Season Spokane to Class A Hickory.
T.R. Sullivan is a reporter for MLB.com. Read his blog, Postcards from Elysian Fields, follow him on Twitter @Sullivan_Ranger and listen to his podcast. This story was not subject to the approval of Major League Baseball or its clubs.