Blazek's season may end with broken finger
Goforth called up to replace injured reliever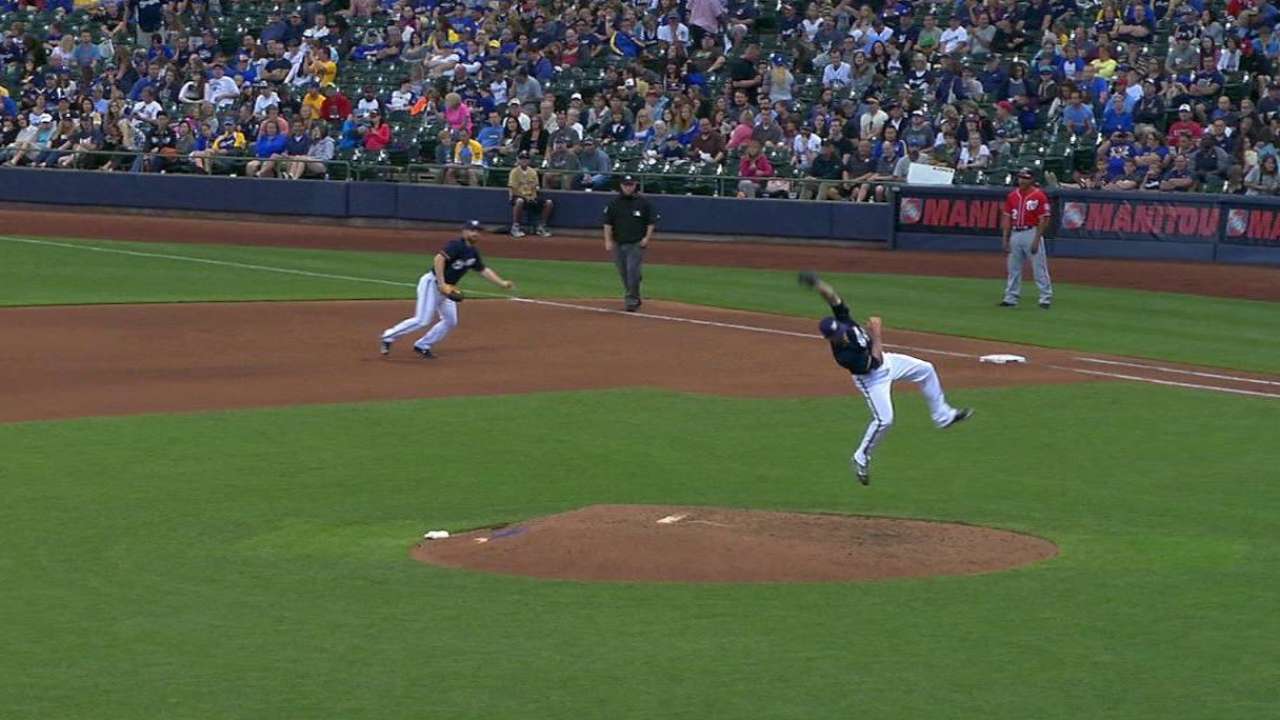 MILWAUKEE -- The Brewers placed reliever Michael Blazek on the 15-day disabled list on Friday because of a small fracture of the fourth metacarpal in his right hand. The club recalled right-handed pitcher David Goforth to fill in Blazek's spot in the bullpen.
How, exactly, Blazek sustained the injury is a mystery. The right-hander first noticed discomfort before Thursday's loss to the Cubs while throwing long toss.
"I noticed at about 100 feet, my hand started swelling up," Blazek said. "I couldn't put any pressure on the ball. I went out to about 200 feet, tried to throw it, see if it would loosen up, but it kept getting more tight and swollen."
Blazek shut the pregame routine down after throwing from a shorter distance and went to the team's training staff. After taking X-rays and visiting the doctor over the past two days, the fracture was discovered. Blazek was asked if he could remember falling or putting any kind of pressure on the right hand that could've caused the fracture, but he wasn't able to recall a scenario where that happened.
A timetable on his return is still unclear, but there are no surgeries required, according to Blazek. However, his chances of returning this season appear to be slim.
"I think it is pretty doubtful he'll pitch again this year," Brewers manager Craig Counsell said before Friday's series opener against the Phillies.
The 26-year-old was finishing up his best season in his young career before the injury. Blazek has posted a 2.43 ERA in 55 2/3 innings during 45 appearances with the Brewers. He didn't allow a home run until August, when he's now given up three, including a walk-off version in Milwaukee's 10-inning loss to the Cubs on Wednesday.
The homer led to speculation that Blazek might've injured his hand in frustration after surrendering it. However, he denied that on Friday.
"That's understandable. I can see why people would assume that," Blazek said. "For me, I threw two pitches in a game and I was more of in a shocked state that the game was already over and that I didn't get to throw too much than upset.
"I'm going to do everything that I can to get back before the season is over, because I want to finish on a more positive note than this."
Goforth, the Brewers' 25th-ranked prospect, according to MLB.com, has made frequent trips between Triple-A Colorado Springs and Milwaukee this season, yet has been used sparingly while with the Brewers. He's allowed two earned runs in 4 1/3 innings after making his Major League debut on May 26.
Brandon Curry is an associate reporter for MLB.com. This story was not subject to the approval of Major League Baseball or its clubs.