Springer cleared to resume baseball activities
No timetable yet for Astros outfielder's return following right wrist fracture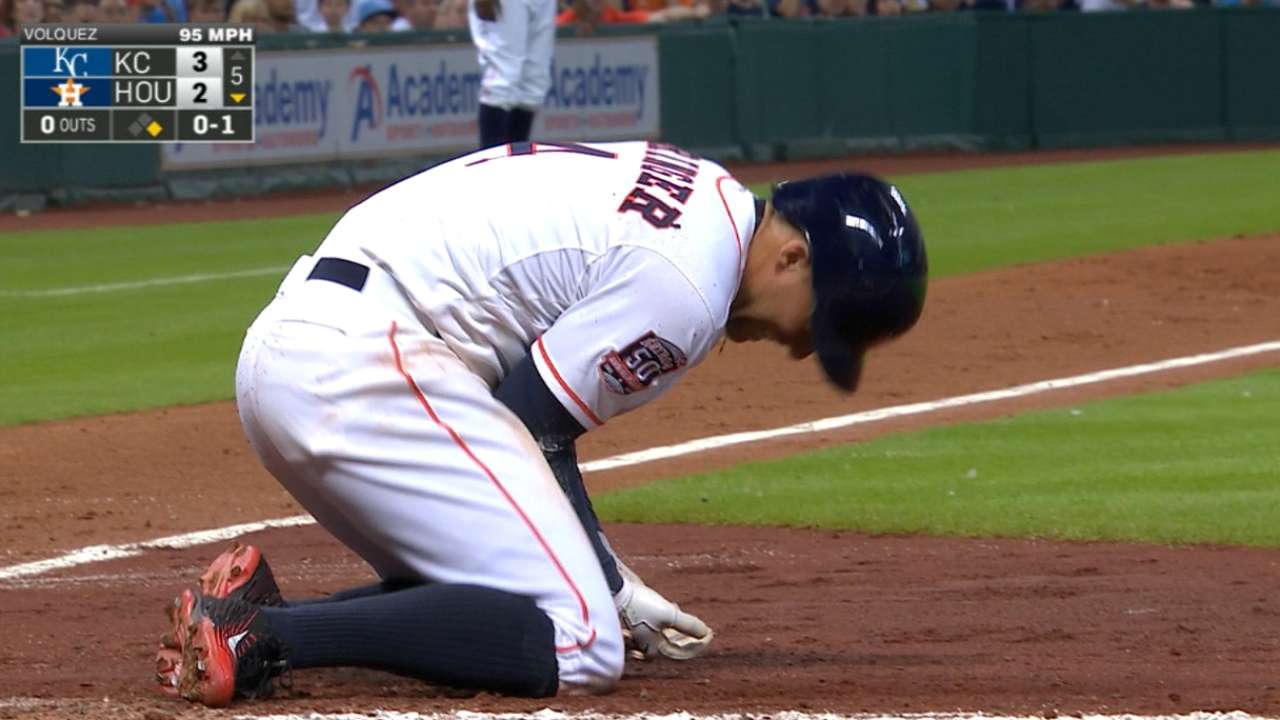 HOUSTON -- On Friday, six weeks and two days after his right wrist was fractured when he was hit by a pitch, outfielder George Springer was cleared by doctors to resume baseball activities.
Springer, who was hitting .264 with 13 homers when he went on the disabled list on July 2, said there is no timetable for a rehab assignment or a possible return to the Astros' outfield, but the news was nonetheless welcome.
"I didn't really know what to do, to be honest with you," Springer said of his reaction when he was cleared. "I prepared myself for 'no' and 'yes' and I got told yes. It was kind of a relief. It's been hard these last six weeks to not be able to play or go out there with these guys, but I'm almost there."
Springer, who was not wearing a cast when he spoke to reporters on Friday, said a removable cast will still be necessary at times and that he'd probably wear protective padding on his wrist.
General manager Jeff Luhnow spoke with doctors after Springer's appointment and learned that Springer's progress exceeded the Astros' expectations.
"His charisma and the other elements of his personality that help in the clubhouse and dugout are still there," Luhnow said. "But we miss the player George Springer on the field. Normally, [being on the DL is] a time of frustration, and it's hard for a player not to express his frustration outwardly. But George did everything he could do to help his teammates while he was not able to play on the field. That's all you can ask, and for that [from] a second-year guy is impressive."
Manager A.J. Hinch was anxious before Springer's appointment, but the news gives both him and his training staff a clearer plan of action.
"To get the news that we can start to progress him is the best news we could get," Hinch said. "Moving forward we're going to be more aggressive in some baseball activities. He's going to throw, eventually he'll pick up a bat, he'll start to move around a little bit and feel like a baseball player again. Until we take baby steps toward baseball activity, we're not sure what or how quickly it's going to come about."
Hinch shied away from making any declarations or timetables for when Springer could begin swinging a bat, but he did indicate that throwing would start right away. Springer had been running and doing other cardiovascular work in the few weeks leading up to the appointment.
Springer kept the same cautious demeanor as his manager when asked about a possible September return.
"I would say I have to stick with what I'm told to do," Springer said. "I'm obviously hopeful to be back as soon as I can. It's exciting to have a shot at getting to go out and compete with these guys. It's been hard not tp, and hopefully soon I'll be out there again."
Chandler Rome is an associate reporter for MLB.com. This story was not subject to the approval of Major League Baseball or its clubs.