Red Sox place Wright on 7-day concussion DL
Knuckleballer struck in neck by fly ball while running sprints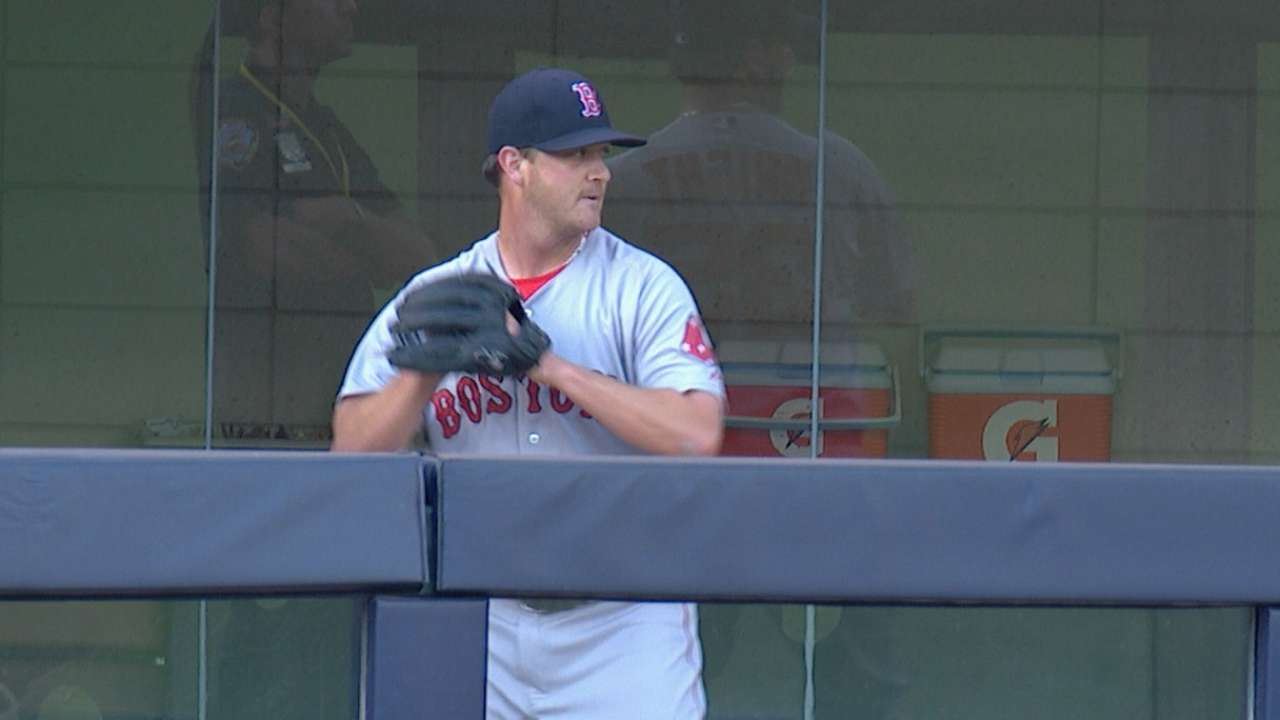 BOSTON -- Already dealing with injuries and a pronounced lack of depth among their starting pitchers, the Red Sox sustained a loss they could ill afford this week, as knuckleballer Steven Wright was sent to the seven-day concussion disabled list on Friday.
A fly ball struck Wright in the back of the neck while he was running sprints during Wednesday batting practice in Miami. He had been pitching well of late, posting a 2.25 ERA over his last three starts, but now he will have to be cleared through Major League Baseball's concussion protocol before he can return to action.
The Sox have not yet decided on a corresponding move. Wright was orginally scheduled to start against the Indians on Monday.
"Unfortunately, Steven's going to have to miss the seven days," manager John Farrell said. "He'll go through the MLB protocol, the balancing tests -- the ones that were really off that keep him out of starting on Monday."
Replacement options are fairly limited. The Red Sox have three other starters stuck on the DL, with righties Clay Buchholz (flexor strain) and Rick Porcello (triceps strain) both hurt and rookie left-hander Brian Johnson sidelined with elbow tightness at Triple-A Pawtucket. The club also designated long reliever Justin Masterson for assignment on Sunday, meaning he would fall within the 10-day window for waiver claims and could not pitch on Monday.
The 2015 season has thrown a number of hurdles at the Red Sox, including their pitching woes. But perhaps the toughest one hit them on Friday, when Farrell announced that he has been diagnosed with Stage 1 lymphoma.
Farrell is hopeful that both he and the team have better days ahead.
"I think there's going to come a point where we get out of this chain of events that are seemingly taking place," Farrell said.
Alec Shirkey is an associate reporter for MLB.com. This story was not subject to the approval of Major League Baseball or its clubs.