Iwakuma lets no-no sink in after traveling east
Mariners veteran felt 'honor' when he arrived in Boston prior to series at Fenway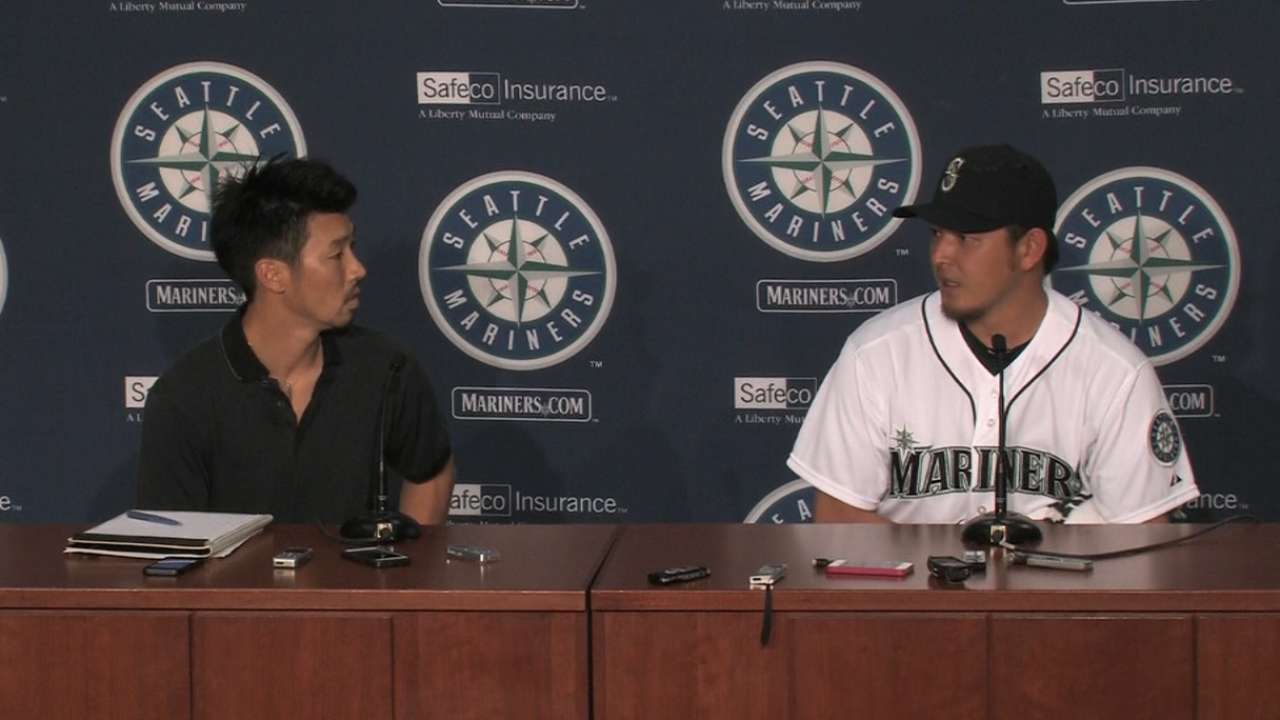 BOSTON -- Hisashi Iwakuma didn't have a lot of time to soak in his no-hitter on Wednesday, immediately boarding a plane afterward as the Mariners made the cross-country trek to Boston to open their next series.
But the 34-year-old right-hander said his accomplishment really hit home when he landed on the East Coast, turned on his phone and saw more than 100 messages from friends and family in Japan.
"I was very surprised by how much news it made in my country," Iwakuma said through translator Antony Suzuki prior to Friday's series opener with the Red Sox. "It kind of hit me a lot."
Iwakuma learned from friends in his homeland that many Japanese TV stations switched over to watch the final innings of Wednesday's 3-0 victory over the Orioles.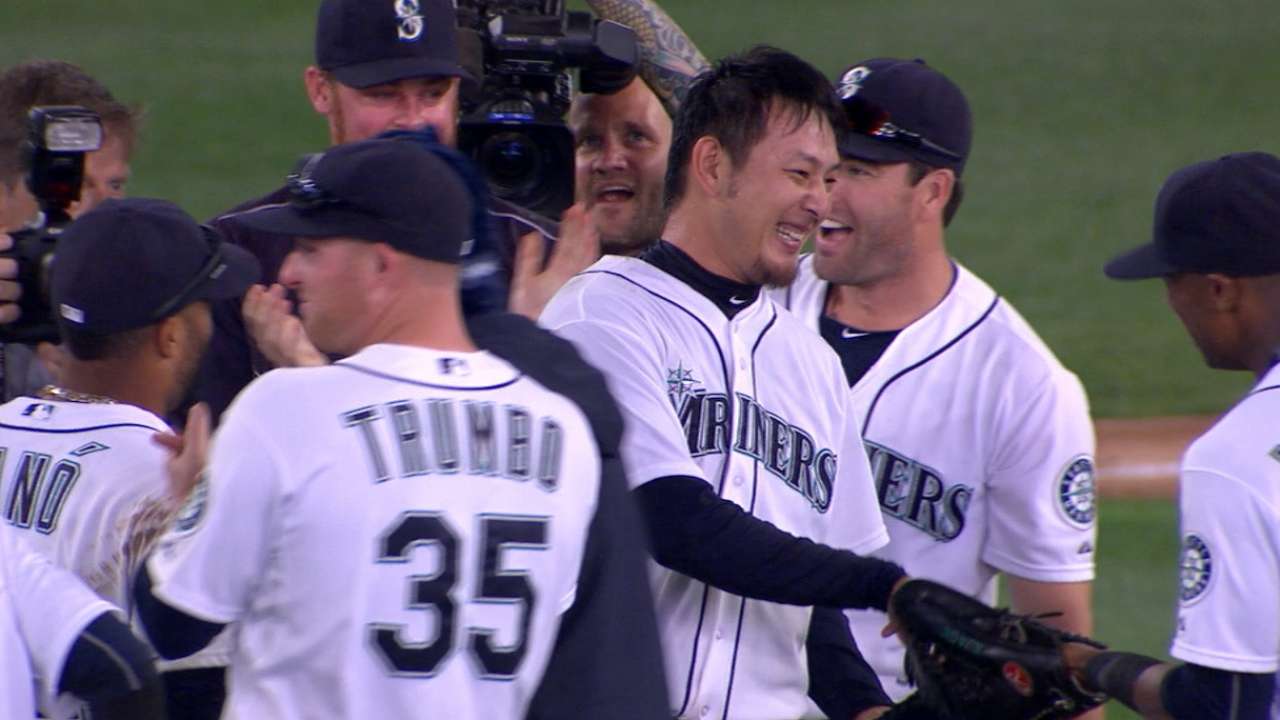 "It's an honor," Iwakuma said. "I got to see the news and I didn't know much about the history until that day. Now, you look back and think I'm the second Japanese pitcher to accomplish that here in the Majors after [Hideo] Nomo, and that's something very special. It doesn't happen a lot and I'm very happy that it turned out to be myself."
Iwakuma was even more thrilled it happened on the one day much of his family from Japan was in attendance at Safeco Field, including his father-in-law, Koju Hirohashi, a former professional player for the Seibu Lions in Japan, as well as his mother-in-law, brother-in-law and several of their children.
"They only come once a year, and that was the only game they watched this year. So that was special, too," said Iwakuma, whose wife and three children were also in attendance as usual. "I wanted to do something special. They don't get to see many of my games, now that I'm here pitching in the Majors. So you want to do something so they feel special. I'm very happy to do that in front of my family. It worked out well."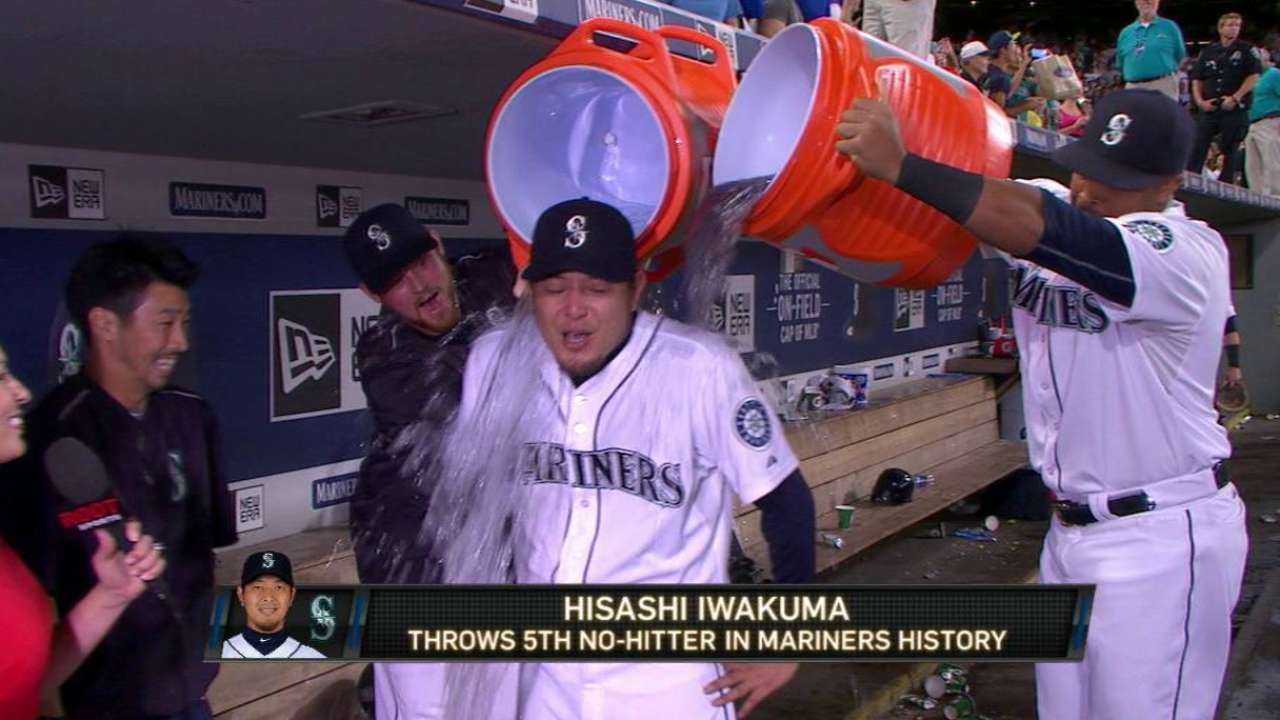 Iwakuma has only pitched 11 games this year after missing 10 weeks with a strained lat muscle. He's 4-2 with a 3.86 ERA, but he has been particularly sharp his past seven outings at 4-1 with a 2.87 ERA, an opponent's line of .181/.224/.269, with 44 strikeouts and nine walks.
Iwakuma said his arm had the normal day-after arm soreness on Thursday, but feels he still has a lot of life left in the Majors after going 41-21 with a 3.08 ERA in 88 starts since 2012.
"I feel mentally and physically strong," Iwakuma said. "You look at the pitchers that have pitched here and are still pitching here. You look at [Red Sox reliever] Koji Uehara on the other side, [Hiroki] Kuroda that pitched for the Yankees 'til last year and he pitches in Japan now for the Hiroshima Carps at 40-plus. That's what you kind of want to keep doing. You want to continue that and hopefully keep up to that age."
Iwakuma said he'd prefer to continue his career in the United States. As a pending free agent, it remains to be seen if he remains with the Mariners, the only team he's played for since coming over from Japan in 2012.
Has Iwakuma had talks with Seattle?
"No comment," Iwakuma said with a smile.
Greg Johns is a reporter for MLB.com. Follow him on Twitter @GregJohnsMLB, read his Mariners Musings blog, and listen to his podcast. This story was not subject to the approval of Major League Baseball or its clubs.