Lough designated as O's recall Clevenger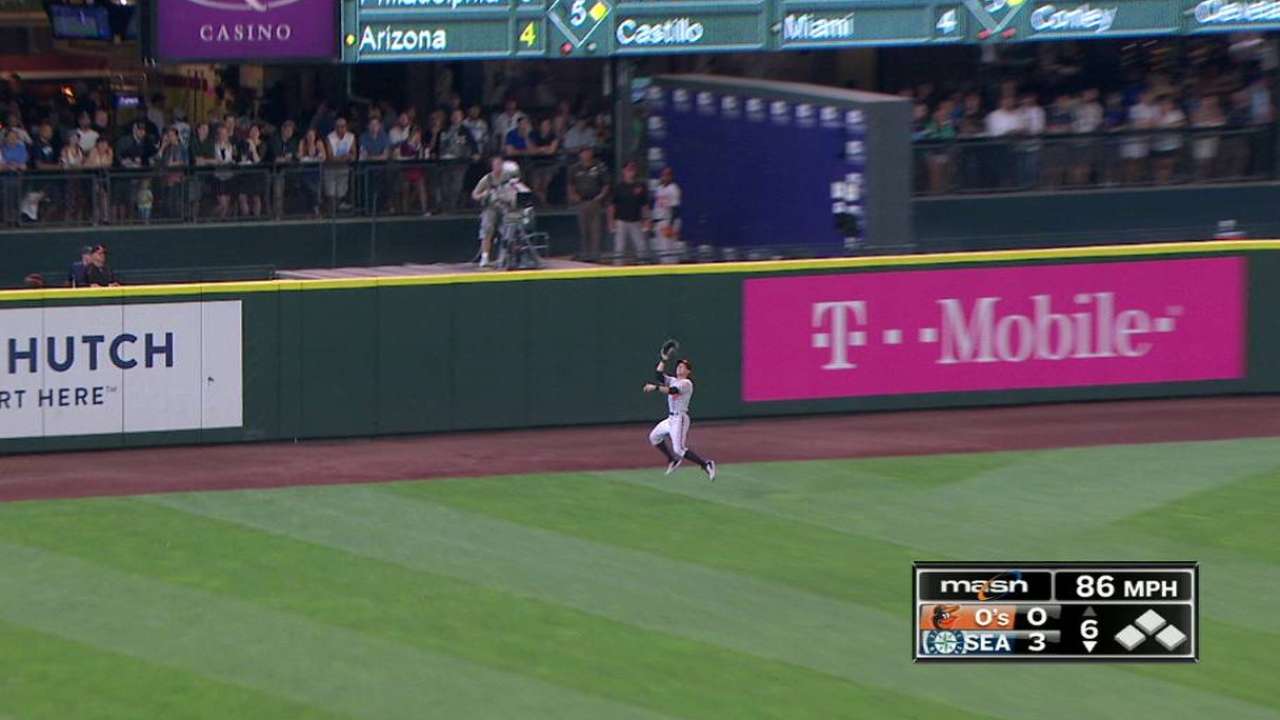 BALTIMORE -- The Orioles recalled catcher Steve Clevenger from Triple-A Norfolk on Friday while designating outfielder David Lough for assignment.
The move comes as a result of Matt Wieters' right hamstring injury that forced him to leave Tuesday's loss to the Mariners in the third inning. Wieters suffered a right hamstring strain in Seattle, leaving Caleb Joseph as the only catcher on the Baltimore roster for Wednesday's series finale.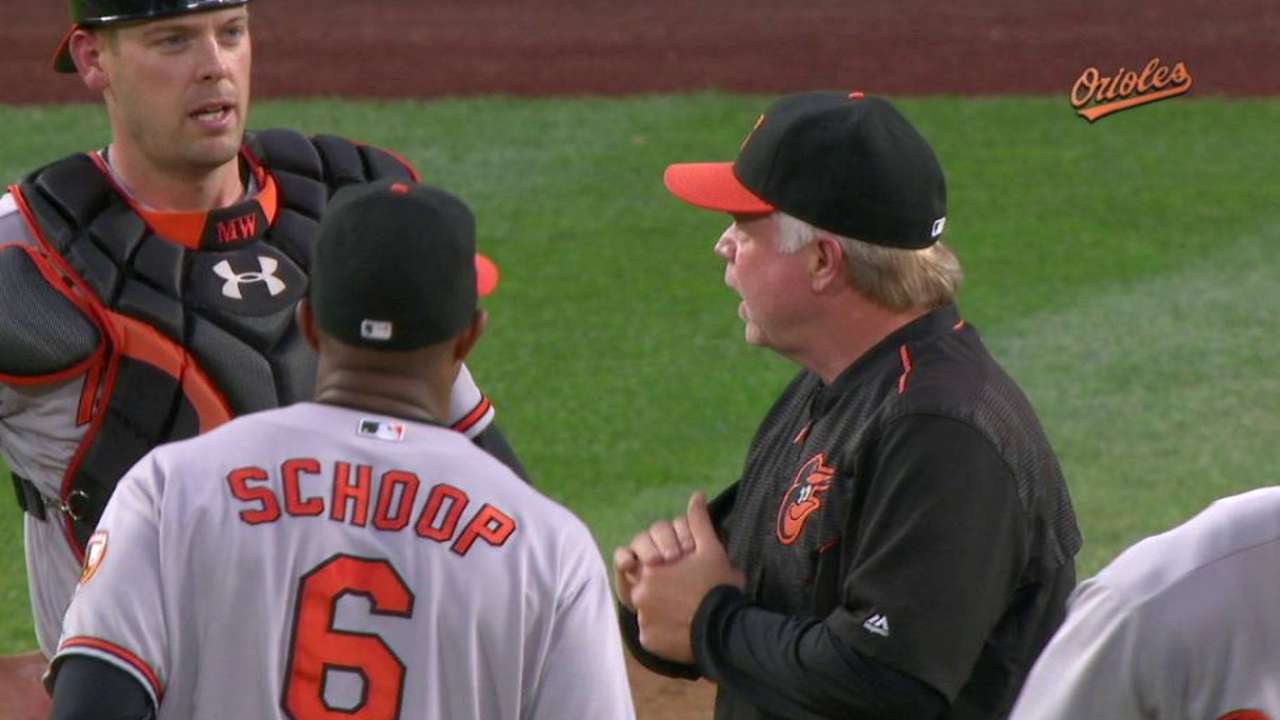 Wieters said he was feeling better on Friday and was available off the bench if needed, but running is his biggest problem with the hamstring right now. The Orioles don't anticipate Wieters going on the 15-day disabled list.
"Obviously, we need a second catcher," Orioles manager Buck Showalter said. "Steve is having a solid year down there. I really like the things I've been hearing about him catching-wise. I think David [Lough] understands that it's going to be good for him and his career in the long run."
Lough hit .202 in 76 games for Baltimore this season while being used mostly for his defense. The 29-year-old was often plugged into games as a late-game substitution in the outfield, but he also made 21 starts in left field 12 in center field.
The Orioles are confident that they will be able to replace Lough's outfield ability having added Gerardo Parra, who can play all three positions, as well as implementing Henry Urrutia, who will be activated from Triple-A Norfolk on Saturday, in the lineup.
Lough becomes the fifth Orioles outfielder who the team has designated for assignment this season, joining Alejandro De Aza, Delmon Young, Travis Snider and Chris Parmelee. Even with Lough leaving the roster, there is still a chance that the lefty could be back with the team later on in the season.
"David doesn't have a prior outright, so if [executive vice president of baseball operations] Dan [Duquette] isn't able to develop a trade that makes sense to the organization, then he goes to waivers, and if he passes it there, he goes to Norfolk," Showalter said. "Hopefully a potential four or five days he will be getting consistent at-bats.
"David, other than not being with us in the big leagues right now, is in a good spot because he is either going to be in the big leagues with somebody else or getting at-bats he needs to get back where he is capable of being in Norfolk with the potential of being back here in September."
Clevenger, 29, has appeared in four games with the Orioles this season, going 5-for-11 at the plate. He was hitting .305/.375/.393 at Norfolk, where he was named an International League All-Star this season.
Injury updates
• Orioles starter Chris Tillman is "a little black and blue" after taking a liner off his pitching arm in Wednesday's start. It avoided his elbow area and, assuming he comes through Saturday's work day OK, he will make his next start on Monday.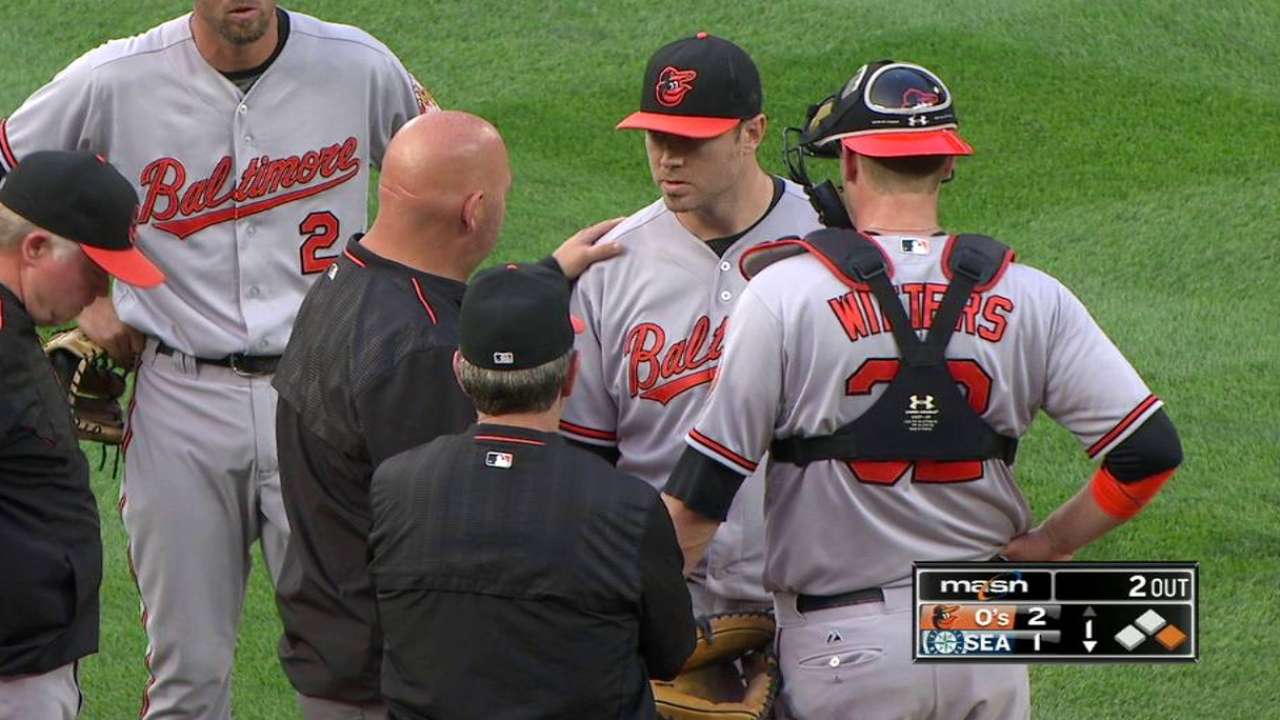 • Reliever Chaz Roe (right shoulder tendinitis) received a cortisone injection earlier in the week and was in the clubhouse on Friday feeling better.
• Steve Pearce (left oblique) took batting practice off the coaches in Sarasota, Fla., on Friday, and by next week the O's should have a better idea of where he could go rehab to get some at-bats.
• Top pitching prospect Dylan Bundy (right shoulder) has an appointment with Dr. James Andrews at the end of the month to see if he's good to start back up throwing.
• Parmelee is done for the year after suffering a broken arm. He was hit by a pitch in Wednesday's Triple-A Norfolk game by Rays pitcher Matt Moore.
• Mike Wright (left calf strain) is still a little tentative pushing off the mound, and the O's are being cautious with the right-hander, who was added to the roster after the Trade Deadline.
Connor Smolensky is an associate reporter for MLB.com. This story was not subject to the approval of Major League Baseball or its clubs.