MLB, players following improvement of US-Cuba relations
American flag raised at U.S. Embassy in Cuba for first time since 1961
The American flag was raised at the U.S. Embassy in Havana, Cuba, for the first time in 54 years on Friday, a symbol of improved diplomatic relations between the two countries that could have a real impact on Major League Baseball in the future.
The United States government began implementing a trade embargo in 1960 and broke off diplomatic ties with Cuba on Jan. 3, 1961.
But in June, President Barack Obama announced that the United States and Cuba will restore full diplomatic relations and open embassies in an effort to normalize relations between the two countries. The embassies opened in Havana and Washington last month, and considering Cuba's connection the Major Leagues, plenty of players are following these developments closely.
"First and foremost I want to thank God because of these big steps in the relationship between Cuba and the USA," White Sox first baseman Jose Abreu said. "The thing that happened today is very important to us, because it's the first time in more than 60 years that an American flag has risen, and I hope the situation continues to improve over time."
Ninety-five players from Cuba have played in the Major Leagues since the U.S. imposed sanctions in 1961. The list includes recent impact players like Abreu, Reds closer Aroldis Chapman, Mets outfielder Yoenis Cespedes, D-backs slugger Yasmany Tomas and Dodgers outfielder Yasiel Puig.
What's more, approximately 75 Cuban prospects have left the island in the last 18 months and are currently seeking Major League contracts.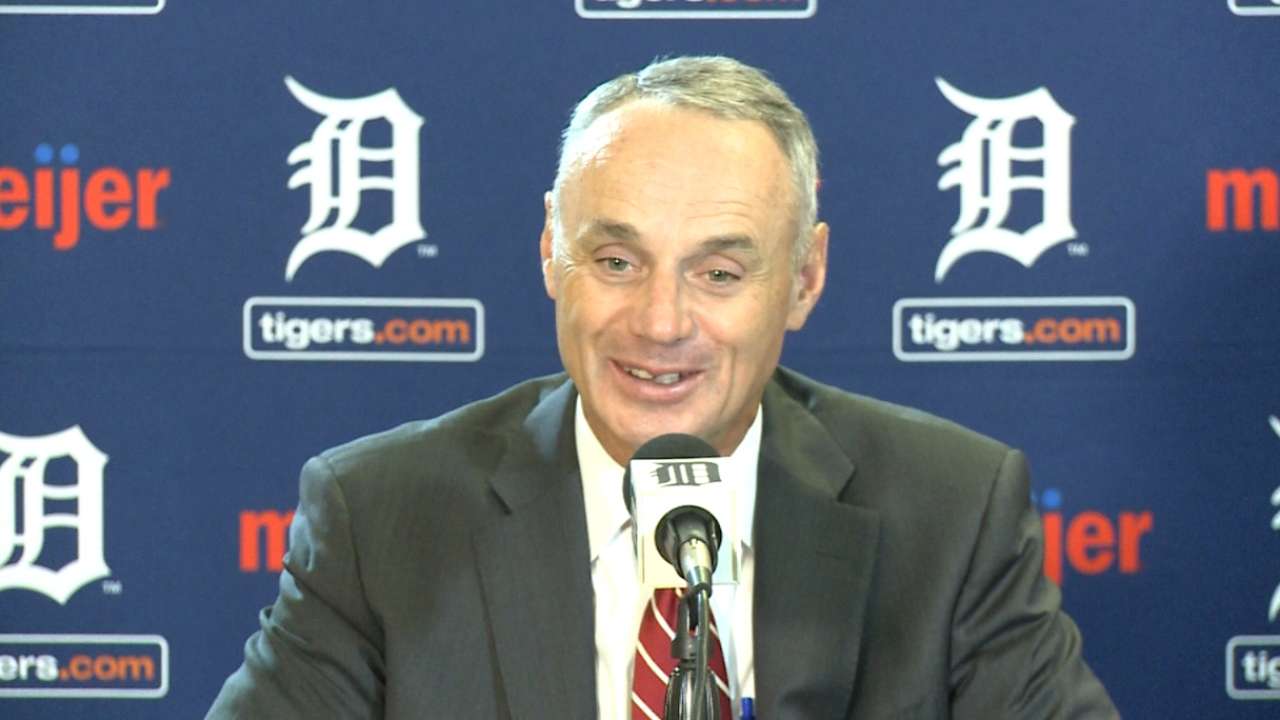 Defection has traditionally been the only way for players from Cuba to make it to the big leagues since Fidel Castro took power in 1959. Because of the embargo, any Cuban defector who wants to do business with an American company must first establish residency outside Cuba and the U.S. The players must also petition for free agency from MLB before they can enter into a contract with a Major League club. Improved relations could impact that process.
"Today's ceremony was a result of last month's announcement regarding the re-opening of a U.S. Embassy in Cuba," said John Blundell, MLB vice president of communications. "MLB has been watching the situation closely, and we will continue to take our direction from the U.S. government."
Twins great Tony Oliva, who was born in Pinar del Rio, Cuba, called it "a good thing, a big deal to open the embassy in Cuba.
"I've always been one to hope that everyone gets along, travel is made easier and the two sides come together. I want to believe that this gets the sides closer, but I'm an optimist."
In addition to easing travel and banking restrictions, improved diplomatic relations between the two countries could help the Cuban national team and the Serie Nacional, the island's top league. Both have been decimated by defections and are fighting to stay relevant. In fact, the Cuban government began allowing its players to play professionally in Mexico, Canada and Japan two years ago for a percentage of the contracts to help generate revenue for the baseball program. The Cuban government is also considering reducing the 16-team league to eight teams because of a lack of players and money.
The Cuban Baseball Federation wants a similar relationship with leagues affiliated with the United States. It's a partnership that's impossible now because of the embargo.
"It's a very important step for both countries and I hope the situation continues to get better," White Sox shortstop Alexei Ramirez said. "In the future all of the Cuban players playing here have the opportunity to go back."
Jesse Sanchez is a national reporter for MLB.com. Follow him on Twitter @JesseSanchezMLB. This story was not subject to the approval of Major League Baseball or its clubs.