Sox honor legendary Minoso with throwbacks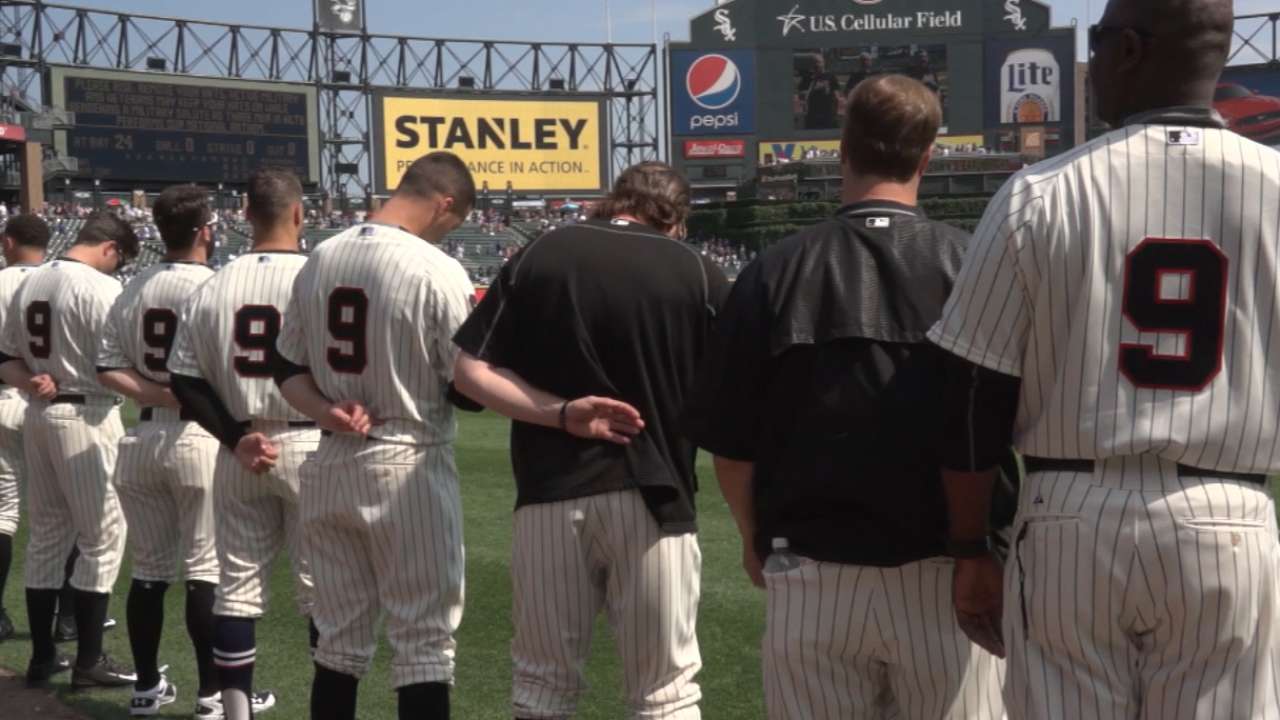 CHICAGO -- One of the Friday morning pregame questions for Jose Abreu dealt with the wisdom shared by his friend, Cuban countryman and White Sox legend Minnie Minoso, during the short time they were together with the organization.
Abreu smiled and told White Sox translator and Spanish language broadcaster Billy Russo that his answer would take hours because Minoso gave him so much advice.
"But I think the most important one was we have to respect the game and respect the country we are from," Abreu said. "Between all the advice, that's the most important -- that we have to respect the game."
Respect was shown for Minoso in Friday's series opener against the Cubs by the White Sox wearing 1959-era throwback uniforms with No. 9 on the back. The Cuban Comet passed away on March 1 at the age of 90.
This honor was also designed to recognize Billy Pierce, the talented left-handed pitcher and organization staple for decades who died on July 31 at the age of 88.
For players such as Abreu and shortstop Alexei Ramirez, who also came to the United States from Cuba, it is a special moment to remember Minoso's legacy.
"It's an honor for me, especially, and a privilege," said Ramirez through Russo. "I will want to wear this jersey for the whole season. But it's just for today and it's good. It's good because it's an honor for us and an honor for Minnie's memory."
"We're reminded of Minnie," Abreu said. "He was one of the greatest all time for Cuba and for this team, and it's going to be an honor and we're going to try to represent in a good way this jersey and his name today."
Minoso's excellence as a player was shared with Abreu by his parents and grandparents when he was in Cuba. He had the pleasure to see his greatness as a person firsthand.
This Minoso joy, though, extends past just the two players who shared their Cuban roots with him. It permeates through anyone who met him.
"We'd come in with the Rays and he'd meet me here and give me a big hug and say how much he liked how our team plays," said Cubs manager Joe Maddon of Minoso. "Last year during our press conference at the Cubbie Bear, he snuck in, and I met him afterward at Sluggers. We were plotting this season to come see him after a couple games. Obviously, that never happened. He was a treasure to a lot of people. He was exceptionally nice to me."
"I knew him for a very short time, but in that time, he was an incredible person, incredible man, incredible family member and baseball person," White Sox center fielder Adam Eaton said. "Every day he came in and called me 'Tiny.'"
Although Minoso has been gone for more than five months, his absence certainly remains noticeable.
"It's always going to be hard because Minnie was so special for us, for everybody here in the White Sox organization," Ramirez said. "It's always going to be hard when you walk through the clubhouse and you can sometimes be reminded of some of the jokes that he made."
Scott Merkin is a reporter for MLB.com. Read his blog, Merk's Works, follow him on Twitter @scottmerkin and listen to his podcast. This story was not subject to the approval of Major League Baseball or its clubs.