Mora 'jealous' of current O's run of success
Former Baltimore infielder inducted into club's Hall of Fame on Friday
BALTIMORE -- When Melvin Mora looks at these recent Orioles teams, it's hard to not wish he had been part of a happier time in Baltimore baseball history.
Sure, Mora -- inducted into the Orioles Hall of Fame on Friday -- was able to play with and become friends with the likes of Cal Ripken Jr., Miguel Tejada and Javy Lopez.
"To be able to play with those guys was great, a great time then. But to see these Orioles right now, and to not be able to be a part of this I feel jealous, to be honest with you," Mora said of the defending American League East-champion O's, who have made the postseason in two of the past three years. "This is what I play for: to win. I play to be in October. And that's why I played hard from the beginning [every year] to see what we can do. And now I see a different Oriole [team] and I have to give a lot of credit to the manager, to pull all of this together. They don't have a big, big name, but they play baseball the way it's supposed to be played."
Mora played 10 of his 13 big league seasons with the Orioles, all of which came during the club's stretch without a playoff appearance. Acquired from the Mets in July 2000, Mora was a two-time All-Star with the O's, in '03 and '04, the latter of which he set a club-record .340 batting average.
"It's different emotion, especially when you are coming from far away just to be with a team. So much memory here, and legend. It's kind of like a dream come true," Mora, on hand for the Orioles Advocates Hall of Fame luncheon, said of being permanently enshrined in club history. "I just want to thank all the media that voted for me for this and everybody that paid attention to my career. Now that I'm here, I don't know what to say."
That's rare for the fun-loving Mora, who lists the birth of his quintuplets as his top moment in Baltimore.
"That's the one thing that comes to my mind every time," he said. "Because you are talking about a baseball game, but without the front office and people helping take care of my family, they made my life and my career better and better."
Mora was honored in a pregame ceremony Friday night at Oriole Park before the O's opened a homestand against the Oakland Athletics. The former left-field platoon duo of John Lowenstein and Gary Roenicke were also enshrined as selections of the Veterans Committee, while longtime Orioles scout Fred Uhlman, Sr. was inducted as this year's Herb Armstrong Award winner.
"It just shows you what a great fan base Baltimore has here and what a rich tradition and baseball history," said Roenicke, who was a part of the team's last World Series, in 1983. "To be a part of that when I was here, you don't really know it when you are playing and in the moment. It's more gratifying when you get older and look back on it. I think maybe that's what keep our brain sharp is recalling all the great times we had together."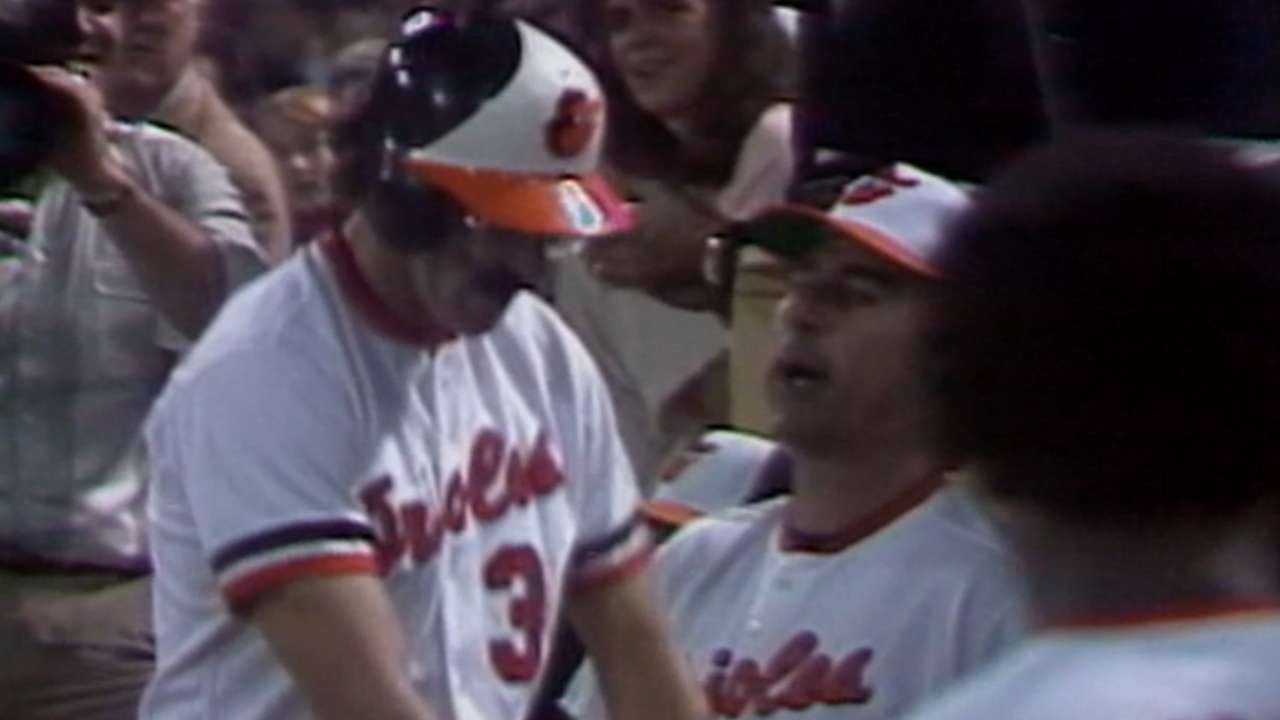 In their first season platooning in left field in 1979, Roenicke and Lowenstein combined for 36 home runs and 98 RBIs, helping the Orioles clinch the AL pennant.
Roenicke, who was a scout for the organization for eight years, had input in trades that netted Baltimore Adam Jones and Chris Davis, and he hopes to find a way to get involved again.
Uhlman, who retired this year, spent 46 years in professional scouting, including the last three decades with the Orioles. He joined the O's as scouting director in January 1985 and later served as a special assistant and pro scout.
Brittany Ghiroli is a reporter for MLB.com. Read her blog, Britt's Bird Watch, follow her on Facebook and Twitter @britt_ghiroli, and listen to her podcast. This story was not subject to the approval of Major League Baseball or its clubs.