MLB.com Columnist
Barry M. Bloom
Reds get best of Latos in LA grudge match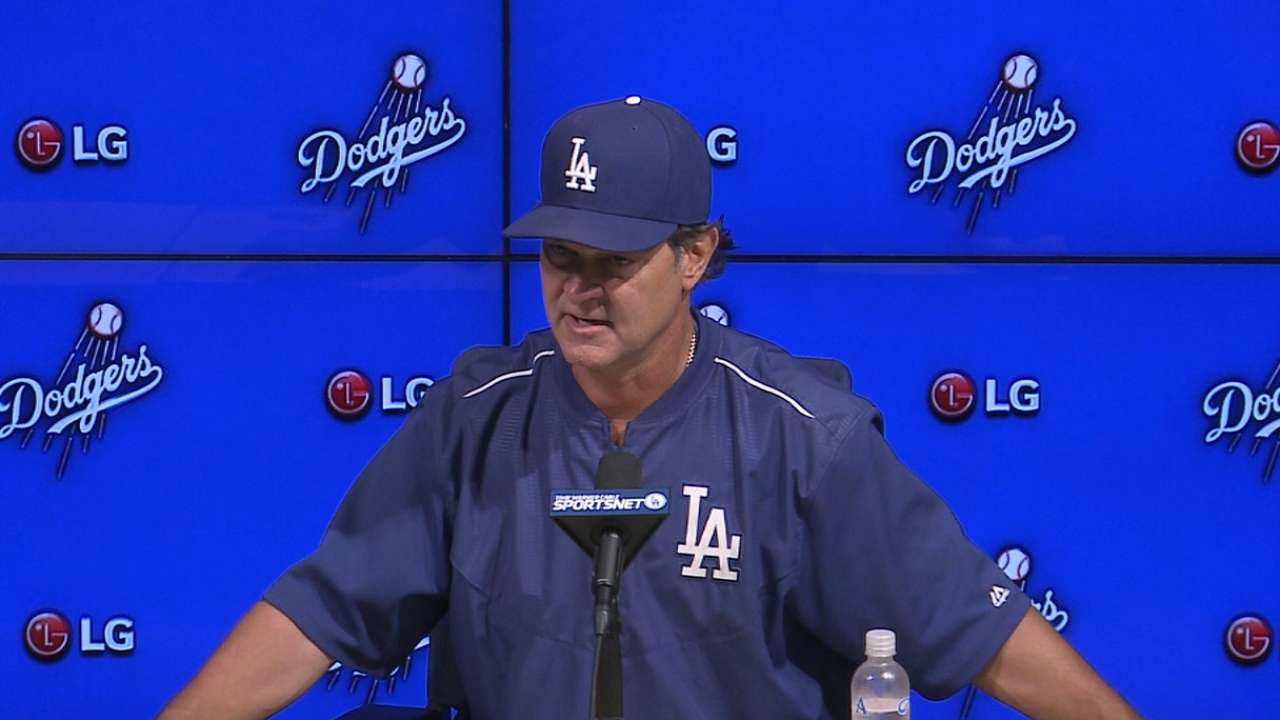 LOS ANGELES -- The Reds' clubhouse had "turned into a circus" without veterans Scott Rolen and Bronson Arroyo around to control the players, former Cincinnati right-hander Mat Latos said this spring after he was traded to the Marlins.
Well, the circus moved on to Dodger Stadium on Thursday night when the Reds crushed the Dodgers and Latos, 10-3. The victory gave Cincinnati at least a tad of satisfaction, during an otherwise lackluster 51-62 season.
"I don't even want to get into it anymore," Reds manager Bryan Price said prior to the game. "I'm done with it. Let him have his good times here in L.A., just not at our expense."
For their part, The Reds responded verbally to Latos months ago, and under the big tent on Thursday night, they answered big time on the field, knocking him out in the fifth inning not long after back-to-back doubles by Brandon Phillips and Eugenio Suarez plated Cincinnati's fourth and fifth runs.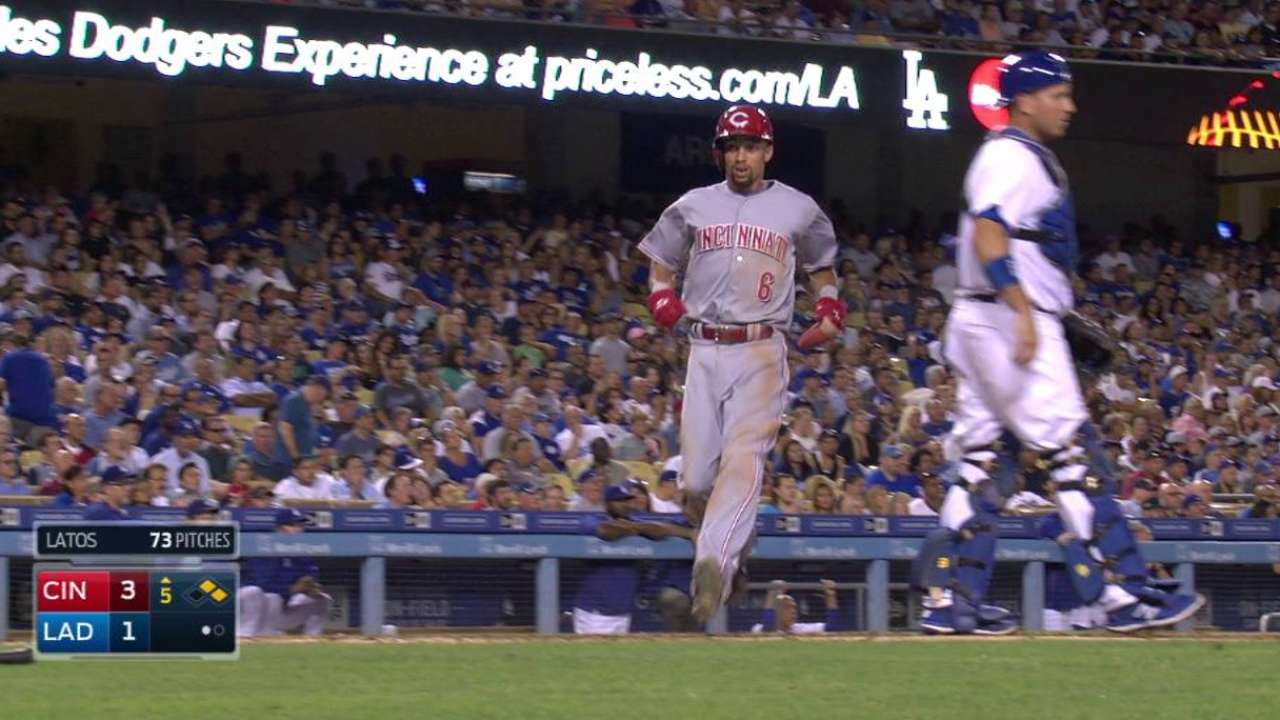 Here's a condensed version of what Latos had to say about the Reds this past spring:
"We had guys with two years in the big leagues, in the clubhouse, on their phones, laying down in the video room, just hanging out during games, not in the dugout, not cheering their teammates on," Latos said. "We had a closer in there sleeping until the seventh inning. We lose that veteran leadership, that's what happens. You can't have that. It turns into a circus."
Los Angeles acquired Latos from Miami on July 30 with the hope that he'd help them to the National League West title and beyond as a solid No. 3 behind Clayton Kershaw and Zack Greinke. The early returns haven't been good. In three starts, he's 0-2 with a 6.75 ERA, having allowed 12 runs, 11 of them earned, in 14 2/3 innings.
Overall, Latos is 4-9 with a 4.81 ERA and hasn't pitched well since tossing seven innings of scoreless, four-hit ball for the Marlins in a 3-0 win over the D-backs on July 21.
"Obviously it's not what we want, it's not what we envisioned for him," Dodgers manager Don Mattingly said.
Latos began to falter as Cincinnati scored twice in the second inning, his errant pickoff toss to first base leading to an unearned run. His line for the night was five runs (four earned) on seven hits with an intentional walk and seven strikeouts in 4 2/3 innings.
"I need to get back to pitching like me instead of trying to fool everybody by throwing too many breaking pitches," Latos said. "I just need to look at some video and go back to really throw the way I was when I was getting some outs."
Latos tried to downplay his months-old comments about the Reds saying, "Who cares? Turn the page. It's done and it's over with. I've got to worry about what I've got to worry about here."
But the Reds still seemed a tad agitated. Acquired from the Padres in 2011, Latos was a pretty effective pitcher for three seasons in Cincinnati -- the last one slowed by knee and elbow injuries. He was 33-16 with a 3.31 ERA and 446 strikeouts in 81 starts.
"He had two very good years for us and then an injury-plagued 2014," said Price, getting into it. "He was part of two playoff teams. He was very effective. He had very good stuff. The events of Spring Training unfortunately tarnished [what he accomplished]. He had some credibility during his time with us. I would have preferred that he didn't make those comments, because it didn't do anybody any good."
Latos also claimed that the training staff rushed him back from February knee surgery and that's why he suffered a sore elbow several months later while making a Minor League rehab start. He didn't debut in the Major Leagues in 2014 until June 14.
"It's his opinion. It's baseball. People are going to say what they want," said Billy Hamilton, who had the first four-hit game of his career on Thursday night, the first two off Latos. "It doesn't matter. Anybody can say what they want to say. He said it. It's over with."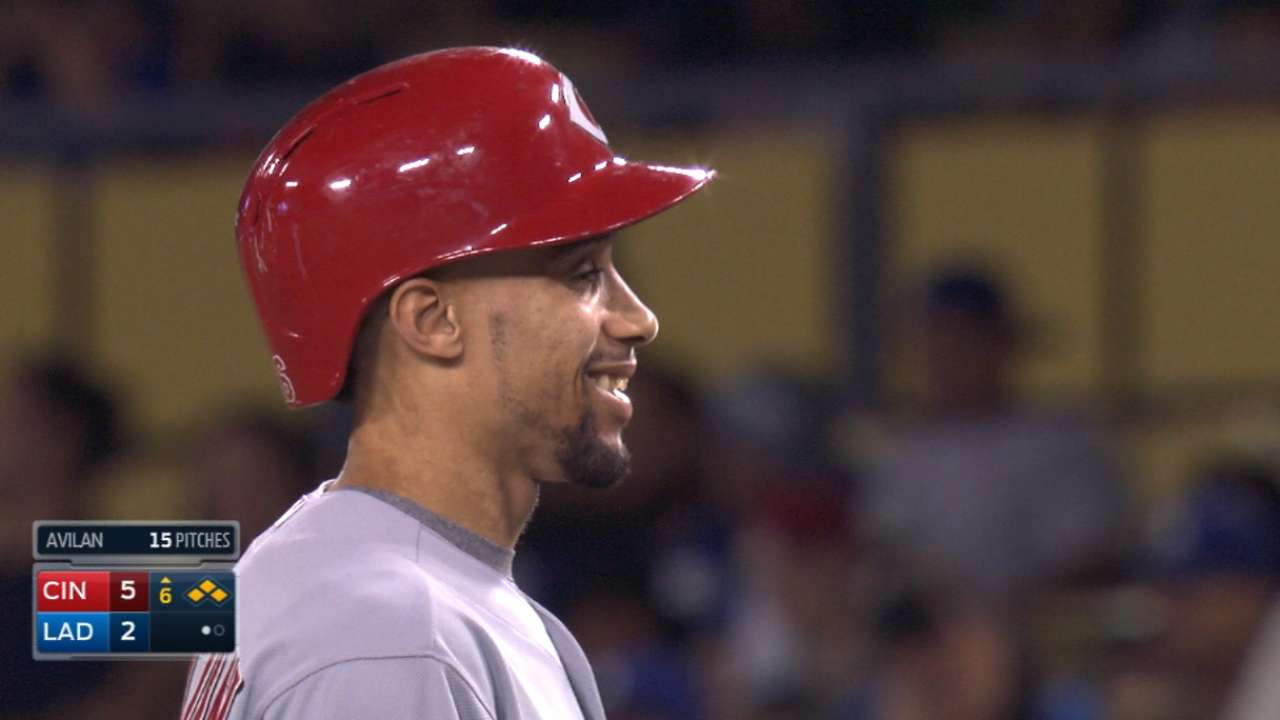 The Reds traded Latos to the Marlins on Dec. 11 for two Minor Leaguers in what in effect was a salary dump.
Even though Latos lost in arbitration to Miami, he still is being paid $9.4 million this season, a figure that was apparently too rich for Cincinnati.
The prorated portion of it is pocket change for the Dodgers, whose $271.6 million Opening Day payroll was by far the tops in baseball. The Dodgers acquired Latos last month in a three-way deal with the Braves and Marlins, hoping he would help solidify the middle of the rotation.
In that deal, the Dodgers also acquired Alex Wood from the Braves. The rotation seems set now for better or worse behind Kershaw and Greinke with Latos, Wood and Brett Anderson, who have combined so far this season for 17 wins.
There's no more time for auditions, said Mattingly, who lost Hyun-Jin Ryu and Brandon McCarthy to season-ending surgeries and thus far has had to use Mike Bolsinger and Carlos Frias to make 30 starts.
"We need good outings," Mattingly said. "No more auditions. I mean anything can happen, I guess. We could still pick up somebody, but you don't hear any chatter about it. We're comfortable."
But obviously right now, Latos isn't, which for the Dodgers is a matter of present concern. For the Reds, Latos is so yesterday. Particularly after the win, he's now neatly tucked away in their recent past.
Barry M. Bloom is a national reporter for MLB.com and writes an MLBlog, Boomskie on Baseball. Follow @boomskie on Twitter. This story was not subject to the approval of Major League Baseball or its clubs.